Old City Cemetery
Introduction
This site, also known as the Methodist Cemetery, was established in 1806 when town founder, John Lynch, gave an acre of land to the town to establish a public burying ground. Old City Cemetery is now a 27-acre historic site and arboretum. There are over 20,000 buried within the Cemetery, including 2,200 Confederate soldiers from 14 states. This is the oldest public cemetery in Virginia still in use today. On the premises are four historical museums: Pest House Medical Museum, Hearse House and Caretakers' Museum, Mourning Museum, and the Station House Museum. There is also a chapel, a shrub garden, and Virginia's largest public collection of antique roses.
Images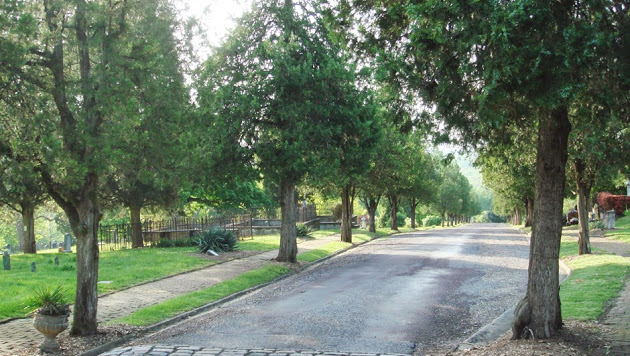 An image of the Confederate Burial Grounds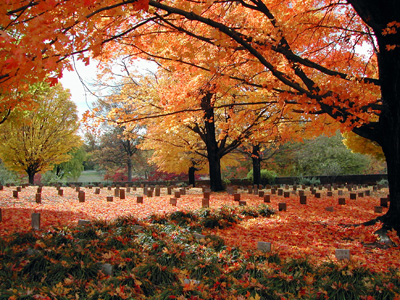 The road marker for the Cemetery
Backstory and Context
This 27-acre cemetery was expanded from land donated by city founder John Lynch in 1806. This was the only public burial grounds for African Americans in the Lynchburg area until the late 1860s. It is estimated that over 90% of all African American residents of Lynchburg were buried at this site during the period. Both freedmen and slaves were buried in this cemetery either by their family or by slave owners. The differences in social class are reflected by the grave markers that still exist in the cemetery.

There are 2,200 Confederate soldiers interred at the site. This section of the cemetery is marked off by a large hedge on one side and a long, brick wall along the other. Most of the Confederate graves are marked with headstones, denoting the soldier's initials, company, regiment, and state.

On the grounds of the cemetery are four small museums. The Pest House was a small-pox/ quarantine hospital during the civil war. The original Pest House was located near the cemetery by the railroad tracks. The Hearse House and Caretakers' Museum is a brief history of the cemetery and the grounds. Displayed in a horse-drawn hearse that would have been used in the late 1800s. The Mourning Museum is dedicated to mourning customs found in America during the Victorian Era. Exhibits include mourning attire, customs, and the evolution of coffins and embalming. The Station House Museum is a reconstruction of a 1898 C&O Railway Station with WWI era furnishings.


Sources
http://www.gravegarden.org/history.htm
Additional Information