War Memorial Stadium
Introduction
What is now Masten Park was once the location of a historic sports facility called War Memorial Stadium. It was built in 1934 and initially called Roesch Memorial Stadium. The name was then changed to the Civic Stadium and later to War Memorial Stadium in 1938. The Stadium has a rich history of racing as well as being home to the Buffalo Bills football team and the Buffalo Bisons baseball team. The Stadium also starred in the movie The Natural in 1984.
Images
War Memorial Stadium, as seen from the air, was built in 1934 and demolished in 1988.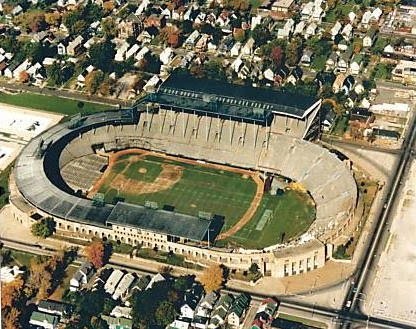 The site is now called Masten Park, featuring this sports pavilion, a baseball field, football field, basketball courts, and other sports facilities.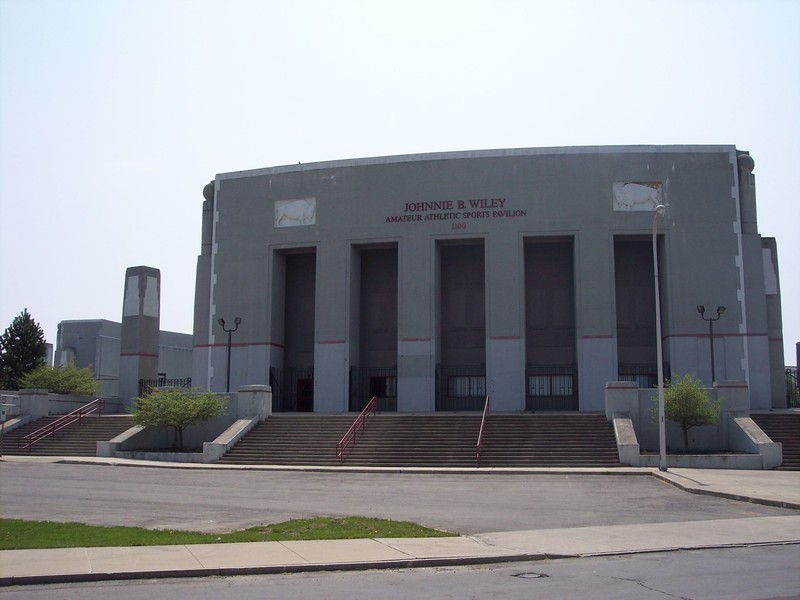 Backstory and Context
Following World War 2, the popularity of midget racing grew substantially. The cars used motorcycle engines with around 70-90 h.p. and weighed around 600 lbs. Admission for races was around a dollar twenty-five for adults and sixty cents for children. In it's prime, the stadium would hold 12,000 people for events but the record was set at 13,026. During the 1950's, stockcars' popularity rose and the Civic Stadium hosted weekly stock car races and NASCAR convertible races. Some of the stars that raced in the Civic Stadium include Bill Rafter and Dick Hurd.1
The Buffalo Bills football team called The War Memorial Stadium their home from 1960 (when the stadium name was changed) to 1970 (when the team was forced to move due to lack of seating). The seating capacity was at 46,201 but the NFL minimum was 50,000. The last game the Bills played was against the Detroit Lions on December 10th. Afterwards, the facility sat empty until the Buffalo Bisons baseball team (which originally had used the field as well for games) decided to call the War Memorial Stadium their home again. By the mid-1980's, the stadium started to show it's age and by 1988 it was demolished. An athletic facility was built in its place.2
The War Memorial Stadium was also in the movie The Natural in 1984. Around this time the stadium was obviously showing its age so the producers had to spend around $500,000 in order to fix up the ballpark. Some of the work they had to do included building a scoreboard and repainting the seats in the stands. They even recruited 3,000 people, paid at $3.35 an hour to play extras in the stands. This amount of people obviously did not fill the all the seats therefore they had to place cardboard cutouts around the stadium.3
Sources
1) Kavanagh, Rick. "Civic Stadium." Merrittville Speedway. N.p., n.d. http://www.merrittvillespeedway.com/Memories/Civic%20Stadium.html
2) "War Memorial Stadium." Stadiums of Pro Football. N.p., n.d. http://www.stadiumsofprofootball.com/past/WarMemorialStadium.htm
3) "Welcome to Forgotten Buffalo." Forgotten Buffalo Featuring Locations of the Natural. N.p., n.d. http://www.forgottenbuffalo.com/thenaturaltour.html