Abell-Gleason House
Introduction
Built in 1859 for Alexander Pope Abell, this Greek Revival style home is listed on the National Register of Historic Places. This home is an accurate representation of the popular architecture of Charlottesville in the mid-1900s. The four pillars on the front facade as well as the stucco cornice are classic elements of the Greek Revival style. The Abell-Gleason House continues to be a single family home with no available tours.
Images
The photo used for the National Register Nomination: Abell-Gleason House, Charlottesville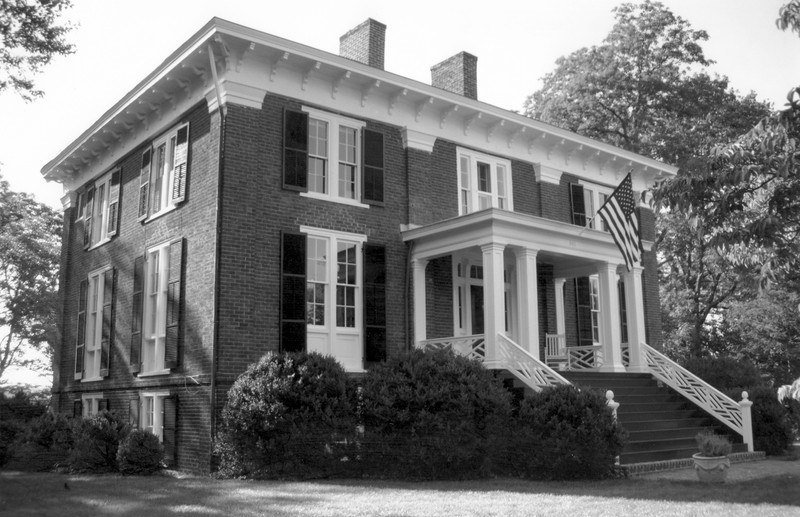 Backstory and Context
Built in 1895, this single family home represents an almost untouched version of Greek Revival style. The front facade includes four pilasters with stucco capitals to separate the three bays. These pilasters were common in Charlottesville during the period but very few occurrences remain do to replacement or reconstruction. The slate roof of the porch originally served as an additional balcony for the upper quarters.

While no tours are currently being held in the Abell-Gleason Home, the interior floor plan has remained largely unchanged. The first floor includes a grand staircase. Modern plumbing and electrical wiring was added in the 1940s, this included the addition of bathrooms. This change did not effect the exterior of the home. Also found on the grounds is a four room servants quarters.

The home sits on a tract of land that was originally acquired in 1755. The majority of the owners of the home used the property as a single-family residence. This changed in the 1940s when the home was purchased by J. Emmet Gleason, the mayor of Charlottesville. The Gleasons allowed the home to be used for events as requested by the community. In 1974, the Gleasons sold the house. It has been used privately since.
Sources
K. Edward Lay The Architecture of Jefferson Country: Charlottesville and Ablemarle County (Charlottesville: The University Press of Virginia, 2000). 15, 179, 195.
Additional Information