The Cartoon Art Museum
Introduction
Located in the heart of San Francisco, The Cartoon Art Museum is the only museum in the western United States dedicated to cartoons and comics. The museum is home to over 6,000 pieces of original cartoon and animation art, a comprehensive research library, workshops, and five galleries of exhibition space.
Images
Exhibit at Cartoon Art Museum

The Cartoon Art Museum entrance. "Cartoon Art Museum" by Tfinc. Licensed under CC BY-SA 3.0 via Wikimedia Commons.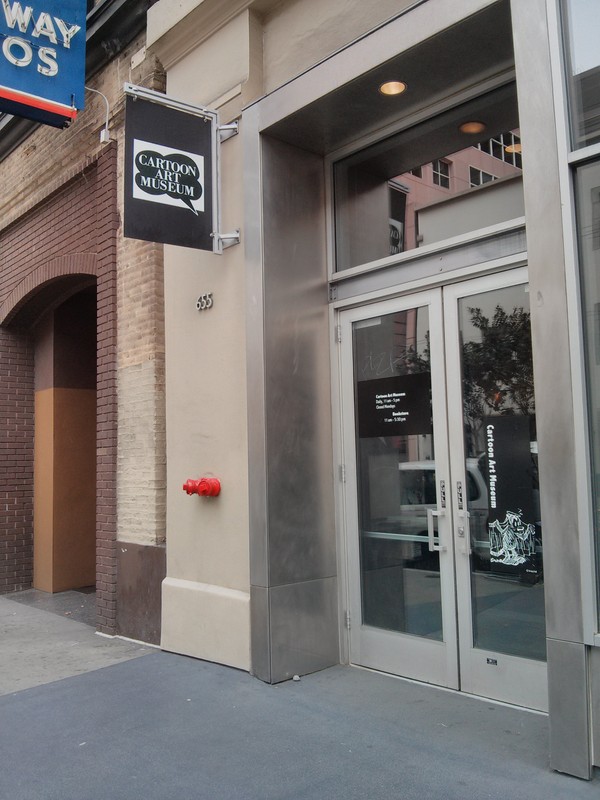 Backstory and Context
The Cartoon Art Museum was founded in 1984. The museum was started by a group of cartoonists and collectors who wanted to share their appreciation of this unique art form, with its primary founder being Malcolm Whyte, the publisher of Troubador Press. The Cartoon Art Museum is dedicated to the collection, preservation, study and exhibition of original cartoon art in all forms in order to benefit historians, cartoonists, journalists, artists, collectors, and the public.
Initially it was a "museum without walls", setting up shows in local museums and corporate spaces. In 1987, with the help of an endowment from cartoonist Charles Schulz, it established a home on the second floor of the San Francisco Call-Bulletin Building in the South of Market area. In 2001, the museum moved to a ground-floor location at 655 Mission Street, which had been vacated by the Friends of Photography Ansel Adams Center.
The Cartoon Art Museum has 25-plus years of existence with over 100 exhibitions. It exhibits pieces that represent the history, contemporary development, creators, design, and processes underlying the art forms of cartoons, comics, digital animation, illustration and video games.
The museum on Mission Street was forced to close down in 2015 due to increasing rents in the city. The museum will open once again in spring 2017 on 781 Beach Street, one block away from the Aquatic Park, Maritime Museum, Ghirardelli Square, and Hyde Street cable car turn around.
Sources
About Us. Cartoon Art. Accessed March 22, 2017. http://cartoonart.org/about-us/.

GENE COLAN AWARDED SPARKY AWARD. CBR. November 12, 2008. Accessed March 22, 2017. http://www.cbr.com/gene-colan-awarded-sparky-award/.

Hopkins, Brittany. The Cartoon Art Museum Officially Closes Its Doors. Hooline. September 14, 2015. Accessed March 22, 2017. http://hoodline.com/2015/09/cartoon-art-museum-closes.


Additional Information