KeyArena at Seattle Center
Introduction
KeyArena is a sports venue that broke ground in 1960 in Seattle, Washington and was later opened two years later in 1962. It houses the WNBA's Seattle Storm, the WHL's Seattle Thunderbirds and the NCAA's Seattle University Redhawks. However is it most notable for formerly being the home to the defunct Seattle SuperSonics of the NBA. There were three different periods of time when the team played at KeyArena (1967-1978, 1985-1994, 1995-2008). They moved out the first two times to play in two different arenas that were better renovated at the time. The team was moved to Oklahoma City after the 2008 season, and the move was seen as controversial by many of the SuperSonics faithful.
Images
An overhead view of the inside of the arena from 2008.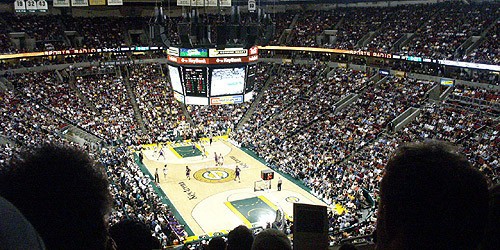 KeyArena in 2012 as it hosted a UFC Mixed Martial Arts event. Apart from housing a few different tenants, the venue also holds several concerts and other sporting events throughout the year.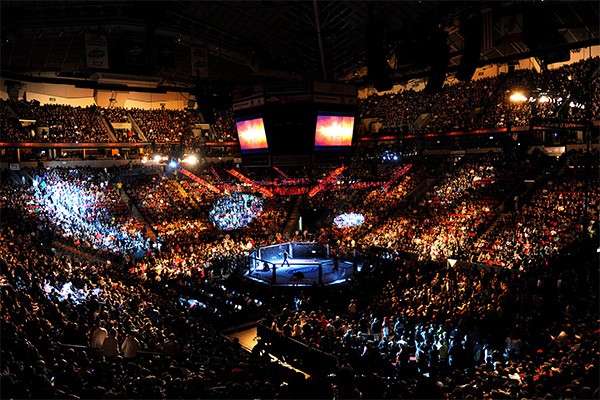 An overhead view of the city. It showcases some of Seattle's finest architecture, including KeyArena with its curved roof.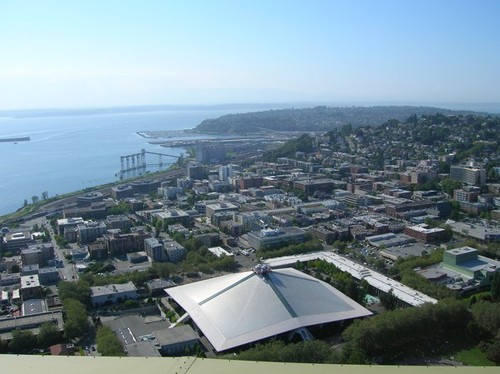 Backstory and Context
KeyArena is rooted in the 74-acre entertainment complex known as Seattle Center, the site of the 1962 World's Fair. (1) It is used for a wide array of activities like sporting events and concerts.
The arena's current primary tenants are the Seattle University men's basketball team and the Seattle Storm of the WNBA. The Seattle University Redhawks men's basketball team are currently the arena's longest-serving tenant, having played in the arena from 1963–1980 and 2009 to present.
KeyArena was also home to the Seattle SuperSonics. In 1986, (2) rain that leaked through the roof of KeyArena caused an NBA game to be cancelled. In 1994, the venue underwent improvements that caused the SuperSonics to leave the arena for a brief time in 1995. They returned later that year. In 2006, businessman Clay Bennett purchased the team and promised to fund enough for the team to get a new venue. On July 2, 2008, the Oklahoma City based ownership group of the SuperSonics reached a settlement deal with the city of Seattle, releasing the team from the last two years of their lease with the city and allowing the team to relocate to Oklahoma City for the upcoming season. Despite Bennett's earlier promise, the team was history. (3) After 41 seasons in Seattle (and Tacoma), the team became the Oklahoma City Thunder and the owners agreed to leave the SuperSonics name, logo, and colors in Seattle for a possible future NBA franchise.
In 2013, the Sacramento Kings were faced with the threat of relocating to a location like Seattle or Anaheim. However, the Kings stayed in Sacramento. (4) To this day, the city of Seattle still holds out hope for an NBA franchise.
Sources
(1) http://digital.lib.washington.edu/findingaids/view?docId=SeattleCenterGroundsPHColl403.xml (2) http://www.historylink.org/index.cfm?DisplayPage=output.cfm&File_Id=7860 (3) http://www.forbes.com/sites/christopherhelman/2012/06/13/the-sordid-story-of-how-aubrey-mcclendon-and-pals-transformed-the-seattle-sonics-into-the-oklahoma-city-thunder/ (4) http://www.si.com/nba/point-forward/2013/05/15/reports-nba-board-of-governors-vote-to-reject-kings-relocation-to-seattle
Additional Information