City Museum
Introduction
Established in 1997, St. Louis's City Museum was built by internationally acclaimed artist, Bob Cassilly. The museum was constructed largely from repurposed architectural and industrial objects and is housed in the former International Shoe building in the Washington Avenue Loft District of St. Louis. The 600,000 square-foot museum is an eclectic mixture of children's playground and museum with fantastical caves, funhouse exhibits, rides, and surrealistic architectural wonders. The museum attracts about 740,000 visitors each year, more than double of St. Louis's population.
Images
The musuem's iconic multi-story spiral slides.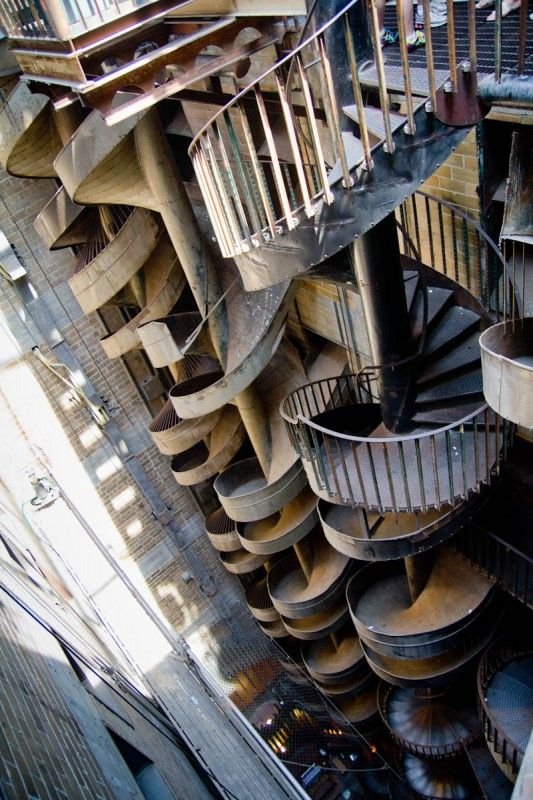 The school bus on top of the roof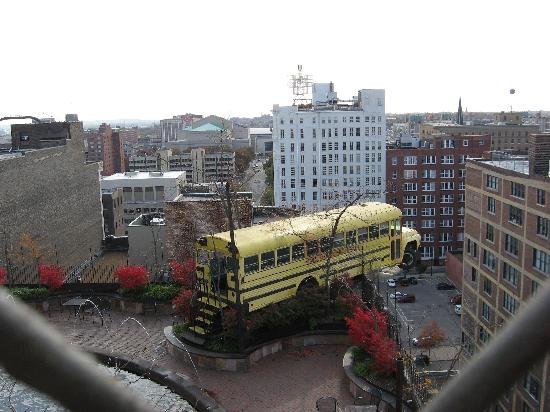 The fully functioning ferris wheel on the roof offers a grand view of the city.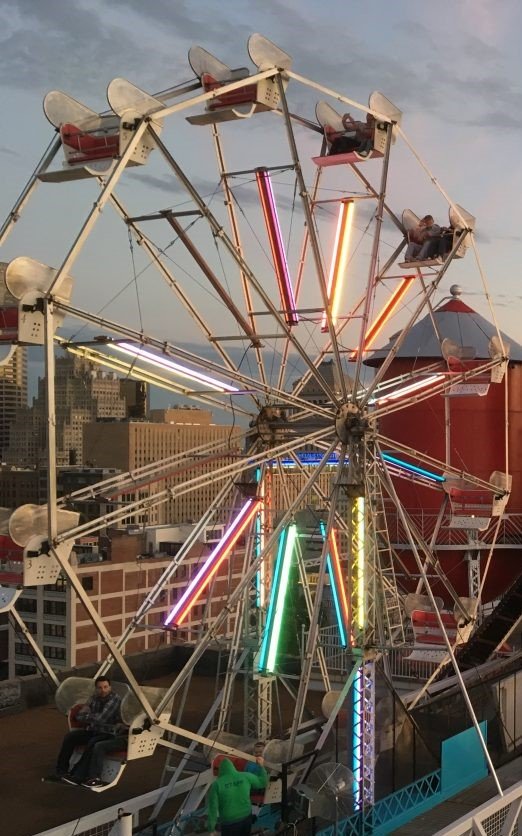 Backstory and Context
What was once an old shoe factory in the Great Depression is now an astounding museum enjoyed by the young and the old alike. Bob Cassilly, a creative classically trained sculptor and building contractor's son, used his creative mind to open his astonishing tourist attraction in the middle of the largely abandoned field of warehouses in downtown St. Louis on October 25th, 1997. Although the museum is seen as a children's museum, Cassiliy has said that the it was meant for visitors of all ages. The City Museum of St. Louis attracted 300,000 visitors per year just two years after its opening. Cassilly was in the process of completing another project, called Cementland, but was killed in 2011 when his bulldozer flipped over.
The museum grounds feature a giant urban playground that Cassilly and his crew of 20 artisans, known as the "Cassilly Crew" constructed from all sorts of repurposed materials---objects that were donated by the people of St. Louis. The jungle gym is full of secret passageways, including multi-story slides that drop into underground caves that were originally the parts of its former shoe factory where workers would drop shoes through chutes. Its most prominent features include a fully-functioning Ferris Wheel and an old school bus that was donated by the Roxana School District that sit atop the roof.
"City Museum makes you want to know," said Cassilly. "The point is not to learn every fact, but to say, 'Wow, that's wonderful.' And if it's wonderful, it's worth preserving."4
The museum constantly continues to grow and change, thanks to the hard work of the Cassilly Crew. It also offers days for homeschool groups and workshops and overnight visits for Girl Scouts and families.
Inside the museum, the first floor and the Mezzine levels allow visitors to walk on a mosaic tiled floor and view columns decorated with aquarium creatures and oyster shells. This area is used for group events, performances and presentations. The Vault Room on the second floor, also available for group rental of the museum is embedded with St. Louis relics, a hallway of mirrors, and a marble bar. This floor also housed the World Aquarium where visitors could visit sea creatures such as sharks, turtles, and stingrays but was closed in 2015 after being in the museum for 11 years. This was due to the fact that the museum did not promote it very much, so visitors did not know it was there, and also because they had to pay a separate admission fee for it. The aquarium is now located at the St. Louis Riverfront.
Sources
1. Bob Cassilly and Gail Cassilly: Founders City Museum." St. Louis Business Journal January 30, 2000.

2. Moser, Whet. "St. Louis's Wondrous City Museum." Chicago Magazine. Chicago Magazine October 02, 2012.

3. Taggart, Emma. 10 Weird + Wonderful Things You'll Find At City Museum, St. Louis. My Modern Met. July 27, 2018. Accessed November 10, 2018. https://mymodernmet.com/city-museum-st-louis/.

4. Cassilly, Bob. About. City Museum. . Accessed November 10, 2018. https://www.citymuseum.org/visit/about/.

5. Panko, Ben. 20 Years Ago, an Iconically Quirky St. Louis Museum Opened. Smart News. October 25, 2017. Accessed November 11, 2018. https://www.smithsonianmag.com/smart-news/20-years-ago-iconically-quirky-st-louis-museum-opened-180966962/.

6. Banker, Andy. World Aquarium closing its doors today. Fox 2 now St. Louis. September 07, 2015. Accessed November 11, 2018. https://fox2now.com/2015/09/07/world-aquarium-closing-its-doors-today/.


Additional Information