Sandia Cave
Introduction
Sandia Cave is a site near Bernalillo, New Mexico. A trail leads to the site but is difficult to reach because it is located high up on a rock wall of Las Huertas Canyon. Excavations have given information on three prehistoric groups that may have resided here. It is not at any risk from environmental or natural causes, it has been thoroughly excavated and has no components that need to be protected.
Images
This photo was found along with an article about the cave. Credit: http://www.ele.net/sandia_cave/elephant.htm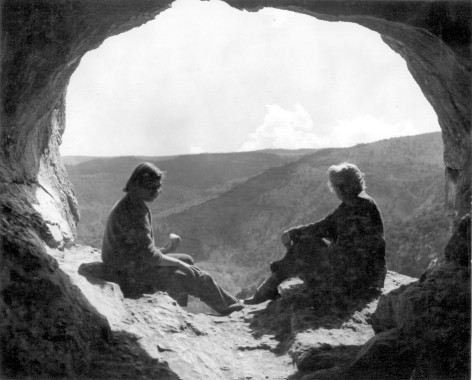 Backstory and Context
Frank Hibben excavated the Sandia Cave in the 1930s and 1940s. He found Sandia hunting points at the site and said they were much older than any other evidence of man in North America. Later studies found Sandia Man as younger than earlier claimed. The remains of mammoth, mastodon, sloth, horses and camels made this one of the most important Pleistocene paleontological sites in New Mexico.

To get to the cave, you must bike .47 of a mile to the cave. The trail leads to a concrete staircase, then a limestone ledge and then to a metal staircase that spirals up to the cave. When it was discovered, there were stone arrows and lance points, basket and woven yucca moccasin pieces and skeletal remains of Ice Age animals. There were no human remains.

The cave is open year round and has no set visiting hours. There is no risk of natural damage to the cave but graffiti has been pained outside the entry and inside the cave.
Sources
Bannerman, Ty. "Enter Sandia Man: Revisiting the Site of a 20th Century Archaeological Scandal." Atlas Obscura. February 16, 2016. https://www.atlasobscura.com/articles/enter-sandia-man-revisiting-the-site-of-a-20th-century-archeol...
Additional Information