McDowell House Museum
Introduction
On Christmas day of 1809, Dr. Ephraim McDowell became the first physician in the world to perform an ovariectomy when he removed a 22 and a half pound ovarian tumor- without the use of anesthetic or antisepsis. His patient, Mrs. Crawford made an uncomplicated recovery. She returned to her home 25 days later and went on to live another 32 years. This surgery led the way for other types of abdominal surgeries previously considered to be impossible- including bladder stone removals. One of his many patients for this type of surgery was none other than the 11th President of the United States- James Knox Polk.
Images
McDowell House Museum today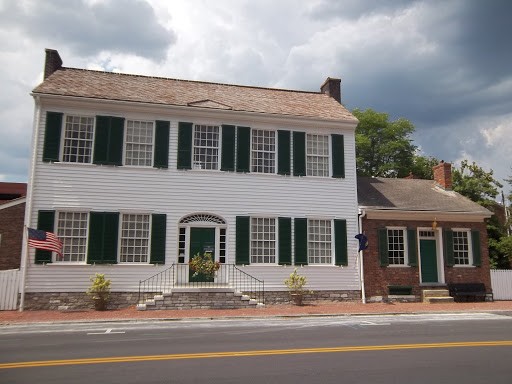 Historical marker outside of McDowell Hoyuse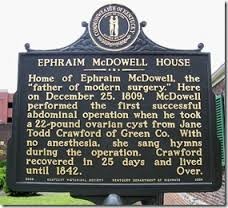 McDowell house (left) and apothecary (right) in the early 1900's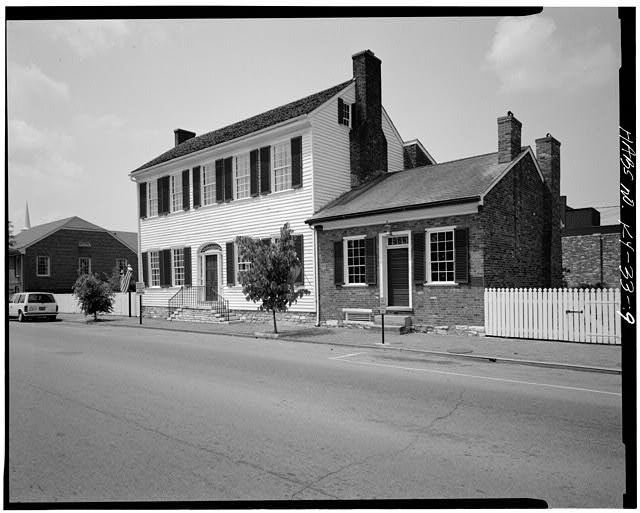 Painting of Ephraim McDowell

Jane Todd Crawford, the first patient to undergo an ovariectomy

Backstory and Context
The ninth of eleven children, Ephraim McDowell was born in Rockbridge County, Virginia on November 11, 1771. He began his medical education at age 20 and, 6 years later, opened his apothecary in Danville, Kentucky. The McDowell House was constructed as an addition to the apothecary shortly after his arrival in Kentucky.
During the winter of 1908, Dr. McDowell was called to Green County, Kentucky where he met Mrs. Jane Crawford, who was thought to be expecting twins. After examining her, however, it became apparent to him that she had a severe ovarian tumor. McDowell informed Mrs. Crawford of the direness of her situation, but offered a highly experimental surgery to her, provided she was willing to accept the risk of death. Crawford accepted this proposal and several days later rode sixty miles on horseback to Dr. McDowell's home in Danville in order to undergo the operation.
After several days of rest following her journey, and on Christmas morning, Dr. McDowell began his historic operation. Without anesthesia or antiseptics, Mrs. Crawford repeated Psalms and sang hymns during the surgery. The tumor which Dr. McDowell eventually removed from Mrs. Crawford weighed 22 and a half pounds. After twenty-five days of rest, the surgery was officially declared a success and Mrs. Crawford well enough to ride back to her family in Green County. She lived there for another thirty-two years.
This surgery was monumental in the medical field, given that it was the first successful removal of an ovarian tumor (which were almost always fatal at the time). Even more monumental, however, was that it also paved the way for other kinds of abdominal surgeries, which were previously thought to be impossible. McDowell himself, having pioneered the technique, went on to perform thriteen more ovariectomies- from which 8 patients survived and made full recoveries. He also began doing bladder stone removals- of which he performed thirty-two. All of these were successful. One of these thirty-two operations was actually done on the 11th President of the United States- James Knox Polk.
Ephraim McDowell died on June 25, 1830 from what is believed to have been a ruptured appendix. He was fifty-eight years old. After his death, the McDowell House became a boarding house and quickly fell into disrepair. Local efforts to restore the house began in the 1920's. In 1935, the property was purchased by the Kentucky Medical Association. After deeding it to the state of Kentucky, it was restored by the Works Progress Association- a New Deal program. On May 20, 1939 the house was dedicated and opened. Nine years later, the state of Kentucky returned the home to the Kentucky Medical Association. It has since been added to the National Register due to its historic significance. Both the McDowell House and the adjacent apothecary are now a public museum.
Sources
Ephraim McDowell House. Ephraim McDowell House, ExploreKentuckyHistory.gov. Accessed October 5th 2020. https://explorekyhistory.ky.gov/items/show/118.
Little Bits of History. Ephraim McDowell House, Littles Bits of History Along U.S. Roadways. December 10th 2011. Accessed October 5th 2020. http://littlebitsofhistory.blogspot.com/2011/12/ephraim-mcdowell-house.html.
Museum Staff. Ephraim McDowell, McDowell House Museum. Accessed October 5th 2020. http://www.mcdowellhouse.com/history/ephraim-mcdowell/.
Museum Staff. Jane Todd Crawford, McDowell House Museum. 2015. Accessed October 6th 2020. http://www.mcdowellhouse.com/history/jane-todd-crawford/.
Museum Staff. McDowell House History, McDowell House Museum. 2015. Accessed October 5th 2020. http://www.mcdowellhouse.com/history/mcdowell-house-history/.
Rettig, Polly M. National Register of Historic Places Inventory-- Nomination Form, United States Department of the Interior. March 20th 1976. Accessed October 5th 2020. https://npgallery.nps.gov/NRHP/GetAsset/NHLS/66000355_text.
Image Sources
http://www.mcdowellhouse.com/

http://littlebitsofhistory.blogspot.com/2011/12/ephraim-mcdowell-house.html

http://memory.loc.gov/cgi-bin/displayPhoto.pl?path=/pnp/habshaer/ky/ky0100/ky0106/photos&topImages=070282pr.jpg&topLinks=070282pv.jpg,070282pu.tif&title=9.%20%20NORTHEAST%20VIEW%20OF%202%2f3%20FACADE%20ELEVATION%20%3cbr%3eHABS%20KY,11-DANV,1-9&displayProfile=0

http://www.mcdowellhouse.com/history/ephraim-mcdowell/

http://www.mcdowellhouse.com/history/jane-todd-crawford/

Additional Information