Mel Fisher Museum
Introduction
Mel Fisher Museum shows what Mel Fisher and crew recovered from sunken Spanish ships. His most famous find being the Atocha, a Spanish ship that sank in 1622 off the Florida Keys. It was recovered by Fisher on July 20, 1985. He recovered over 160,000 silver Spanish colonial coins and the Atocha has the distinction of being the richest Spanish treasure galleon recovered to date.
Images
A photo from the Mel Fisher website of divers searching for lost items.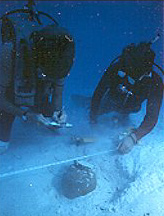 Backstory and Context
On September 4, 1622 the Tierra Firme flota of twenty-eight ships left Havana bound for Spain. With it was carried the wealth of an empire; silver, gold, emeralds, and pearls. Each ship carried its crew, soldiers, and passengers. The fleet found itself being overtaken by a hurricane as it entered the Florida straits. By the morning of September 6th, eight of these vessels lay broken on the ocean floor, scattered from the Marquesas Keys to the Dry Tortugas.
For the 1622 return voyage, Atocha was loaded with a cargo that was beyond belief; 24 tons of silver bullion in 1038 ingots, 180,00 pesos of silver coins, 582 copper ingots, 125 gold bars and discs, 350 chests of indigo, 525 bales of tobacco, 20 bronze cannons and 1,200 pounds of worked silverware. To this can be added items being smuggled to avoid taxation, and unregistered jewelry and personal goods. All these items combined created a treasure that nothing could compete with.
In 1969, Mel Fisher and his Treasure Salvors crew began a relentless, sixteen year search for the treasure of the Atocha. In 1973, three silver bars were found, and they matched the weights and tally numbers found on the Atocha's manifest. In 1975, his son Dirk found five bronze cannon which the markings would clinch identification with the Atocha. A few days later Dirk and his wife Angel, with diver Rick Gage, were killed when one of the salvage boats capsized. Fisher and his crew kept searching. Today artifacts and treasures from the Atocha and Margarita are kept in the the Mel Fisher Maritime Heritage Society Museum's collection.
Sources
http://www.melfisher.org/index.htm
Additional Information