Howards Knob County Park
Introduction
Located on the highest knoll overlooking the city of Boone, Howard Knob park offers visitors an incredible view of this section of the Appalachian range through a variety of trials and overlooks. In 1979, an experimental wind turbine was constructed at Howard Knob area. However, in 1983, the windmill was dismantled the Watauga Parks & Recreation Department operates the park and maintains its trails and facilities.
Images
NASA's MOD-1 experimental windmill that was once on Howard's Knob in Boone.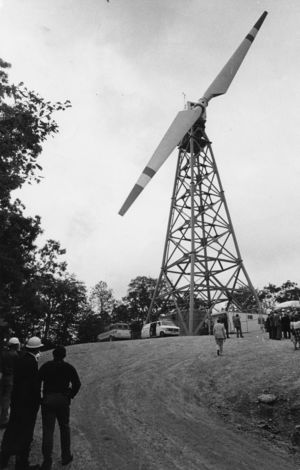 Experimental wind turbine on Howard Knob, 1978-1983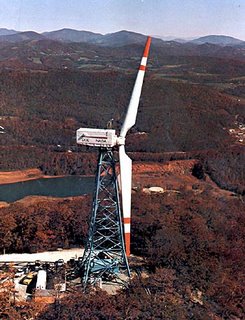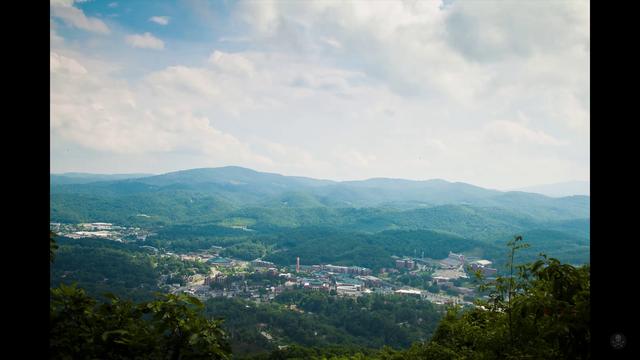 Backstory and Context
In 1977, the Blue Ridge Electric Membership Corporation selected Howard Knob as the location of an experimental wind turbine. The following year, General Electric built the windmill which was known as MOD-1 and operated by engineers from NASA. The turbine was 132 feet tall with two 97-foot blades that rotated counterclockwise at 35 miles per hour. During normal operation and winds of 25 miles per hour, the turbine could provide enough electricity to power 300 to 500 average-sized homes.
However, the application of new technology called a low- frequency "swish-swish" noise resulted the unintended consequences to the community surrounding this area. Noise complaints and disruptions of television signals led to calls for the tower to be removed. In 1983, the windmill was dismantled and its blades were donated to the Nature Science Center. Now, the abandoned windmill area serves as a park with nature trails.
Sources
"Watauga Democrat: Howard's Knob evolves with Watauga". Retrieved 2011-09-10. "Howard's Knob." Appalachian Treks. Sep 10,2009. Web. 01 Feb. 2015. "O'Toole, T. "Windmill Experiment Ordered Limited; An Annoying Noise Irks Neighbors," Washington Post, 4/23/1980.
Additional Information