Statue of Owen Bradley
Introduction
Artist Gary Ernest Smith created this sculpture of music industry pioneer Owen Bradley. In 1954, Bradley's recording studio at 804 16th Ave. S. became the first major studio on Nashville's now-famous Music Row. Bradley was also a musician and became an architect of the Nashville Sound through his own work and his recording work with country stars such as Patsy Cline, Loretta Lynn, and Conway Twitty. Along with fellow producer Chet Atkins, Bradley helped country music transition from its Southern folk music origins to a more nationally appealing and radio-friendly format by blending pop production and songwriting techniques with traditional country music and lyrics.
Images
This statue of musician and producer Owen Bradley is located in the park that bears his name. Owen Bradley Park was dedicated in 1997 and the statue followed a six years later.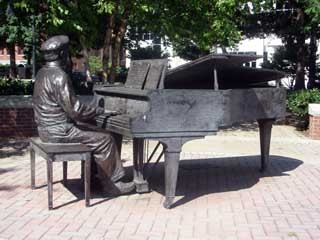 Backstory and Context
Born outside of Westmoreland, TN, and raised in Nashville, Owen Bradley began playing piano professionally when he was a teenager, playing in local juke joints, clubs, and roadhouses. When he turned 20, he began working at WSM radio, and within five years he had established himself as an integral part of the station. In 1940, he was hired full-time by WSM, working as an arranger and instrumentalist. Two years later, he was made the station's musical director and started playing regularly on the programs Noontime Neighbors and Sunday Down South. During this time, Bradley was also leading his own dance band, which played parties throughout Nashville's high society. The group stayed together until 1964.

Bradley began working for Decca Records in 1947 as an assistant to producer Paul Cohen. By working at Cohen's side, Bradley learned to produce and assisted in making records by Ernest Tubb and Red Foley, among many others. Eventually, Owen began producing records by himself, whenever his mentor couldn't travel to Nashville from New York.

Owen and his brother Harold opened a film studio in 1951, moving its location to Hillsboro Village within a year. It stayed there for two years, before it was moved again, this time to a house on 16th Avenue South with a Quonset hut attached to the main building. The Quonset hut was converted into a studio in 1955 -- it was the first studio on the street that would become known as Music Row. Two years later, RCA built a studio a block away from the Bradley hut; in 1962, the brothers sold the studio to Columbia Records.

Cohen left Decca in 1958, and the label offered Bradley a position as vice president of the label's Nashville Division. At Decca, he began pioneering the Nashville sound, incorporating orchestration and pop production techniques into country music. Patsy Cline was Bradley's most successful country-pop production. He had worked with her when she was with Four Star, but when she signed with Decca, Cline's music shifted toward country-pop and she began a string of Top Ten hits. Following her success, other artists that he produced in that style, most notably Brenda Lee, became successful as well. During this time, Bradley also produced harder-edged hits by Webb Pierce and Kitty Wells. In addition to his record production, Owen released a handful of records by his instrumental quintet, including the minor 1958 hit "Big Guitar." With his brother Harold, Bradley produced a half-hour television series, Country Style U.S.A., during the late '50s.

Bradley bought a farm outside of Nashville in 1961, converting a barn into a demo studio. Within a few years, the barn was upgraded to a first-class recording studio called Bradley's Barn, and over the next two decades, it became one of the most popular and legendary studios in country music. In 1980, it burned down, yet it was rebuilt with a few years in the exact same spot.

Throughout the '60s and '70s, Bradley worked with many of Decca's most famous artists, including Loretta Lynn and Conway Twitty. In 1974, Bradley was inducted into the Country Music Hall of Fame. In the early '80s, he retired from full-time producing, yet he continued to work on the occasional special project. His last major work was k.d. lang's 1988 album, Shadowland. Bradley died January 7, 1998.
Sources
Biographical information from CMT's Owen Bradley page, http://www.cmt.com/artists/owen-bradley/biography.
Additional Information