Hatch Show Print
Introduction
One of the oldest working letterpress print shops in the nation, Hatch Show Print has produced posters for nearly every famous Nashville performer. Visitors can see the shop's vast collection of prints, promoting artists from Elvis to B.B. King to Dolly Parton. Hatch Show Print continues to design and print over posters per year, promoting the music of modern artists with their same turn-of-the-century methods and appeal.
Images
Inside the Hatch Show Print Shop - Located in the Country Music Hall of Fame and Museum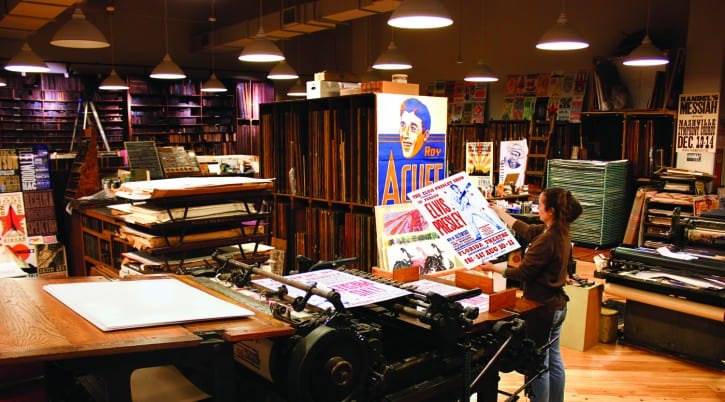 The Hatch Show Print Sign Outside the Country Music Hall of Fame and Museum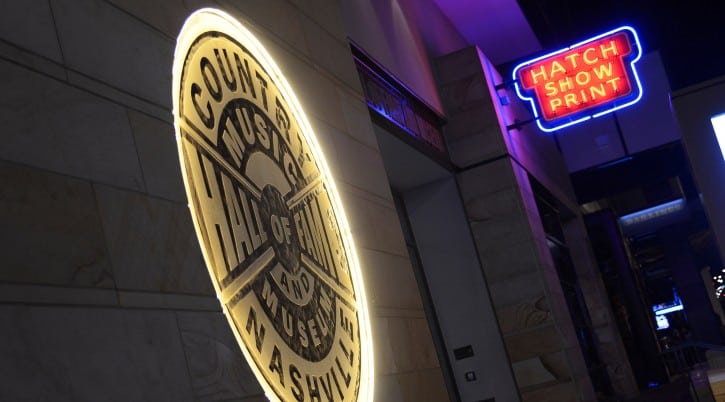 An Inside Look at the Production of a Hatch Show Print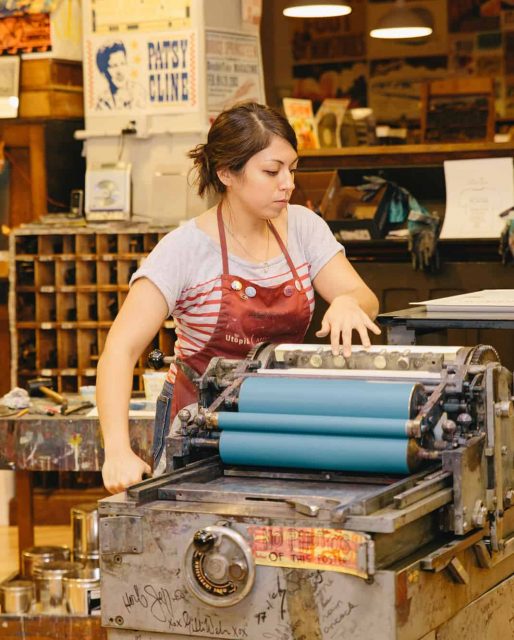 The Hand Blocks Used to Carve the Imagery in the Printing Process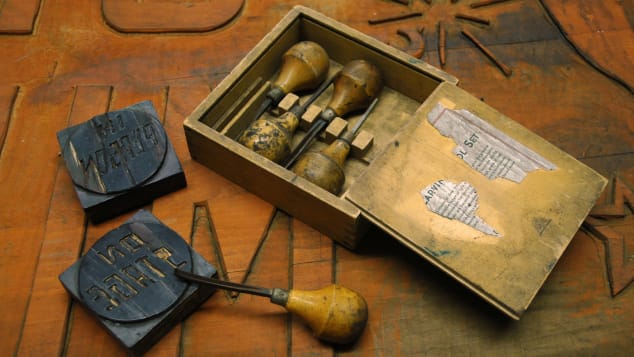 Hatch Show Prints Featuring Hank Williams, Patsy Cline, Elvis Presley, Johnny Cash, and Roy Acuff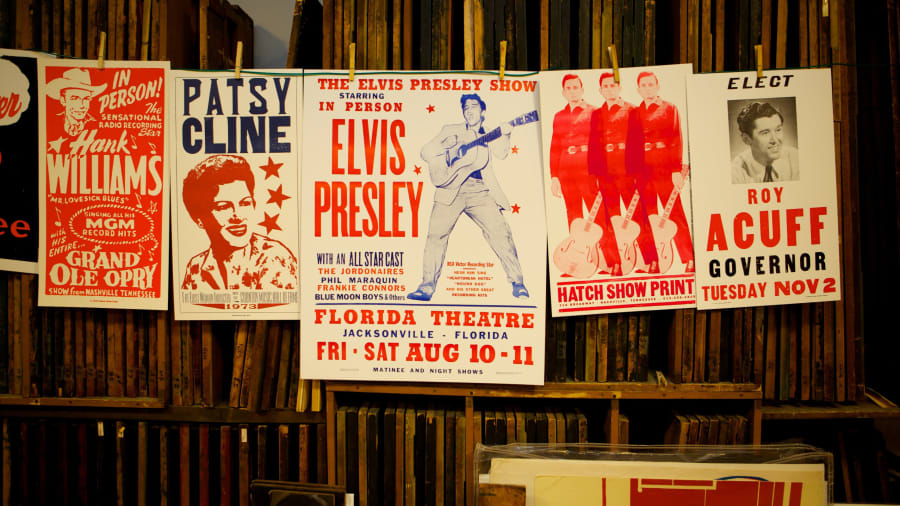 Backstory and Context
        Two brothers named Charles and Herbert Hatch in 1879 developed the print company in Nashville, TN. They had experience working with their father on similar work in Wisconsin. Their first poster was an advertisement for an appearance of Harriet Beecher Stowe's brother Reverend Henry Ward Beecher. Their hand carved letterpress designs became quite popular after that and started appearing everywhere.
Hatch Show Print started designing posters for Vaudeville, Circuses, concerts, etc. During this time period, this type of advertisement was the best way to get the word out to people, as mass media did not exist at this time. Hatch became very popular and during the 1940s when the Grand Ole Opry started branching out. The printing press started to work closely with the Ryman Auditorium when Charles' son started designing the posters. Hatch Show Print designed and printed almost every one of posters for the Opry while the show was at the Ryman.
Due to the development of modern technology Hatch had to find different outlets for their posters. They started to branch out from just country music to rock and roll and wrestling. However, Hatch would not veer too far from their country music roots. Hatch was donated to the Country Music Hall of Fame and museum in 1992 and is now operated by them. They have moved locations a few times but even three decades later they are still printing hundreds and hundreds of posters each year using the same 19th Century method. Hatch Show Print originals are almost never recreated and can be seen as collector's items. Hatch Show Print is a very integral part of the history of not only Country Music in the U.S. but also the history of advertisement and graphic design.
Sources
"The Art of Hatch Show Print." Smithsonian Institution Travelling Exhibition Service. Accessed March 21, 2017. http://www.sites.si.edu/exhibitions/exhibits/hatch_show_print/main.htm.
Image Sources
Country Music Hall of Fame and Museum

Country Music Hall of Fame and Museum

Hatch Show Print

CNN

Additional Information