Saint Thomas Church Fifth Avenue, New York
Introduction
Built in 1913, this classic Gothic structure is the fourth church built by the Episcopal parish of Saint Thomas in New York. The parish dates back to 1823 when Charles King the future president of Columbia University met with wealthy landowner William Astor and other leading members of the city and organized a new episcopal church. The congregation dedicated their first church two years later at the corner of Broadway and Houston in the neighborhood now known as Greenwich Village. This church was destroyed in a fire in 1851. The congregation rebuilt their church at this same location, but in 1870, the congregation decided to relocate away from this area due to the proliferation of saloons and dance halls. The third church was also destroyed in a fire in 1905. Construction on this church, the congregation's fourth, began in 1911. The church is best known for its blending of simplicity and richness, as well as the 60 detailed sculptures within the reredos.
Images
Construction of this church building (the congregation's fourth) began in 1911.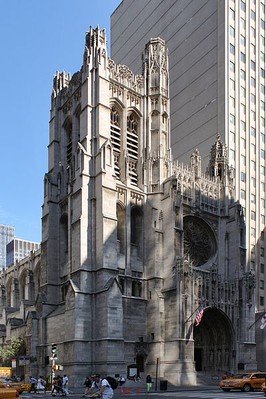 The interior of Saint Thomas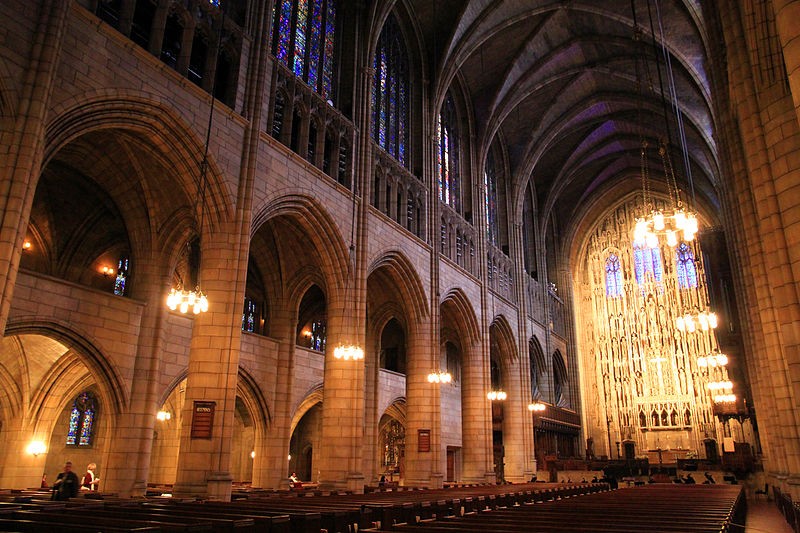 Backstory and Context
The Church was founded as the Saint Thomas Protestant Episcopal Church in 1823, and it was originally located on Broadway and Houston Street. The laymen who sponsored this Church believed New York City was growing at such a rate that churches could not keep up. As the city grew, they wanted to grow with it, and thus, the church was founded with that in mind. However, the original building, designed by Joseph R. Brady and the Rev. John McVickar with a revival-Gothic facade, burned down in 1851. Church leaders decided to rebuild the church on the corner of Broadway and Houston, and it remained there until 1870.
The third Church, which was moved to its current location on Fifth Avenue and 53rd Street, was designed by Richard Upjohn and Richard M. Upjohn who were father and son. This church was known for its 260 ft tower which left visitors in awe. This church would not last, though, and in 1905, another fire destroyed the building.  
The fourth church building was completed in 1913, with its first congregation meeting for worship service on October 4, 1913. Avoiding the disasters that destroyed the previous buildings, this building still stands and serves as the present home of the St. Thomas Church. It was designed by Cram, Goodhue, and Ferguson who modeled it in a French High Gothic style. The building consists of stone ornaments, arches incorporated into the triforium, and massive reredos with statues surrounded by stonework. 
Sources
Saint Thomas Church website, http://www.saintthomaschurch.org/ accessed 12/18/14St. Thomas Church Fifth Avenue. The New York City Chapter of the American Guild of Organists. Accessed Web, 5/2/17. http://www.nycago.org/organs/nyc/html/StThomasEpis.html.
Additional Information