Pioneer Cemetery
Introduction
Homesteader Aaron Perry claimed this section of land that would become the center of Lawrence in 1854. His family permitted neighbors to bury their departed within part of his claim, leading to the creation of a memorial space that was known as Oread Cemetery for many years. Between 1854 and the 1860s, there was scarcely any system of recording the location and names of the deceased that were buried here. This was especially true following the death of 18 Union soldiers who died of typhoid fever in 1862 and the mass killing of civilians by Quantrill's raiders in 1863. After the mass burial of the victims, many of the Quantrill's victims were reburied at Oak Hill Cemetery. The last burial at this location occurred in 1882.
Images
The marble obelisk near the center of the grounds is a monument to T. W. Barber, an Ohio abolitionist shot by pro-slavery men during the Wakarusa War in December 1855. Barber was memorialized by John Greenleaf Whittier in his poem, "Burial of Barber.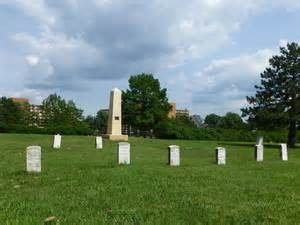 Backstory and Context
The center of the cemetery is marked by an obelisk that honors a martyred anti-slavery pioneer. Near the obelisk are the headstones furnished by the local chapter of the Grand Army of the Republic. These headstones honors the 18 Union soldiers who perished of typhoid fever was well as serving as a general memorial to the unknown soldiers who served the Union during the Civil War.
Sources
"Pioneer Cemetery." Historic Mount Oread Friends. Accessed December 16, 2014. http://www2.ku.edu/~union/hmof/landmarks/pioneer.shtml.