223 Walnut to 26 Irvine Park
Introduction
As you walk the southern side of Irvine Park, knowing what you do about this district, consider again what the homes that were built here and those that were relocated here reveal for you the choices St. Paulites have made about Irvine Park. A Note About 1970s Renovations: By the 1970s city inspectors had declared most of the homes around the park substandard housing. The preservation-minded people who purchased them qualified for municipal and federal grant programs that offered the houses for as little as $1.00 in exchange for their promise to renovate and restore the properties.
Images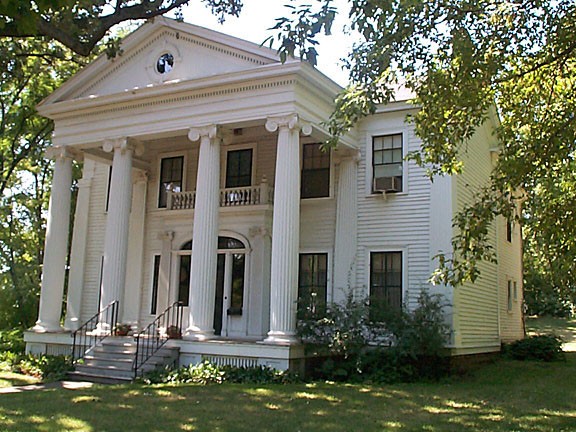 Delta Lawn Tennis Club at 223 Walnut Street (1885)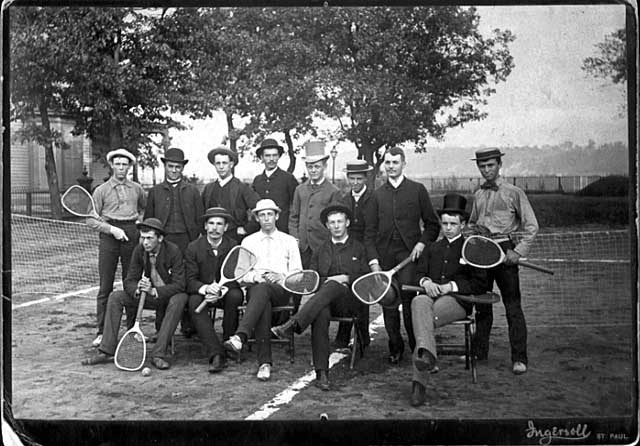 223 Walnut with Farmers Union Terminal in the background (1972)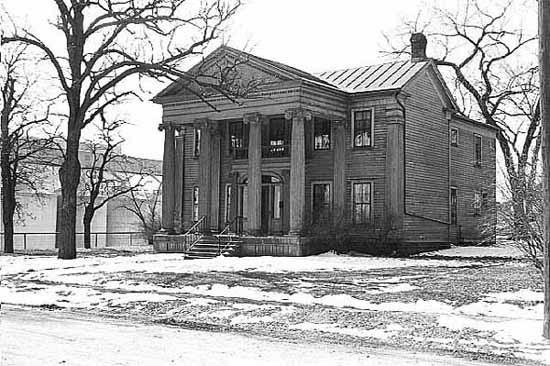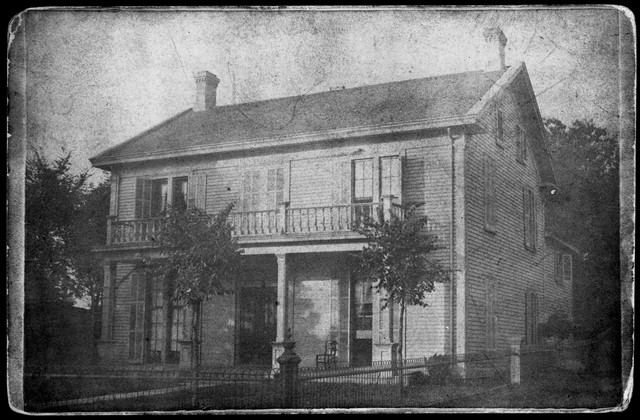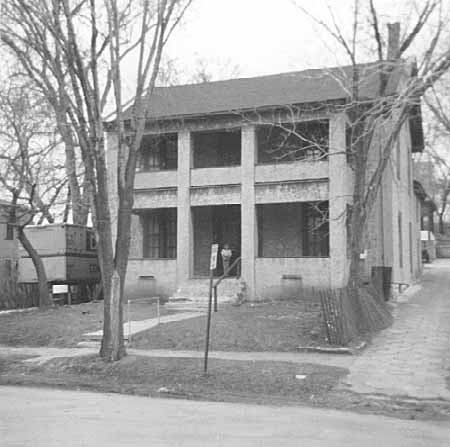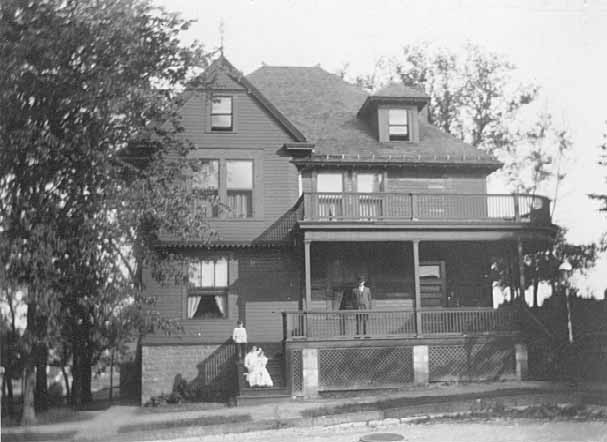 40 Irvine Park with asbestos siding (1972)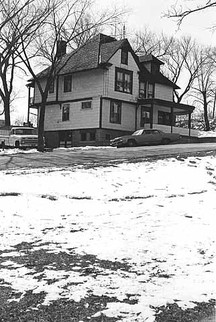 38 Irvine Park after relocation (1986)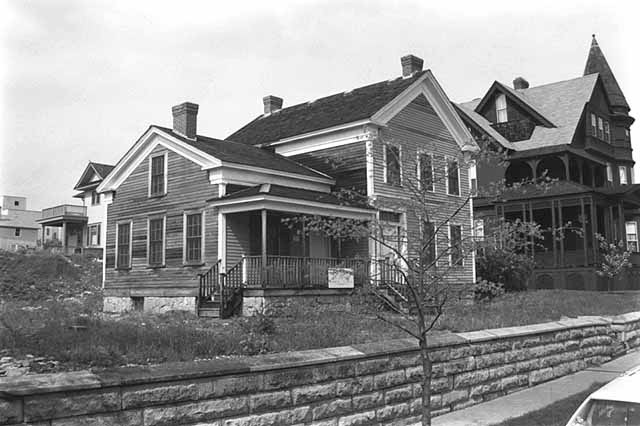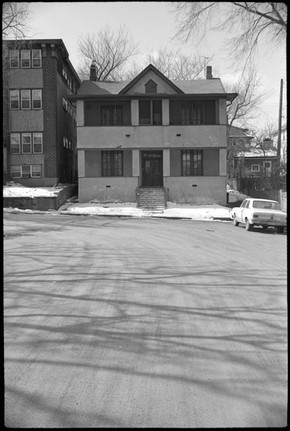 Backstory and Context
223 Walnut Street (a.k.a. The One with the Columns) This Greek Revival House has stood sentinel here through for nearly 17 decades of change. It survived the partial demolition of the bluff below it. Steam and diesel trains have rattled its windows since the 1880s when its sideyard was also home to a short-lived, exclusive whites-only lawn tennis club. For much of the 20th century it enjoyed a view of the massive Farmers' Union Grain Terminal. Because descendants of the same family inhabited it from 1863 until 2014, it has remained a relatively unchanged single-family home throughout.
47 Irvine Park (1861) Built by a cofounder of the Minnesota Republican Party during the US Civil War, this Greek Revival house is the second American home built on this location. Twentieth-century landlords subdivided it into multiple units and faced with stucco until a new owner bought it in the 1990s and spent the next two decades restoring it to its current condition.
40 Irvine Park (1887) A wealthy widow built this house for herself, her sister, and the extensive library she inherited from her late husband. Various owners have altered the exterior over the years.
38 Irvine Park (1858) was the summer house of a wagonmaker and his wife and was originally located in Woodbury Township. It is the third American building on this site. The first was demolished. The second was relocated here and then burned down. Preservationists saved this from demolition due to the expansion of I-94 and moved it here in the early 1980s
35 Irvine Park (1885) is a Queen Anne-style beauty. It is the kind of home that springs to mind for many Americans when they hear "Victorian architecture." Its first owner, a wealthy barrel manufacturer, built it for his wife and six children but died of pneumonia before it was completed. His widow took in boarders so she could afford to maintain the house and then bequeath it to her son. It remained a single family home until the 1970s when its owner subdivided into 25 sleeping rooms and covered it in inexpensive asphalt siding. Subsequent owners have restored it to a single family home, the exterior of which mirrors its original appearance.
32 Irvine Park (1853) this pre-Civil War Federal Style brick house originally stood blocks away on Sherman Street. Preservationists moved it here in 1978 to protect it from demolition due to the expansion of the United/Childrens' Hospital complex.
30 Irvine Park (1852) This wooden Greek Revival home has survived three moves and subdivision into a fourplex over the past 17 decades in the 1950s. Its historical identity as the home of a succession of influential St. Paul businessmen and one former MN governor, William Marshall, may have contributed to its longevity. The former homes of powerful people are often saved.
26 Irvine Park (1860) At some point in its history this home was covered in stucco to make it easier to maintain. The people who purchased it in the 1970s removed the stucco to reveal the distinctive board-and-batten siding and Gothic Revival style.
Sources
Millett, Larry. The AIA Guide to the Twin Cities (MNHS Press, 2007).
Sazevich, Jim. "St. Paul's Oldest Living Neighborhood." Commissioned by the Minnesota History Center, 2008).
Murray - Lanpher House, 35 Irvine Park, Saint Paul, Minnesota, Placeography. October 20th 2008. Accessed July 3rd 2020. http://www.placeography.org/index.php/Murray_-_Lanpher_House%2C_35_Irvine_Park%2C_Saint_Paul%2C_Minnesota.
Parker-Marshall House, 30 Irvine Park, Saint Paul, Minnesota, Placeography. December 16th 2008. Accessed July 3rd 2020. http://www.placeography.org/index.php/Parker-Marshall_House%2C_30_Irvine_Park%2C_Saint_Paul%2C_Minnesota.
Wright-Prendergast House, 223 Walnut Street, Saint Paul, Minnesota, Placeography. April 28th 2014. Accessed July 3rd 2020. http://www.placeography.org/index.php/Wright-Prendergast_House%2C_223_Walnut_Street%2C_Saint_Paul%2C_Minnesota.
Image Sources
www.placeography.org

www.mnhs.org

www.mnhs.org

www.mnhs.org

www.mnhs.org

www.mnhs.org

www.mnhs.org

www.mnhs.org

www.mnhs.org

Additional Information