E. Martin Hennings House and Studio Historic District
Introduction
In 1936, the E. Martin Hennings House and Studio Historic District was purchased by prominent Taos painter, E. Martin Hennings (1888-1956), and the property served as his home and studio for 30 years. Hennings was known for his portrait paintings of Native Americans and landscapes of Taos, New Mexico and Southwest U.S. He was a member of the Taos Society of Artists, an organization that spread the Taos art colony and influenced many artists to move to Taos. Hennings' one-acre property includes several contributing buildings, such as the main house, a studio, and an adjacent building compromised of four guest units. Hennings lived at the property until his death in 1956, and his wife, Helen lived here until 1979 where she sold the property. At one point, the property was converted into a bed and breakfast, which was called The Willows Inn. In 1990, the property and its contributing building were listed on the National Register of Historic Places as a historic district for its well-preserved architecture design and its historical association with E. Martin Hennings.
Images
The Beautiful E. Martin House and Studio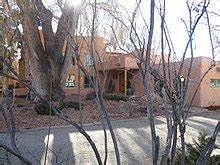 The Fantastic Greenery around the Property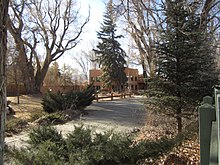 The Man Behind the Property: E. Martin Hennings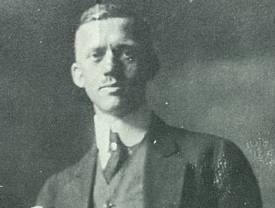 Hennings' Sunlit Foothills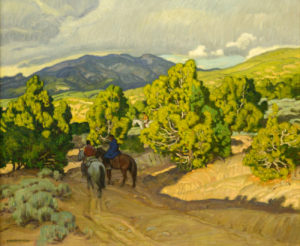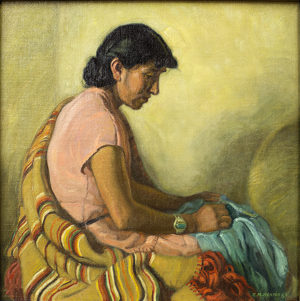 Backstory and Context
Ernest Martin Hennings was born on February 5, 1888 in Penns Grove, New Jersey. Hennings' parents were German immigrants from Schleswig-Holstein, Germany. When Hennings was two years-old, the family moved from Penns Grove to Chicago. From his adolescence, Hennings began taking an interest in painting and sculpting. From 1901-1904, Hennings went to Art Institute of Chicago, and after graduating, he continued to study at the institute under the guidance of Dutch-American painter, John Vanderpool. Afterwards, Hennings worked in commercial art, and later, he began to win prizes at art contests and exhibits. In 1912, Hennings won second-place at a painting competition in Ecole des Beaux-Arts in Paris, France. After the competition, he traveled to Munich, Germany and enrolled at the Academy of Fine Arts. He later returned to Chicago and worked and continued to work as a commercial artist. Eventually, he joined the Palette and Chisel Academy of Fine Arts in 1916, and during his time in Chicago, he gain recognition as an artist with many of his mural paintings showcased in several buildings.
In 1917, Hennings first went to Taos, New Mexico under the sponsorship of art patron and former mayor of Chicago, Carson Harrison. Harrison and his friend, Oscar Mayer sponsored young prominent artists to travel to Taos. The duo were fascinated with Taos and its art colony while hunting around the area. Throughout 1917, Hennings spent painting in Taos. Most of his works are primarily portraits, and his work captured the essence of the Native Americans in the area. Also, Hennings would paint outdoors in order to feel the environments and landscapes he would recreate on canvas. He soon returned to Chicago and picked up commercial art again. In 1921, he decided to permanently move to Taos, and he established his studio nearby the property of this house. He quickly gained recognition around the area, and in 1923, he was nominated by painters, Bert Phillips and Oscar E. Berninghaus as a member of the Taos Society of Artists alongside with his former classmates Victor Higgins and Walter Ufer. The society was an organization that influenced numerous artists to move to Taos and spread the word of the Taos art colony across the United States.
In 1926, Hennings married store buyer, Helen Otte, and they had one daughter together in 1930, who was also named Helen. The Hennings eventually lived in an apartment at the Harwood Foundation, which was a center for artists. In 1936, Hennings purchased his home and its accompanying studio for $3,000. The house was originally built and owned by lawyer Floyd W. Beutler, and the property served as his home for him and his family. Then, the house was owned by artist, Linley Tonkin before it was purchased by Hennings. The one-acre property includes the main house, a studio, a large pool, and a building with four guest units; All of the buildings' designs are mixed with the Spanish Pueblo Revival and the Southwestern Vernacular.
Later, Hennings traveled throughout the Southwest, and he would paint various subjects, such as Native Americans, horses, and landscapes.He also dabbled in other forms of art, such as lithographs and etchings. During the Great Depression, Hennings continued to receive commission from his artwork through his travels and paintings despite the server crash in the art market. For 30 years, Hennings continued to live at the property until his death in 1956. Instead of being buried in Taos, his remains were sent to Chicago and were buried there. Helen Otte Hennings continued to live in the house until 1979 when she sold the property and moved to Chicago to be near her daughter. After Helen left the house, there were some renovations made to the house, and in 1983, there was a fire on the second floor, which destroyed the original flooring and window sashes. The house was later purchased by Georges T. Van de Kerckhove, who resorted the house back to its historic appearance. At one point, Kerckhove transformed the house into a bed and breakfast, which he named The Willows Inn. Now, the property stands as a historic district, and it was listed on the National Register of Historic Places in 1990 for both its historical association with E. Martin Hennings and its well-preserved architectural design.
Sources
Barter, Judith A. Window on the West: Chicago and the Art of the New Frontier, 1890-1940. Chicago, IL. Art Institute of Chicago , 2003.
"Hennings in Taos," Parsons: Taos Art in Taos. n.d. Accessed June 28th 2020. https://www.parsonsart.com/home/e-martin-hennings.
Sze, Corinne P. "E. Martin Hennings House and Studio District," National Register of Historic Places. July 5th 1990. Accessed June 28th 2020. https://npgallery.nps.gov/NRHP/GetAsset/NRHP/90001028_text.
Image Sources
https://en.wikipedia.org/wiki/E._Martin_Hennings_House_and_Studio_Historic_District

https://en.wikipedia.org/wiki/E._Martin_Hennings_House_and_Studio_Historic_District

https://www.louisgrell.com/wp-content/uploads/2018/05/Hennings-c1914-Munich.png

https://zaplinlampert.com/artist/e-martin-hennings/

https://zaplinlampert.com/artist/e-martin-hennings/

Additional Information