Orchard Hill
Introduction
Imagine this place as it was, a farm for more than 100 years. A comparison of the 1850 agricultural census for Orchard Hill, when it was the home of Daniel Taylor, with the 1880 census, when Daniel's son, Daniel Jr. lived and worked there, reveals very similar farm operations. Both grew wheat, oats, corn, potatoes, and hay. There would have been milk cows nearby for butter production and an apple orchard was located east of the house where private homes now stand. A cemetery, hardly noticeable today, is to the southwest of the house, between Orchard Hill and the pool house. Today, Orchard Hill appears to be a very different place.
Images
1870 Survey drawing of Orchard Hill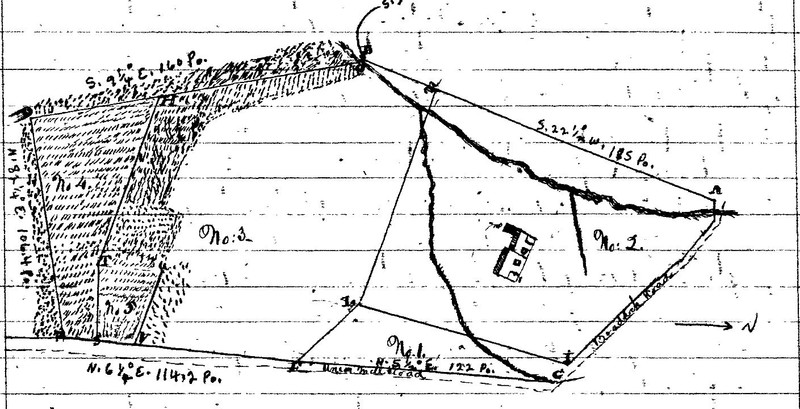 Map of Northern Neck Land Grants and Patents drawn by Beth Mitchell. Tracts included within heavily outlined V shape are Willoughby Newton's holdings, all west of Little Rocky Run. Willian Lynton's patent adjoins Newton's, on the east side of the run.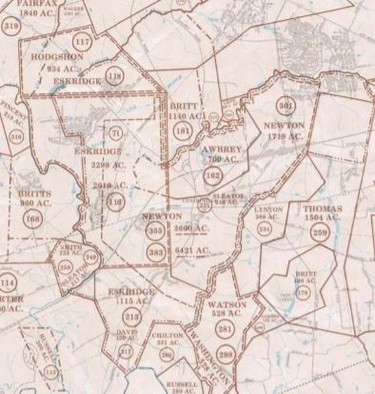 Orchard Hill. Thomas Timothy Taylor's room was on the first floor on the northwest corner of the house.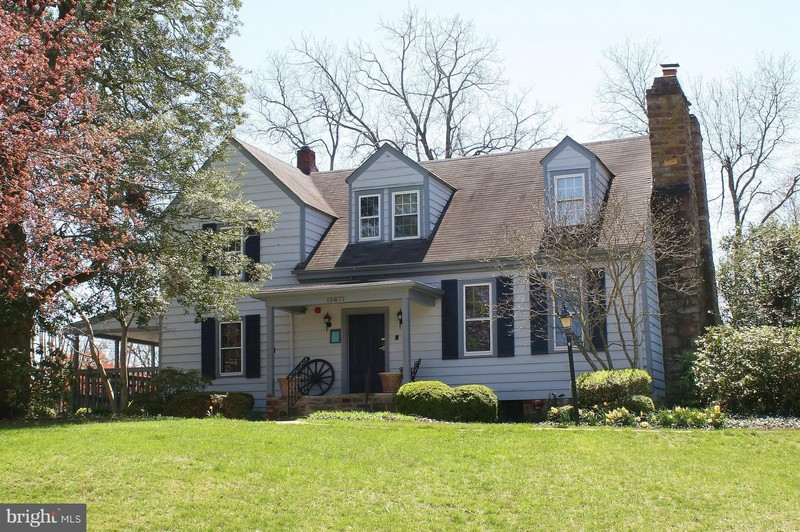 1937 overhead view of Orchard Hill house with orchards. Annotated with position of modern New Braddock Road.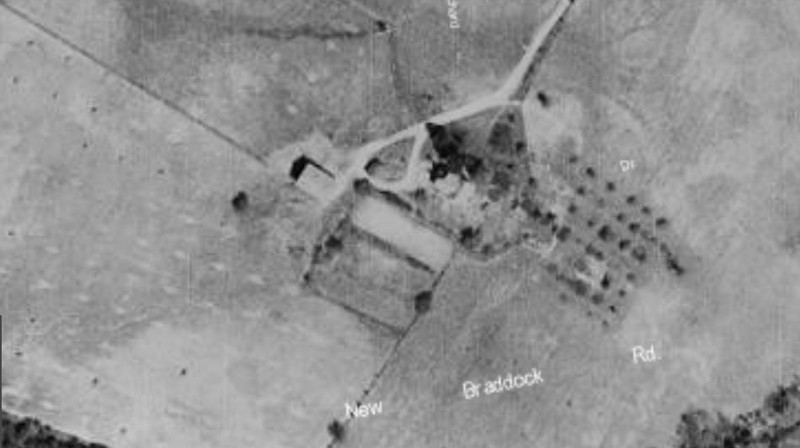 Backstory and Context
Old homes like Orchard Hill are difficult to date. Land ownership was well documented, but not what was put on the land. Fairfax County didn't issue building permits until the 20th century. It didn't even tax the value of buildings until 1820, and those records contain little to no detail about the buildings apart from a very general estimate of value. So how old is Orchard Hill? No one really knows.
The Fairfax County Historical Index lists its date of construction at about 1780. A 1972 HABs report, suggested the building could be 40 years older and date from the 1740s. It could also be of a more recent vintage, perhaps 1810 or even 1840. It was drawn on an 1870 survey, so it is at least that old.
We do know that in 1730 William Lynton (also spelled Linton) patented this land, which was a type of ownership under the colonial system. Lynton, like Willoughby Newton and other large landholders, lived elsewhere and purchased land as a means of generating income and providing for heirs. Land patents generated income by rents, but, as of this writing (with the libraries closed due to the pandemic), no records of Lynton's tenants have been found. It's likely that Lynton died not long after purchasing this property (a William Linton died in Prince William shortly before 1736), so it is possible he never had the chance.
In 1751 James Nesbitt acquired control of Lynton's patent by marrying Ann Lynton. Nesbitt did establish at least one set of tenants on the northern portion of this land. William Buckley and his two sons, William and John, were given a three-lives lease good for the lifetimes of William and the two boys. They were required to pay their rent in tobacco and they would have built a home here and a suite of out-buildings to maintain the farm, apple orchards were also common at this time. Could Orchard Hill be the Buckley home?
It may well have been David Lane's home, which he called Hayse (or Hays). His father William Lane purchased the Orchard Hill tract from James Nesbitt. Like Nesbitt, Lane used the land to generate income and thus, when he bequeathed it to his son in 1808, he asked that David not "take possession" without his mother's consent so that she would not be deprived of the income. She consented in 1809 and David is listed with his own household in the 1810 census. But David did not make a record of his mother's consent with the Fairfax Court. As a result, one of David's first attempts to vote was ruled illegal in what must have been a very hotly contested election between George Minor and Richard Coleman for the state legislature.
Hayse wasn't David's home for long, he died a young man and his brother sold the property. In 1839 it was purchased by Daniel Taylor. Taylor farmed it for the rest of his life, until his death in 1864. His sons Daniel Jr. and Thomas carefully divided the farm between themselves and the heirs of their brother William (other siblings sold their interests to their brothers). Daniel Jr. was allotted the portion with the building you see today, clearly shown on an 1870 survey of the division of land. This became Daniel Jr.'s life-long residence as well. Daniel Jr's 1899 will reflects his consideration and love for his family. He bequeathed his home first to his brother Thomas, then to his nephew James, and then to his nieces Annie and Gertrude, with the stipulation that the property not be sold until the last of them either died or married and no longer needed the the house to be their home.
Gertrude and Annie both married, Gertrude wed William H. Fox and Annie married William Stiebling. Together they sold Daniel Taylor's farm and home to Joseph and Maude Roberson (nee Taylor) just before Christmas in 1913, with the stipulation that Thomas Timothy Taylor, their father and Daniel's brother, be allowed to remain in his room in the northwest corner of the house. The Robersons, Foxes, and Stieblings agreed to contribute to Thomas' care for the remainder of his life. Joseph passed the old house to his sons in 1933. As Centreville changed so did Orchard Hill. The orchard and farm are gone, but the house still serves to protect and support families in it's 21st century role as a community center.
Sources
Fairfax County Genealogical Society. Orchard Hill Cemetery. Accessed via website: https://fxgs.org/cemeteryRecords.php?lv=C&cnty=Arlington%20County&sortCol=lna&cid=118
"Beginning at a White Oak" by Beth Mitchell, 1977. Printed by McGregor and Werner, with accompanying Patents and Northern Neck Grants of Fairfax County, Virginia map. Accessed via Fairfax County History Commission website: https://www.fairfaxcounty.gov/history-commission/resources.
Library of Virginia. Northern Neck Grants Liber C, p. 71. September 14, 1730, 386 acres to William Lynton on Little Rocky Run.
Joan W. Peters. Prince William County Will Index, 1734-1951. Willow Bend Books: Westminster, MD. 2001.
Fairfax County Deed Book C1, p. 276. December 3, 1751, 284 acres from James Nisbet of Dettingen Parish to William Buckley in Fairfax County.
Fairfax County Will Book J1, p. 110. February 11, 1808. Will of William Lane.
United States 1810 Census, Fairfax, Virginia. Accessed via Ancestry.com.
Virginia Patriot, Richmond, January 5, 1811, p. 1. Virginia Legislature, House of Delegates.
Fairfax County Will Book K1, p. 353. Inventory of David Lane estate.
Fairfax County Deed Book W2, p. 348. July 12, 1826, from William Carr Lane to Seaton Norris, "one undivided right in a tract of land called Hayse" on Little Rocky Run, "formerly the property of David Lane."
Fairfax County Deed Book E3, p. 232. April 2 1839, 278 acres from E. M. Dickey to Daniel Taylor.
Fairfax County Deed Book F4, p. 28. November 1870. Partition of Daniel Taylor estate.
Fairfax County Deeb Book R7, p. 625. December 22, 1913. Fox , Stiebling, and Taylor to Roberson.
Fairfax County Deeb Book H15, p. 471. January 11, 1933. Roberson to Roberson.
Image Sources
Fairfax County Deed Book, Fairfax County Courthouse Historical Archives

Fairfax County History Commission Website.

Sampson Properties.net

Fairfax County Historical Imagery Viewer, https://www.fairfaxcounty.gov/maps/