National Shrine of Blessed Francis Xavier Seelos
Introduction
Established by the Redemptorist Fathers and Brothers in 1959, the National Shrine of Blessed Francis Xavier Seelos is adjacent to St. Mary's Assumption Church in New Orleans. Father Seelos was a member of the Most Holy Redeemer Church and came to New Orleans in 1866 to perform missionary service. He preached throughout the Northeast and Midwest and was known for his focus on serving the sick and the poor. Members of his congregation viewed Seelos as an expert confessor and spiritual leader, and members of the Catholic church continue to revere Seelos for his willingness to serve parishioners who had contracted Yellow Fever. Seelos contracted the disease while administering victims of a Yellow Fever epidemic and died in 1867. On April 9, 2000, Pope John Paul II proclaimed Father Seelos as blessed in St. Peter's Square.
Images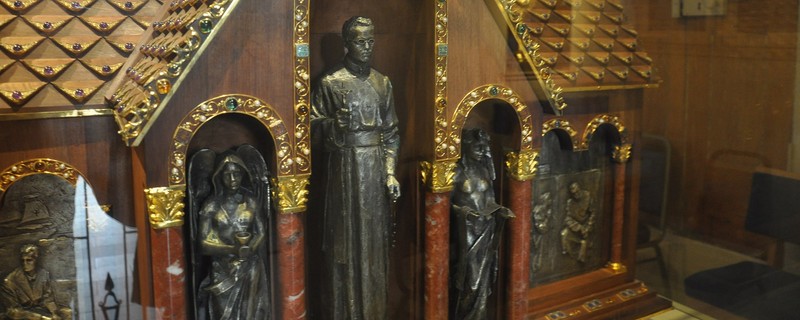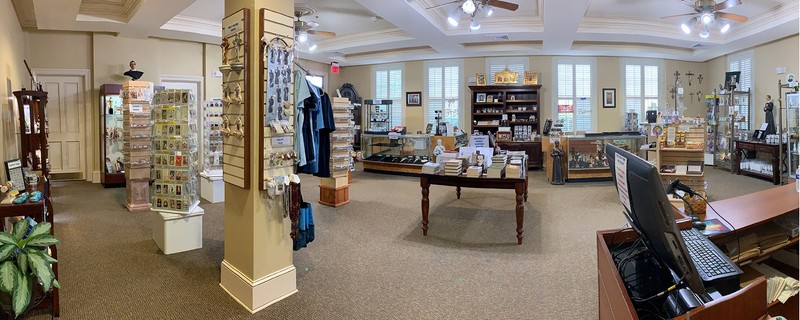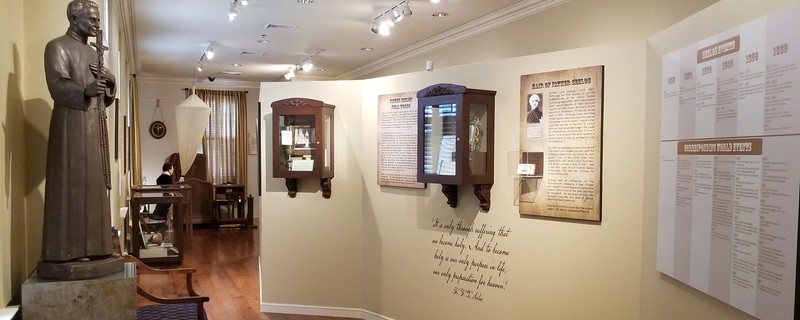 Backstory and Context
Father Francis Xavier Seelos was born on January 11, 1819 in Füssen, Bavaria. He had a desire to join the priesthood since he was a small child. He studied philosophy at the University of Munich, and entered the diocesan seminary in 1842. He was accepted into the congregation of the Most Holy Redeemer in 1842, and in April of the following year he moved to New York to minister to German speaking immigrants. It was in New York that he completed his novitiate and theological studies. 
In 1844, he went to Baltimore, Maryland where he was ordained a priest at the Redemptorist Church of St. James. Once ordained, he worked for nine years at the Parrish of Philomena in Pittsburgh, Pennsylvania. For six of those years he served as assistant pastor to St. John Neumann, and the last three he served as Superior and as a Redemptorist Novice Master.
Father Seelos was devoted to living simply, and his sermons reflected that. His sermons were rich in biblical content and was spoken in a way that everyone could understand and benefit from. Father Seelos always believed that it was important to educate children in the faith because it was fundamental to the growth of the Christian community. He sought to instill enthusiasm, the spirit of sacrifice, and apostolic zeal for the spiritual welfare of the people.
In 1860, he was a proposed candidate for the office of Bishop in Baltimore, but was excused from serving the post by Pope Pius IX. From 1863-1866 he lived the life of an itinerant missionary, and preached in English and German throughout Illinois, Michigan, Missouri, and the Northeast. In 1866 he was assigned to the Redemptorist Community in New Orleans, where he became pastor at the Church of St. Mary of Assumption. The Church of St. Mary of Assumption was completed in 1860 and was constructed for the large German Catholic immigrant population. There he showed concern for the poor and the most abandoned. In September, he was exhausted from caring for and visiting those sick with yellow fever, and eventually caught the deadly disease. After several weeks of fighting the disease, he passed away on October 4, 1867 at the age of 48. Father Francis Xavier Seelos was proclaimed blessed by Pope John Paul II, and was beatified on April 4, 2000 in St. Peter's Square. Father Seelos has been credited with performing a miracle, which when added to his intercession allowed him to become beatified, "Blessed" is added to the name, and added to the churches calendar to be remembered at public masses.
The National Shrine of Blessed Francis Xavier Seelos houses many religious paintings, tapestries, and artifacts that depict Father Seelos' life as a missionary. There is also a display of his personal belongings, a life-sized bronze statue in his likeness, and his original iron casket from 1867. A sacred reliquary that holds the remains of Father Seelos is the centerpiece of the Shrine. Behind the church and Shrine lies a beautiful courtyard and a gift shop.
Sources
A Brief Biography of Blessed Seelos, The National Shrine of Blessed Francis Xavier Seelos. Accessed June 18th 2020. https://seelos.org/biography/.
Blessed Francis X. Seelos, The Redemptorists. Accessed June 18th 2020. https://redemptorists.net/redemptorists/saints/seelos/.
National Shrine of Blessed Francis Xavier Seelos, New Orleans. Accessed June 18th 2020. https://www.neworleans.com/listing/national-shrine-of-blessed-francis-xavier-seelos/32647/.
Image Sources
https://seelos.org/about/

https://seelos.org/gift-shop/

https://seelos.org/walk-of-life-museum/

Additional Information