Harts Pre-K through 8th Grade School
Introduction
This is the newest school in Lincoln County. The building took several years to complete and finally opened in 2012.
Images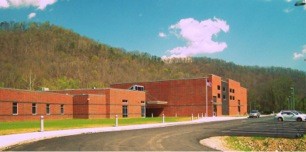 Backstory and Context
The Harts Creek PK-8 School represents the new trend in the Lincoln County School system that is also being mirrored by other schools in the Southern part of the state. The school replaced Harts Elementary and Ferrelsburg Elementary. Due to financial restrictions and sparse population, larger schools that contain an elementary school and a middle school in one building are being constructed instead of individual schools. Six schools in Lincoln County were consolidated to form 3 PK-8 schools in the 2000s. These consolidations were another effect of the 1982 Recht Decision. Due to financial restriction and standardized goals, when a school fell into disrepair and needed rebuilding, the county opted to build larger schools to replace multiple smaller ones.
The outcry from the community when this happened was quite extensive. Many parents did not want their children to have to be bused farther and lose the smaller class sizes. The protests and complaints did nothing to thwart the school consolidation process. In 1976 Lincoln County had 24 schools; currently it has 8.
Sources
Reynolds, David R. 1999. There Goes the Neighborhood: Rural School Consolidation at the Grass Roots in Early Twentieth-Century Iowa. Iowa: University of Iowa Press. Triplett, Ralph D. and Triplett, Boone. 2013. Images of America: Lincoln County. Charleston, South Carolina: Arcadia Publishing. Lincoln County Board of Education. Lincoln County Schools. http://boe.linc.k12.wv.us (accessed December 11, 2014). Harris, Amy Julia. 2012. 1982 Recht Decision: State still rumbles from aftershocks of reform ruling. Charleston Gazette. http://www.wvgazette.com/News/201205120049 (accessed December 10, 2014). The West Virginia Encyclopedia online, s.v. "Recht Decision," http://www.wvencyclopedia.org/articles/19 (accessed December 10, 2014). West Virginia Research Legislature Auditor. Performance Evaluation and Research Division. 2011. An Examination Of The Effects On Educational Outcomes From High School Consolidation: Lincoln County's Experience. PE 10-21-488. http://www.legis.state.wv.us/joint/perd/perdrep/DOE_1_2011.pdf (accessed December 10, 2014). Brenda Powell (Executive Secretary Lincoln County Board of Education), interview by Heather Edwards, December 5, 2015, transcript.
Additional Information