Wenatchee Federal Savings and Loan Building
Introduction
A wooden structure housing a tin shop and a stove manufacturer stood at this site from 1899 until it burned down in the big downtown fire of July 1909. The original building was also home to the Haskell and Prowell Furniture Store, with church services and social gatherings being held on the second floor. A second building served as John Schisscoff's restaurant and Chartrand's Shoes in the 1910s. By 1922 the tenants were Harrison's Inc., a clothing store, and the J.H. Carey Bakery. In 1925 the buildings were demolished and developers Royal Weinstein and Herbert Claassen contracted with architect Earl Morrison to build the stately four-story Art Deco brick building with terra cotta ornamentation that stands at this site today. Situated on the southeast corner of Palouse and Wenatchee Avenue, 5 South Wenatchee Ave., was built by Claassen-Weinstein Investment Company at a cost of $200,000. It was completed in March 1926, and was a structure with an elevator and modern conveniences "without a peer in lesser cites of the state, outside of Everett".The Wenatchee Federal Savings and Loan bank occupied the ground floor from 1926 to 1962, at which time the building became office space. Tenants have included insurance and real estate firm Ferguson - Ross Agency, Ben Hay Jewelers, the U.S. Forest Service, U.S. Department of Agriculture, Washington State Liquor Control Board, J. Stevens Gift Shop, Crossroads Travel and the Wenatchee Valley Chamber of Commerce.
Images
The Wenatchee Federal Savings & Loan Building illustration by Betty Bell.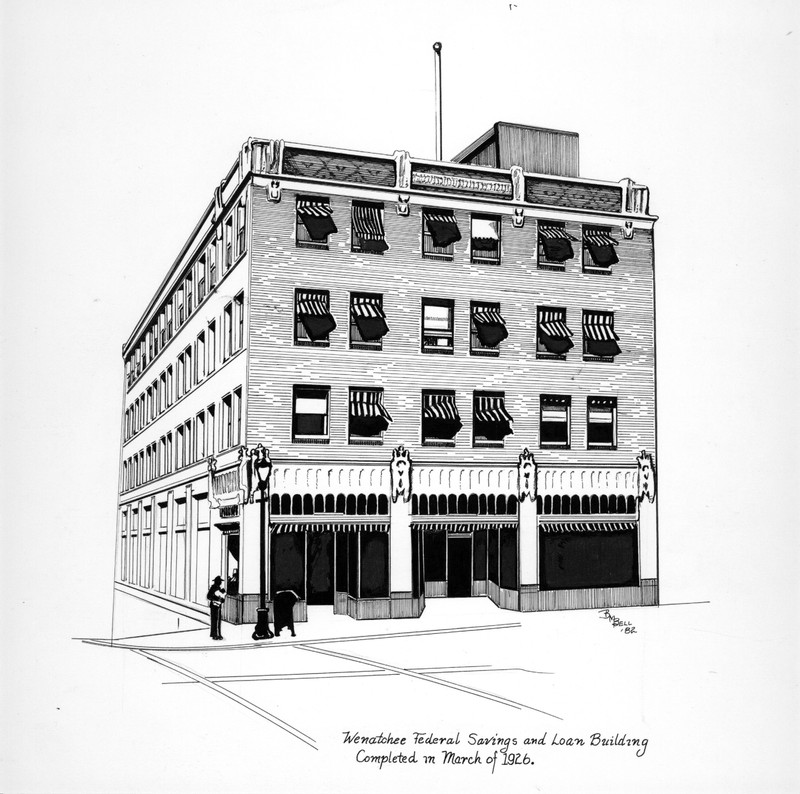 The Wenatchee Federal Savings & Loan Building by Photographer Alfred Simmer, taken in 1926.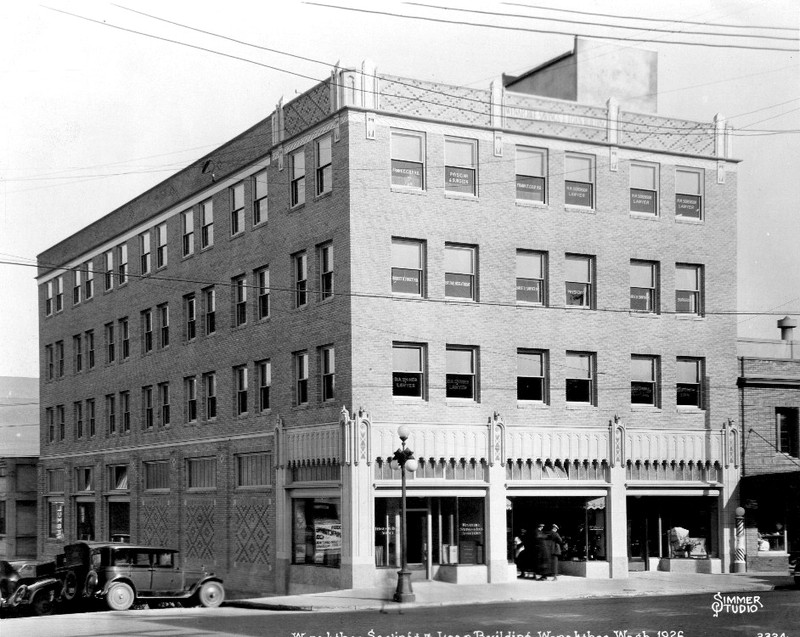 Backstory and Context
Weinsteins Ran the Fashion Shop
In the midst of downtown Wenatchee's building boom in the early 1920s, Julius and Ida Weinstein came to town to open a dress shop. They had operated a furniture store in Juneau but liked Wenatchee's location (and probably its weather) and were ready for a change. 
Wenatchee already had several clothing stores in its downtown core: McBride's, Webb & Sons, J.C. Penney, Mills Brothers (see related article), Ellis-Forde, and the Wenatchee and Emporium department stores. The fruit industry was constantly expanding and drawing more people to town, so there was plenty of room for competition. Ida was a good saleswoman who knew women's clothing, and the Fashion Shop thrived.
Julius Weinstein (WINE steen, no relation to the beverage company owners) had real estate interests that he pursued while Ida operated the store. He joined forces with Herbert Claasen in constructing and managing two substantial buildings downtown. The Wenatchee Federal Savings & Loan building, on the southeast corner of Wenatchee Avenue and Palouse Street, was designed by Seattle architects Earl Morrison and Vas Salisbury Stimson and built in 1926. The bank was on the first floor; various businesses rented offices on the second through fourth floors. The "S&L" was the first building in North Central Washington to have an elevator, central heating, and restrooms on each floor. Solid mahogany doors and trim work grace the interior upper-story offices.
In 1929 the Claasen-Weinstein Company constructed the Doneen Building for $250,000. It was designed by Morrison and Howard Wright. Across Palouse from the S&L building, it served as a medical and business center from 1929 to about 1947 when most doctors moved to the newly expanded Wenatchee Valley Clinic. Both buildings feature Flemish bond tapestry brickwork with Art Deco cornices, and remain in fine condition today. The Wenatchee Valley Chamber occupied the lower floor of the S&L building; the Doneen houses Bloomerang's, Country Financial and Cuc Tran.
Ida and Julius Weinstein's son, Royal, served in the U.S. Army during World War II. He fought in Europe, earning many medals, and was honorably discharged as a captain. Royal returned to Wenatchee to work in the Fashion Shop and help his father with the rental properties. At a wedding in 1946 he was captivated by a fellow guest, a petite and vivacious young nurse named Wilmajean ("Willie") Beedle. She had grown up in Wenatchee but had been working in California after earning her R.N. at Virginia Mason Medical Center in Seattle. Willie had recently returned to Wenatchee to work and teach at Deaconess Hospital.
Royal and Willie married in 1947. On their honeymoon Royal told her, "You're everything I've ever wanted! You're shorter than me and like the same things I do. I don't want you to work anymore; I want you to be with me." So she quit her job at Deaconess. Within a few years she was raising a family of three boys: Ed, John and Dick.
Julius Weinstein died in 1958. Royal took over his father's real estate interests, which now included four downtown office buildings plus the Fashion Shop. Not only did he recruit renters, but he dealt with the nuts and bolts of the buildings' workings. "He and I would go down at 4 a.m. to fire up the furnace when the custodian was ill," Willie said recently. "We did everything together." Royal and Willie embarked on a major remodel of the Fashion Shop, opening up the sides of the store that had once been enclosed closets and giving it a more welcoming, open feel.
Ida continued to manage the dress shop, with Willie working there fulltime. "I learned so much from Ida," Willie said. "She was so sweet. We got along very well and were always close; I was like a daughter to her. We talked things over." Eventually Willie managed the store but Ida continued to work there until she was in her 80s. "She wasn't a busybody and never interfered with our decisions," Willie said.
Ida and Willie, and later Willie and Royal, went to "markets" several times a year. They would spend a week in San Francisco, Los Angeles or New York City looking at the newest fashion designs on display at a fine hotel and deciding what to purchase for the Fashion Shop. They ordered six months in advance.
"Going to market was fun but stressful," Willie said. "You never knew if you were doing the right thing. You'd ask each other, 'Will this sell in Wenatchee?' It was hard work." The Weinsteins all had an eye for women's fashions, however, and made good decisions. They purchased name brands such as Pendleton, Jantzen and White Stag sportswear; Norman Blackwell formal wear; and Liz Claiborne. The store specialized in casual, everyday wear but also carried formals and bridal dresses. Its motto was "The store of famous labels, where smart women prefer to buy."
Fashion trends and short-lived fads were sometimes hard to anticipate. Bikini bathing suits first appeared in France in 1947 but didn't explode on the American market until movie actress Brigitte Bardot was photographed in a bikini at the 1953 Cannes Film Festival. Julius Weinstein said the Fashion Shop would sell bikinis "over my dead body!" However, a few years later Royal and Willie understood the demand and stocked the popular swimwear. 
Hats went out of fashion in the 1960s and the store stopped selling them, though Willie says she still has some prize hats from the 1920s in storage. Women's pants became popular in the late 1960s and early '70s, so of course the Fashion Shop made room for a wide selection. "If they're in the market and they're showing them, you have to buy," Willie said.
Willie, Royal and their sons spent most summer weekends at their cabin at Lake Chelan. They had a boat and all liked to waterski. The couple enjoyed entertaining, including inviting Fashion Shop staff up to the lake. "The staff was like family," Willie said. 
The couple often socialized with other Wenatchee apparel business owners. "We were all close friends, whether business competitors or not," Willie said. "We'd have dinners together, were members of the same clubs, would ask each other's opinions about things." These colleagues included Nate and Sadie Neubauer, Fyrne Webb, Ella Mae and Jack Crowl of McBride's, Frank and Patricia Douglass of the Alaska Dress Shop, and Sam and Mary Mills. (Downtown Wenatchee clothing stores in the mid-20th century also included Mode O'Day, J.C. Penney, Sears and The Toggery.) 
The Weinsteins sold the Fashion Shop to Carol Schrader in 1980. Royal continued to busy himself with the Claasen & Weinstein Investment Company, and he and Willie traveled extensively. They went around the world at least twice, with Royal collecting hats from many exotic countries.
Royal was a charter member of the Applarians and served as director general of the 1964 Apple Blossom Festival. He also belonged to the Wenatchee Golf and Country Club, Elks Club and American Legion. He died in 2002, shortly after having sold his share of the investment company. Willie, now 91, still maintains an active social life, giving parties for and going to lunch with friends. She volunteers as a greeter at Central Washington Hospital, where her sunny expression and compassionate manner are appreciated by visitors. "I've always said it's easier to smile than frown," she said.
Sources
Wenatchee Daily World (Wenatchee ) December 3rd 1932. .
Polk Directories. Wenatchee, WA. 1907-2006.
Rader, Chris. Weinsteins Ran the Fashion Shop. The Confluence. October 1st 2013.
Image Sources
Wenatchee Valley Museum & Cultural Center Collection # 89-36-25

Wenatchee Valley Museum & Cultural Center Photography Collection # 98-34-91

Additional Information