City Hall Center
Introduction
While no longer used for its original purpose, the former Anaconda City Hall building (it also housed a fire station) remains an important landmark in the city. Designed by Butte-based architects Charles Lane and Collins W. Reber, it was built in 1896 and is a beautiful example of eclectic Late Victorian architecture. Its interesting facade consists of a red brick and granite stone exterior; a 90-foot stair tower on the northwest corner with diagonally placed arched windows; an arched entryway on Commercial street with a Moorish "keyhole" arched window above it; and two projecting bays on the west side of the building, one of which features an arched dormer with lancet windows, and the other features arches above large openings once used for fire trucks. Today the building houses the Copper Village Museum & Art Center and the Marcus Daly Historical Museum & Archives.
Images
The old City Hall building was erected in 1896 and is the current home of the Copper Village Museum & Art Center.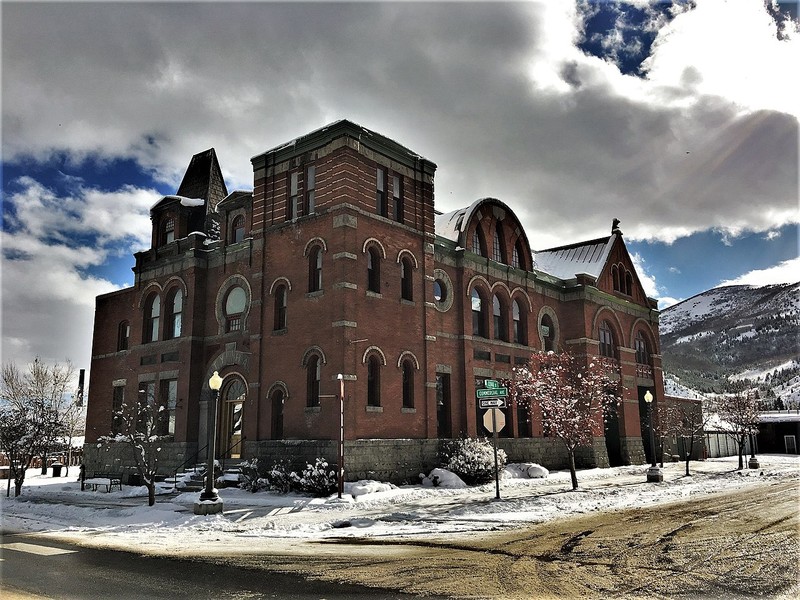 Backstory and Context
The city of Anaconda was founded by copper magnate Marcus Daly (1841-1900) in 1883. He had owned the Anaconda mine in Butte since 1881, where a large vein of copper (300 feet deep and 100 feet wide; it was one of the biggest discovered at the time) was found under silver a deposit. Copper was increasingly in demand as it was needed for telegraph communication and electricity, both of which were just starting to be used around the country. To process the copper ore, Daly built a smelter here in Anaconda and platted the town around it (the smelter site is now Anaconda Smoke Stack State Park; the only structure remaining is the tall 585-foot smokestack built in 1918). Daly became rich and was among those who were nicknamed the "Copper Kings."
By the time the City Hall building was erected, Anaconda was a thriving mining town. In fact, Daly had a dream that Anaconda would become Montana's capital city. The building's design reflects this desire, embodying the city's aspirations to become an important civic and economic center. As alluded to above, the building incorporates a number of architectural styles including Romanesque arches, Gothic tracery, and a Chateauesque (French) roof topping the northeast tower. The city used the old building until 1978 and it was slated for demolition as part of a redevelopment project. Fortunately, a local preservation group worked to prevent this from happening.
Sources
"About." VisitMT.com. Accessed June 15, 2020. https://www.visitmt.com/listings/general/art-museum/copper-village-museum-and-arts-center.html.
Finnegan, Alice. "City Hall." National Park Service - National Register of Historic Places Nomination Form. August 10, 1979. https://npgallery.nps.gov/NRHP/GetAsset/NRHP/79003722_text.
"Marcus Daly." Daly Mansion. Accessed June 15, 2020. http://dalymansion.org/MarcusDalyHistory.html.
"Marcus Daly." New World Encyclopedia. Accessed June 15, 2020. https://www.newworldencyclopedia.org/entry/Marcus_Daly.
The Montana National Register Sign Program. "City Hall, Anaconda." Historic Montana. Accessed June 15, 2020. https://historicmt.org/items/show/329.
Image Sources
Jon Roanhaus, via Wikimedia Commons: https://commons.wikimedia.org/wiki/File:Anaconda_City_Hall_NRHP_79003722_Deer_Lodge_County,_MT.jpg

Additional Information