Western Reserve Building
Introduction
The eight-story Western Reserve Building opened in 1892 and stands as a reminder to two notable historical figures, Samuel Mather and Daniel Burnham. Mather was a wealthy mining and steel tycoon in Cleveland while Burnham was one of the nation's leading architects, working out of Chicago; he was instrumental in creating the Chicago School of Architecture.
Images
Western Reserve Building in Cleveland, Ohio.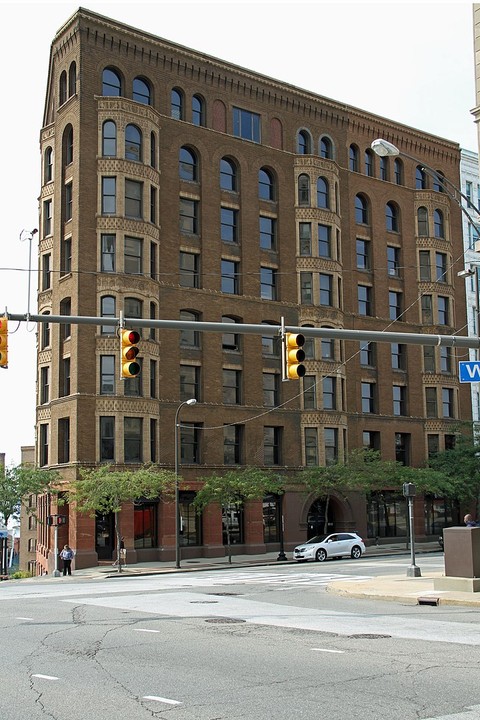 Backstory and Context
Samuel Mather, an especially wealthy mining and steel tycoon built the Western Reserve Building in 1892. The building is one of three Cleveland skyscrapers designed by the firm of Chicago architect Daniel H. Burnham erected between 1889-93; the other two buildings are the Society National Bank Building (1889-90) and the Cuyahoga Building (1892-93, demolished 1982).  
Samuel Mather (1851-1931) had planned to attend Harvard and then return to work for his father at the Cleveland Iron Company. However, while still a young man and working in one of his father's mines, a premature explosion left him with a fractured skull, broken left arm, and a spinal injury. It took him three years to recover (although his left arm suffered permanent damage) before he left for Europe in 1872. When he returned to Cleveland in 1873, his father made him an executive at the Cleveland Iron Company. 
Mather married the daughter of a Cleveland industrialist and railroad magnate, Flora Stone, in 1881. The two traveled to Europe for three years. Upon their return in 1883, Mather formed a partnership with James Pickands and Jay Morse and created the Pickands, Mather & Company -- a rival to the Cleveland Iron Company. Through expansion and acquisitions, the company grew substantially, and Mather gained abundant wealth. Mather went on to partner Pickands-Mather with the steel industry, which provided the company with added resources and transportation. Mather also expedited the 1902 U.S. Steel merger. 
The eight-story building enjoys similarity to the firm's Chicago masterpiece, the Monadnock Block. The Western Reserve Building has an exterior comprised of load-bearing masonry walls while the interior supports include cast- and wrought-iron members. A 1975-76 rehabilitation project restored the building's Romanesque entrance arch, which had been altered during the 1940s. An eight-story contiguous addition, on Superior Avenue between West Ninth and 10th streets, was built in 1990. In 2017, an investment group purchased the historic building and modernized it; it now serves as the home to numerous companies using its many offices. 
Sources
Bullard, Stan. "Geis-led group bags Ferchill's Western Reserve Building for $3.75 million." Crain's Cleveland Business. crainscleveland.com. November 09, 2017. https://www.crainscleveland.com/article/20171109/news/141746/geis-led-group-bags-ferchills-western-reserve-building-375-million
Reynolds, Terry and Virginia P. Dawson. Iron Will: Cleveland-Cliffs and the Mining of Iron Ore, 1847-2006. Detroit: Wayne State University Press, 2011.
Rose, William Ganson. Cleveland: The Making of a City. Kent, Ohio: Kent State University Press, 1990.
Encyclopedia of Cleveland History. "Western Reserve Building." Case Western Reserve University. case.edu. Accessed June 13, 2020. https://case.edu/ech/articles/w/western-reserve-building.
Encyclopedia of Cleveland History. "Mather, Samuel." Case Western Reserve University. case.edu. Accessed June 13, 2020. https://case.edu/ech/articles/m/mather-samuel.
Warf, Barney, and Brian Holly. "The Rise and Fall and Rise of Cleveland." The Annals of the American Academy of Political and Social Science 551 (1997): 208-21. Accessed May 26, 2020. www.jstor.org/stable/1047948.
Image Sources
By LeeG7144 - Own work, CC BY-SA 3.0, https://commons.wikimedia.org/w/index.php?curid=21434153

Additional Information