Sayrs Building
Introduction
Also known as Hyde Block, the Sayrs Building boasts one of the more striking facades in Philipsburg. It was erected in 1888 by Joseph Hyde, who opened a bank in the building called First National Bank. The building features elaborate, colorful woodwork including short columns in between the windows, ornate brackets supporting the cornice at the top of the walls, and the beveled corner of the building. Now home to the Philipsburg Brewing Company, it is named after the man who bought it in 1904, Frank Sayrs. The building is a contributing property of the Philipsburg Historic District, which is listed on the National Register of Historic Places.
Images
The historic Sayrs Building was built in 1888 and was originally called Hyde Block.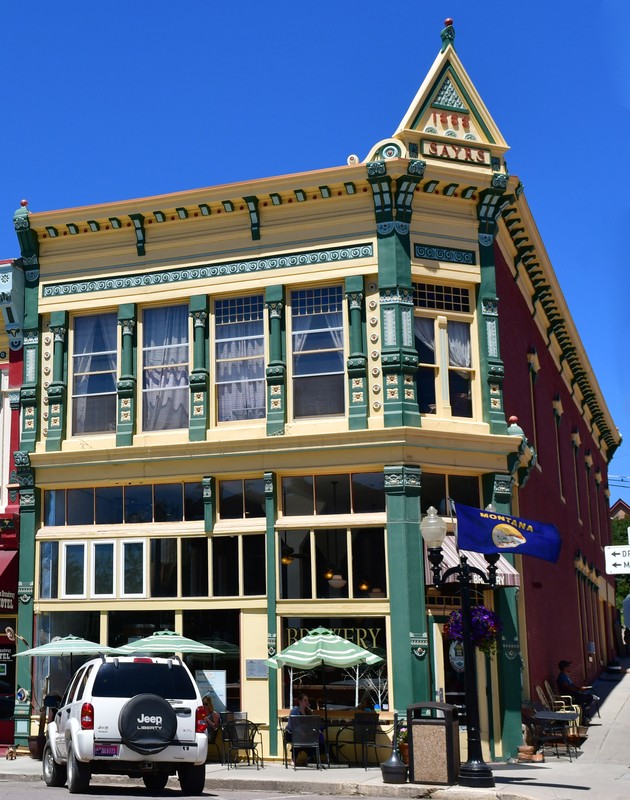 Backstory and Context
Josep Hyde was born in Savannah, Missouri in 1847. He started to work on a farm when he was 13 and later found a job as a clerk in a store in Omaha, Nebraska in 1864. Two years later, he became a cabin boy on a steamship that traveled up the Missouri River to Helena, Montana. He got a job working as a clerk for his uncle who owned a store there. After working at another store for a few years, he started his business career in 1874, opening up a livery with a partner in Deer Lodge. In 1877 he moved to Butte and opened a hardware store with another partner. Hyde sold the interest in that business and became president of a publishing company in 1880. Two years later, he got a job as cashier of First National Bank of Butte City and remained in that position for several years.
As noted above, Hyde constructed the Hyde Block building in 1888 and opened First National Bank. The bank operated until 1893 when the silver market crashed. In addition to banking, Hyde was also involved in real estate, owning land and erected buildings in Butte City and Deer Lodge. He married his wife, Mary, in 1873; they had seven children.
Information about Frank Sayrs or what he used the building for isn't readily available. However, in the years that followed his purchase of it in 1904, a number of businesses occupied the building including drug stores, a tailor's shop, and a recreation center. The Philipsburg Brewing Company opened in 2012.
Sources
Miller, Joaquin. An Illustrated History of the State of Montana. Salem, MA: Higginson Book Company, 1894.
Plaven, George. "Brewing up business: New brewery prepares to open in Philipsburg." Montana Standard. June 11, 2012. https://mtstandard.com/news/local/brewing-up-business-new-brewery-prepares-to-open-in-philipsburg/article_870b4206-b366-11e1-a2d4-0019bb2963f4.html.
"Sayrs Building." The Historical Marker Database. Accessed June 13, 2020. https://www.hmdb.org/m.asp?m=45220.
Image Sources
Martina Nolte, via Wikimedia Commons

Additional Information