On the War Trail
Introduction
This is one of two statues dedicated to the city. The other is the Broncho Buster. They depict the foundation of Colorado. On the War Trail was presented to the city in 1922. It is positioned across from the Broncho Buster. It is a memorial to the western roots of the state. The statue is known for its erect stance, ready for battle.
Images
On the War Trail Front View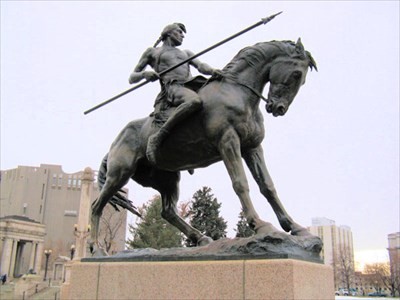 On the War Trail Side View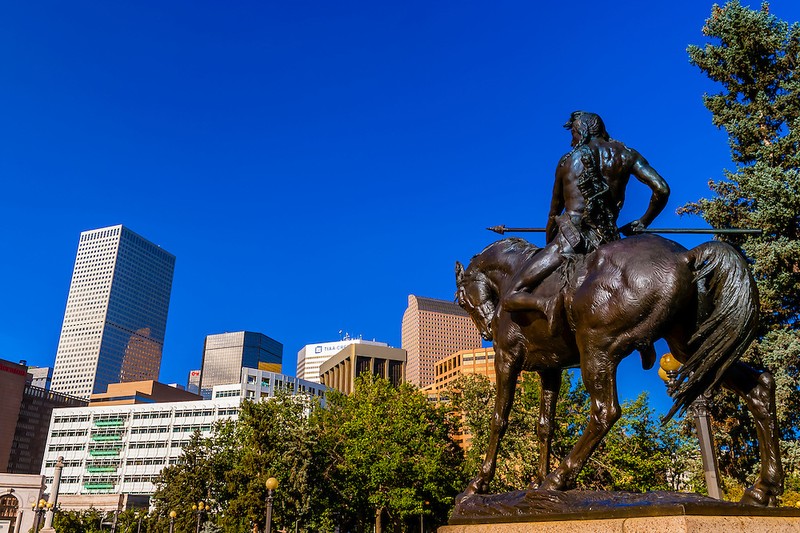 Backstory and Context
In the Early 1900s this sculpture was made at the request of the Major Robert Speer, Mayor of Denver. Alexander Phimister Proctor was commissioned to make this along with the Broncho Buster statue. They are displayed in the Civic Center Park. On the War Trail was presented by Stephen Knight in the 1922.
Proctor lived in Colorado as a boy and grew to be an acclaimed American Sculptor. He studied in Paris and New York. He quickly became a leading animalier. He was known for mixing the French Beaux-Arts style with American qualities of simplicity and dignity.
"I am eternally obsessed with two deep desires— one, to spend as much time as possible in the wilderness, and the other, to accomplish something worthwhile in art."
Many of his sculptures came from drawing studies at the Pendleton Round-up Rodeo in Oregon. Proctor became close with the town. He secured an art studio on the grounds of the Rodeo, and a pass that allowed him access to roam. For this particular piece he drew inspiration from Jackson Sundown (Nez Perce), Gray Eagle (Blackfoot) and Eddie Beaver of Browning Montana.
On the War Trail depicts an American Indian riding bareback on a horse with a spear in his hand. With a spear thrust outward, it shows the Native American's strength. This along with the Broncho Buster tell of two distinct lineages merging in Colorado.
Sources
On the War Trail , Denver Public Art. Accessed June 13th 2020. https://denverpublicart.org/public-arts/on-the-war-trail-3/.
On the War Trail , The Art Institute of Chicago. Accessed June 13th 2020. https://www.artic.edu/artworks/136034/on-the-war-trail.
Hassrick, Peter H. Art of Alexander Phimister Proctor, JSTOR. September 1st 2003. Accessed June 13th 2020. https://www.jstor.org/stable/20615346?read-now=1&seq=1#page_scan_tab_contents
Image Sources
Denver Public Art

Denver Public Art