The Bronco Buster
Introduction
This statue was a donation to the city in the early 1900s and was given along with the On the War Trail statue which is located nearby. Both are meant to provide context for Colorado's foundation but only present one perspective. The famous American artist, A. Phimister Proctor, had roots in Colorado and the Cowboy life. Proctor's favorite cowboy model Bill 'Slim' Ridings, provided a true American tall tale to back this bronze sculpture.
Images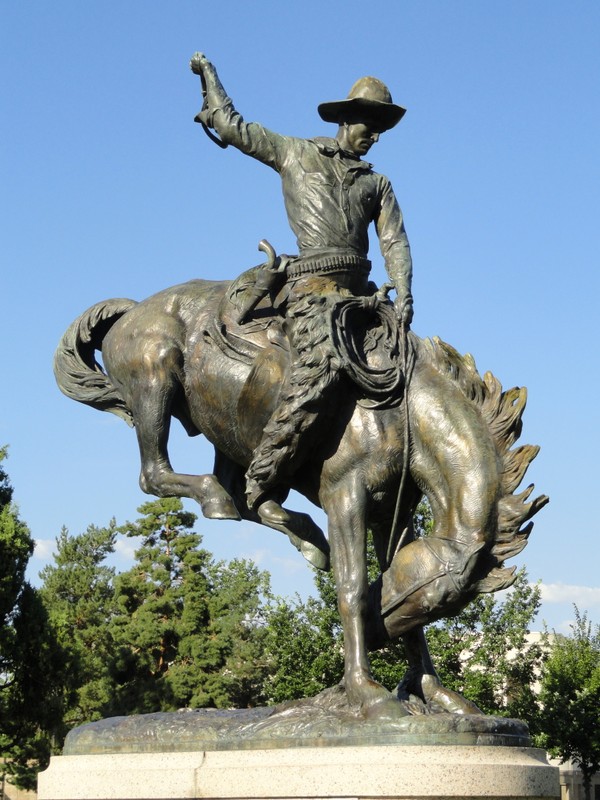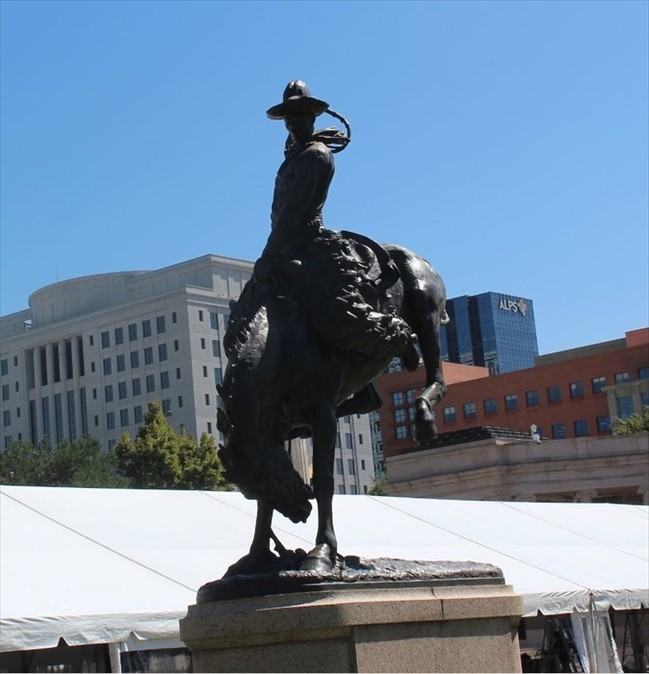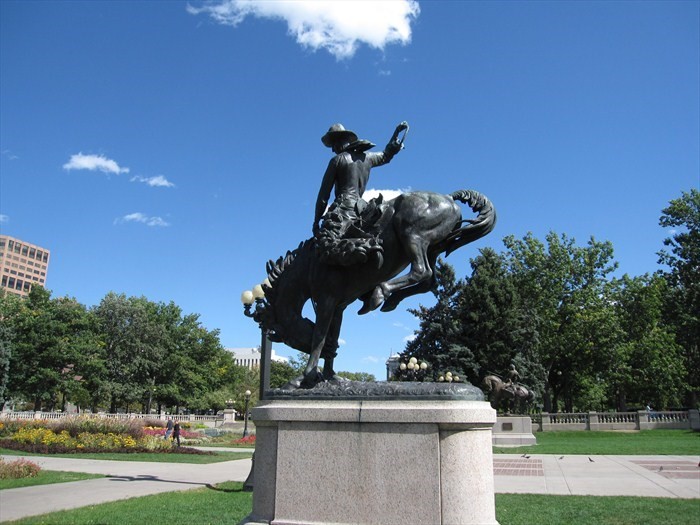 Backstory and Context
In the Early 1900s this sculpture was made at the request of the Major Robert Speer, Mayor of Denver. Alexander Phimister Proctor was commissioned for this piece and the On the War Trail statue. They were to be displayed in Civic Center Park. The Bronco Buster was presented by J.K Mullen in the 1920s.
Proctor lived in Colorado as a boy. He grew to be an acclaimed American Sculptor. He studied in Paris and New York. He quickly became a leading sculptor of animals and is known for mixing the French Beaux-Arts style with American qualities of simplicity and dignity. Many of his works came from drawing studies at the Pendleton Round-up Rodeo in Oregon. Proctor became close with the town. He secured an art studio on the grounds of the Rodeo, and a pass that allowed him access to roam.
He had pull with the local authorities too. When his favorite cowboy, Bill 'Slim' Ridings was under arrest, Proctor had the help of friend and Sheriff, Til Taylor. Taylor allowed 'Slim' to continue to pose for the artist despite his charges. This ensured the artwork wouldn't be stalled.
"Bill 'Slim' Ridings, idol of thousands of Roundup Spectators and the model for, if not the inspiration of "The Buckaroo" the latest of A. Phimister Proctor's sculptured works which has created a sensation in Portland and Seattle as the most typical of all artists depictions of the Western spirit is in the Umatilla County jail this afternoon facing a charge of horse stealing."
The Bronco Buster tells the story of Colorado as a thriving western hub. The monument exhibits the Wild West roots instilled in the "cow town." More of Proctors sculptures are on view at the Denver Art Museum, as well as the Portland Art Museum.
Sources
Hassrick, Peter H. "The Oregon Art of Alexander Phimister Proctor." Oregon Historical Quarterly 104, no. 3 (2003): 394-413. Accessed June 13, 2020. www.jstor.org/stable/20615346.
Alexander Phimister Proctor Foundation. Accessed June 13th 2020. http://www.aphimisterproctorfoundation.com/sculptures/proctor-monumental-public-sculptures/.
Additional Information