Morse Block
Introduction
The Lorenzo D. Morse Block is one of the oldest commercial blocks on Rochester's Main Street, second only to the Rollin Sprague stone store. It was built in 1880-81 for Lorenzo Morse, and has largely been occupied by drug stores and clothing/dry goods stores for most of its existence. It is representative of a change that Rochester's downtown retail district was making in the last quarter of the nineteenth century, from simple wood-frame structures to business blocks built of brick and stone. The iconic block was "modernized" in 1973, when the metal awnings were added to the front of the building.
Images
Morse Block, east elevation, 2011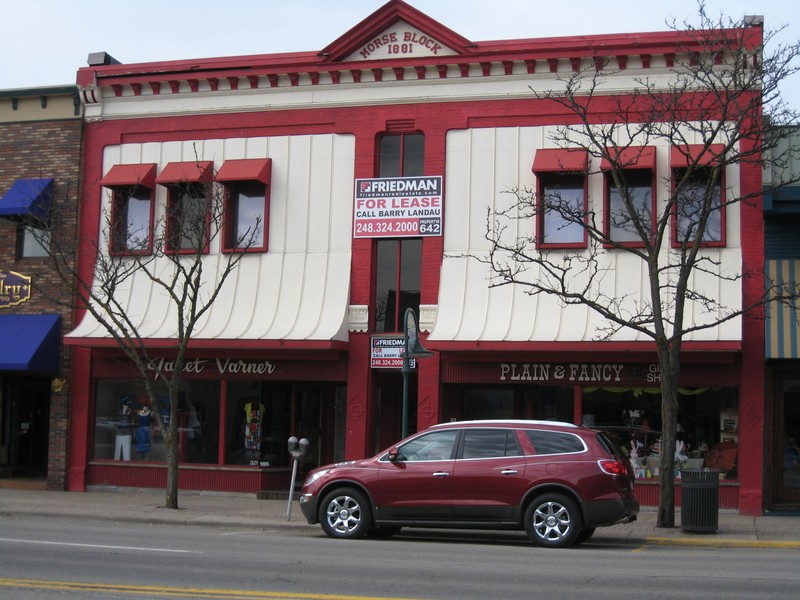 Morse Block, east elevation, 2020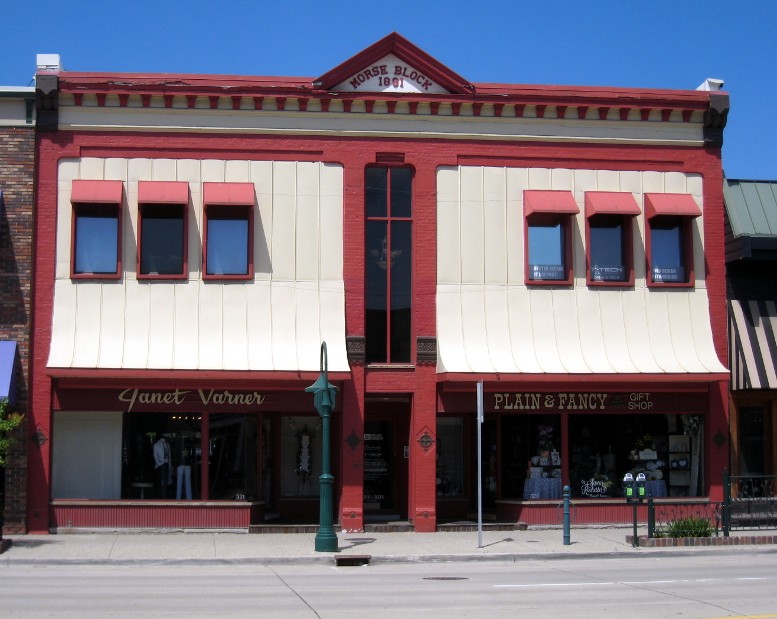 Morse Block, east elevation, 1897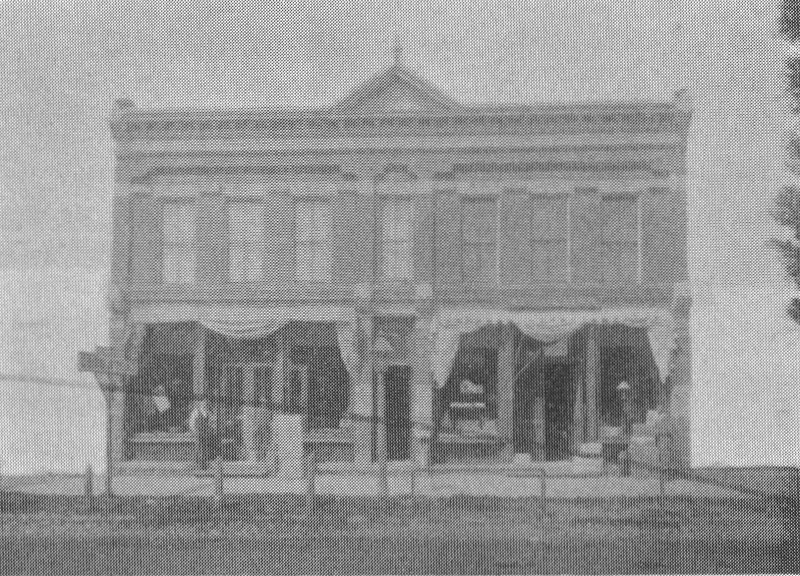 Backstory and Context
Lorenzo D. Morse, a pioneer businessman and farmer in the village of Farmer's Creek, near Lapeer, relocated to Rochester after retiring from farming and built a home on Walnut Street. In the autumn of 1880, he started construction on a brick business block in the middle of Main, touching off a rebuilding of the downtown area that replaced most of the simple frame structures with more substantial commercial blocks.
The Morse Block was built by the firm of Kennedy & Emmet of Lapeer, and the cost of construction was estimated to be approximately $4,000 at the time. The building opened for business in April of 1881, and the first tenant was Lemuel W. Hudson, who operated a grocery and pharmacy, along with the post office and American Express office.
The 321 side of the building housed a drug store for the first nine decades of its history. After L.W. Hudson, William S. Starring operated a drug store there from 1887 to 1923. He was succeeded by William Ford's drug store in May 1923, and Ford was succeeded by Purdy Drugs in 1944. Purdy gave way to Hunter Drugs in 1963, the last in the line of pharmacies to occupy the space. Janet Varner's dress shop has occupied 321 since 1975.
The 323 side of the building has variously housed the A.E. Collins dry goods store, the Louis Shueller dry goods store (originally known as Batdorff & Shueller), Selma's Smart Shoppe, the Mole Hole gift shop and, since about 1985, the Plain & Fancy gift shop.
The exterior of the building was given a "facelift" in early 1973, when the metal awnings on the front were installed.
Sources
Jacob L. Holman and Eliza Holman his wife to Lorenzo D. Morse and Orville Morse, 13 January 1880, lot 43, Original Plat of the Village of Rochester, Oakland County Record of Deeds, liber 132, p.43.
"Messrs. Kenedy & Emmet of Lapeer who have taken the contract for building L.D. Morse's brick block on Main Street..." Rochester Era, September 2, 1880.
"Workmen commenced work on the foundation walls of the new Morse Block last Monday," Rochester Era, September 16, 1880.
"The Morse Block will soon be ready for occupancy." Rochester Era, February 24, 1881.
"L.W. Hudson removes to his new store in the Morse Block...," Rochester Era, March 31, 1881.
"W.S. Starring has just opened a very neat and tasty Drug Store, Rochester, on Main st. next door to A.E. Collins...," Rochester Letter in the Utica Sentinel, April 30, 1887, p.8.
"In Business 37 Years; Retires: W. S. Starring, Pioneer Businessman, Sells His Stock to Unionville Man," Rochester Clarion, May 18, 1923, p.1.
"Atkinsons Buy Shuellers; Set Sept. Opening," Rochester Clarion, August 23, 1956, p.1.
"Purdy's Drugs Disappears from Main St.," Rochester Clarion, January 3, 1963, p.1.
"Face lift begins," Rochester Eccentric, February 1, 1973, p.15.
Image Sources
Deborah Larsen

Deborah Larsen

Beautiful Rochester, 1897 [public domain]

Additional Information