Cowen Park
Introduction
Deeded to Seattle in 1907, Cowen Park is a peaceful enclave located north of the University District and boarders Ravenna Park. After arriving in Seattle for the Alaska-Pacific-Yukon Exposition of 1909, Charles Cowen purchased 40 acres of land north of the University District. With this land, Cowen prepared 28 acres of land for development and reserved the remaining twelve. Charles Cowen donated this reserved land to the city of Seattle as parkland, and his donation became known as Cowen Park. The original design of the park was created by the Olmsted Brothers. Today, Seattle's citizens and visitors are able to enjoy the park's picnic tables, barbeque pits, play area, and playfield.
Images
Cowen Park play structure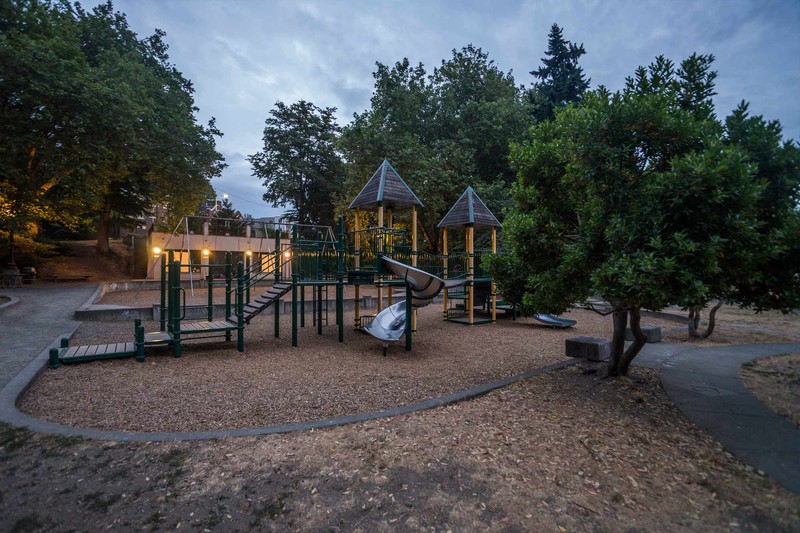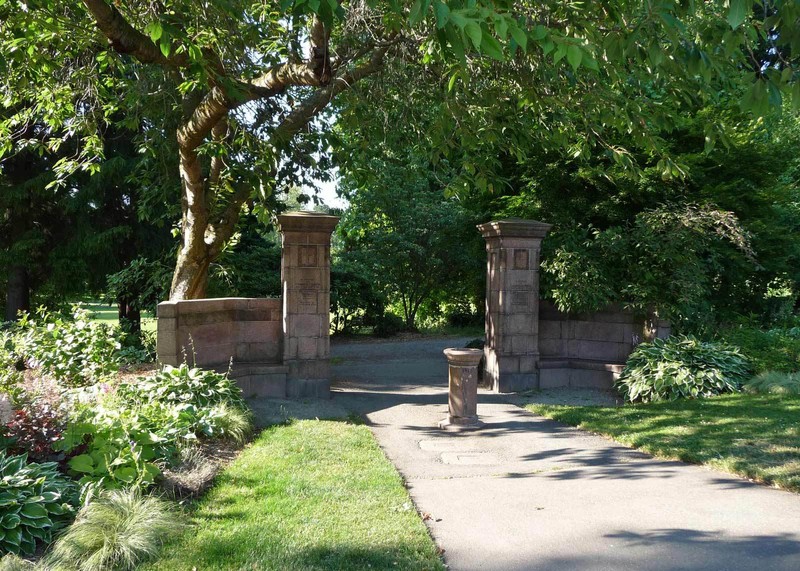 1936 Cowen Park walking trail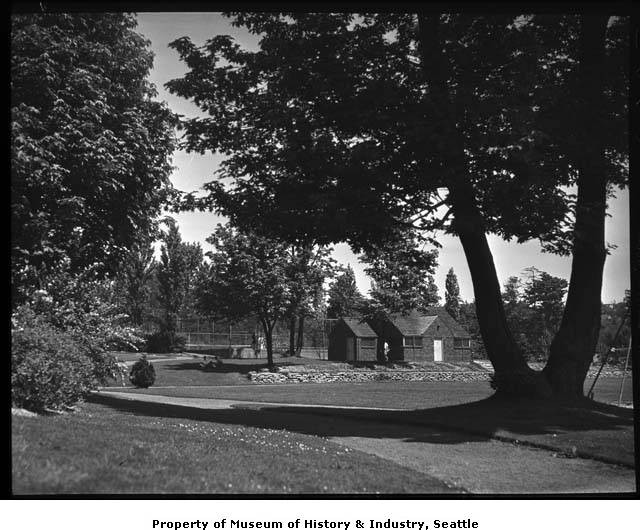 Backstory and Context
Cowen Park is located in the University district, bordering the west edge of Ravenna Park. This parkland previously contained an old-growth forest, but their trees no longer exist, due to logging efforts that have occurred since the park was donated. When the park was originally developed, it was a destination for running railcars, that traveled from downtown Seattle. Also, a stream was present but has since dried up due to the Greenlake being lowered. Cowen Park was designed by the Olmsted Brothers, who have designed many parks and playgrounds in Seattle. Their preliminary plan for the park contained four footbridges, which crossed the stream channel, a covered shelter, a "Little Children's Lawn, an entry plaza, and numerous compact structures. Additionally, the city request that the Olmsted Brothers created an entrance gate. In 1961, the park was considerably changed for the creation of a ball field, as to 100,000 yards of construction fill being moved here from Interstate-5. Despite this, the play area, and entry area still resemble the design of the Olmsted Brothers. Currently, this land used most commonly used for its playfield, barbecue pits, picnic tables, and play area.
Charles Cowen was born in England and raised in South Africa. He was raised in a family of diamond miners and merchants and grew up to take part in this line of work. Cowen traveled from South Africa to New York in 1890, in order to buy mining equipment, but rather than returning to his family, he stayed in New York. While in New York, he changed his last name from Cohen to Cowen, as well as cutting ties from his family. He moved from New York to Florida, and later from Florida to Seattle. Seattle's business community chose to hold the Alaska-Yukon-Pacific Exposition, which began in 1909. Seattle's business community held this exposition in order to celebrate Seattle's coming-of-age and commemorate of the Klondike Gold Rush, as it brought economic success to Seattle. This exposition was held on the University of Washington Campus. Charles Cowen, among many other entrepreneurs, came to Seattle in 1890, in order to be present for the exposition. 
 In 1906, a few years after arriving in Seattle for the Alaska-Yukon-Pacific Exposition, Charles Cowen, a part of the Sylvester-Cowen Investment company, purchased acres of cleared land north of the University of Washington. Cowen bought this land in order to sell lots. He prepared the majority of this land for development by creating plats and surfacing streets. This purchase resulted in financial success for Charles Cowen. He reserved twelve acres of the land, which was located next to Ravenna Park, as a park, and donated it to the city in 1907. In return for his donation, he required it to be commemorated, and a marker with his name was placed on the land.
Since Charles Cowen donated the parkland to the city in 1907, it has had numerous uses. In the spring of 1967, the hip community held a Human Be-in, an event in which individuals gather to promote needed change in a community. Additionally, in August of 1971, Cowen park was the home to the Second Annual Frisbee for Peace Intergalactic Memorial Thermogleep U.F.O. Frisbee Festival.
Sources
Cowen Park, Seattle, 1936.", digitalcollections.lib.washington.edu. Accessed June 2nd 2020. https://digitalcollections.lib.washington.edu/digital/collection/imlsmohai/id/6188/.
Cowen Park, Friend of Seattle's Olmsted Parks. March 22nd 2019. Accessed June 2nd 2020. https://seattleolmsted.org/parks/cowen-park/.
DeCoster, Dotty. Ye College Inn (University District, Seattle), History Link. October 8th 2008. Accessed June 2nd 2020. https://www.historylink.org/File/8782.
Dorpat, Paul. Cowen Park Portal [This Feature First Appeared in Pacific Northwest Magazine on June 8, 2003.], Seattle Then & Now DorpatSherrardLomont. October 2nd 2009. Accessed June 2nd 2020. https://pauldorpat.com/2009/08/02/cowen-park-portal/.
Image Sources
http://www.seattle.gov/parks/find/parks/cowen-park

https://pauldorpat.com/2009/08/02/cowen-park-portal/

https://digitalcollections.lib.washington.edu/digital/collection/imlsmohai/id/6188/

Additional Information