Lyman Levi Ball Building
Introduction
The Lyman Levi Ball Building was built in 1900 for photographer Lyman Levi Ball, who located his studio on the second floor of the structure and leased the first floor to a bakery. The Ball Building is architecturally interesting and has one of the most ornate cornices on Rochester's Main Street.
Images
Lyman Levi Ball Building, west elevation, 2016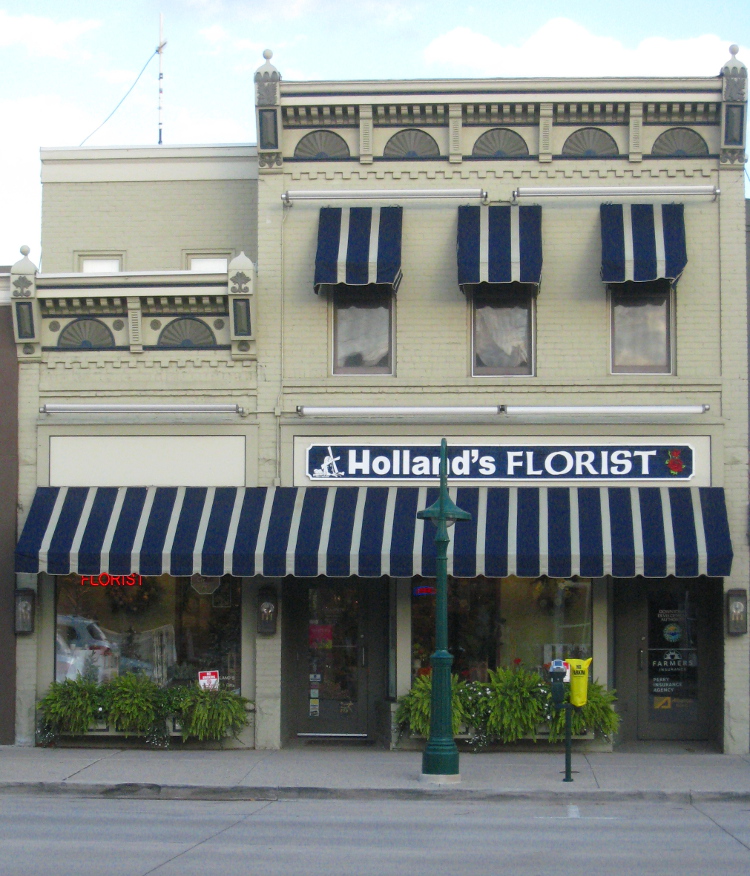 Lyman Levi Ball Building, Holland Florist sign in entryway, 2016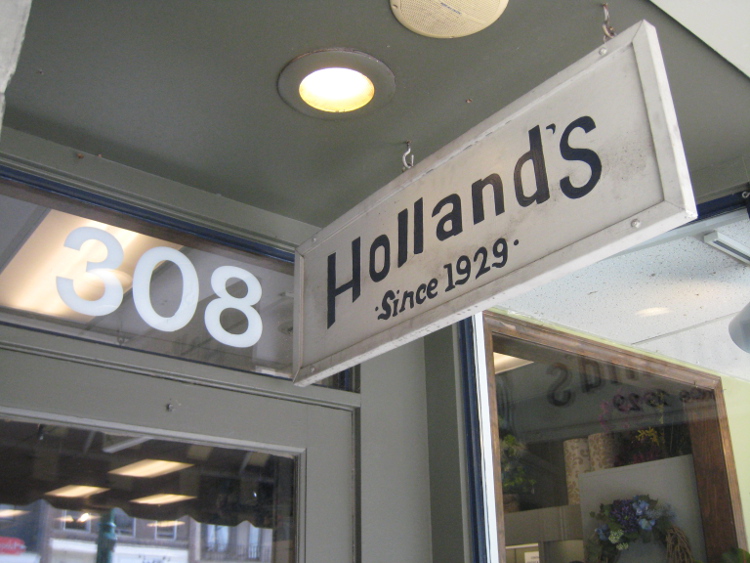 Newspaper ad for L.L. Ball's confectionery and tobacco shop, Rochester Era, August 29, 1902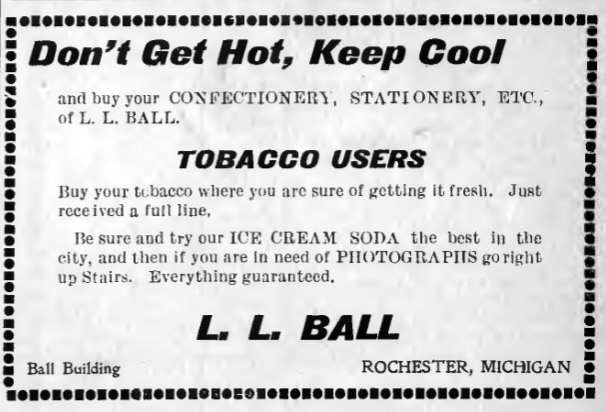 Lyman Levi Ball Building, north and west elevations, 1907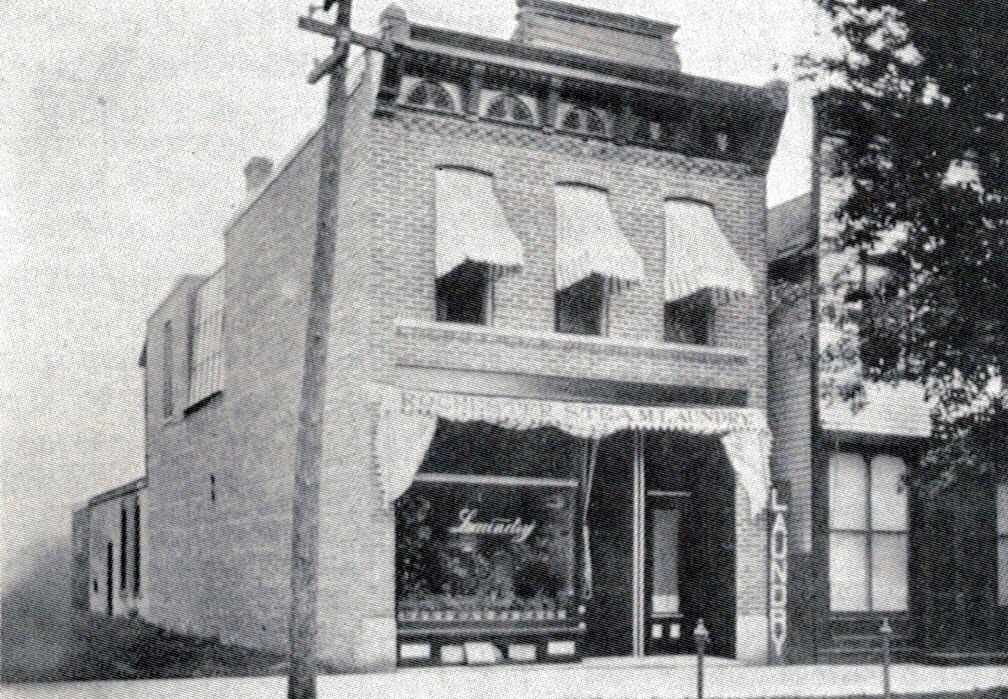 Lyman Levi Ball Building, west elevation cornice detail, 2020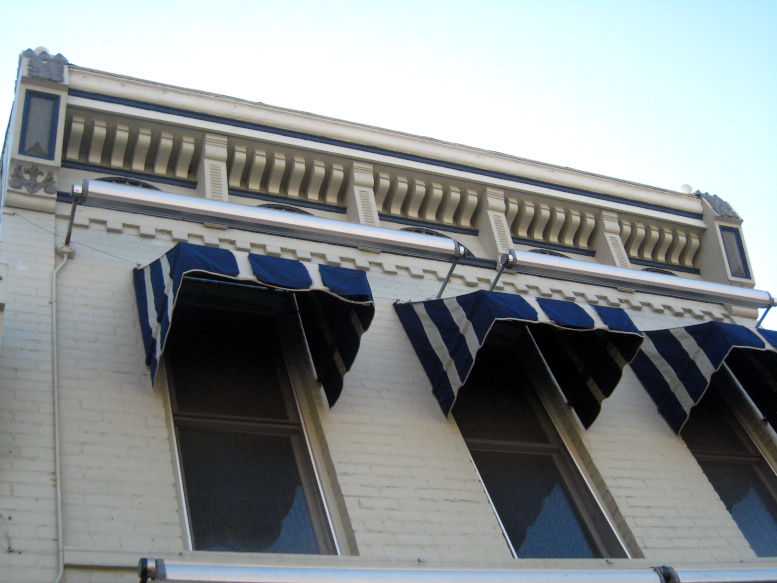 Newspaper ad for Palace Bakery in the Ball Building, 1900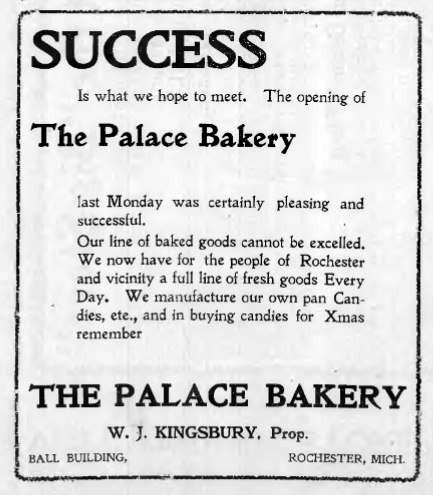 Backstory and Context
Photographer Lyman Levi Ball (1879-1947) built this two-story brick business block in the summer of 1900. Ball's photography studio was located on the second floor, and the Palace Bakery was originally located on the first floor. The Palace Bakery soon departed and Ball operated his own confectionery store in the space for a time, then leased it to Lafayette Mead's steam laundry business.
Ball relocated to Plymouth, Michigan in 1904 and sold his Rochester building to Lafayette Mead, who continued to operate his laundry business there until 1942. In 1948, William L. Holland moved his floral business to the building, and it continued in this location as Holland Floral and Gifts until 2018, when the business was purchased by Viviano Flowers.
Lyman Ball was born in Michigan in 1879, and worked as a studio photographer in Rochester from 1898 until 1904. After leaving Rochester, he spent the remainder of his active career as a photographer in Northville and Plymouth. He died in 1947.
Sources
"L.L. Ball, the artist, is preparing to build a brick block...," Rochester Era, May 18, 1900, p.1.
"Ball's new building is going up rapidly and the brick work will be finished in a few days," Rochester Era, July 20, 1900, p.1.
"The plate glass of L.L. Ball's new brick block has been placed in position...," Rochester Era, September 21, 1900.
"Laundry is Purchased by Detroit Party: Lafayette Mead Retires From Business After 42 Years of Service," Rochester Clarion, April 12, 1942, p.1.
"Ball, Lyman L. [death notice], Detroit News, September 27, 1947.
"Wm. L. Holland to open floral shop on Main St.," Rochester Era, March 4, 1948, p.1.
"New faces joining downtown Rochester business district," The Oakland Press, November 1, 2018.
Tinder, David V. Directory of Early Michigan Photographers. Ann Arbor, Mich.: William L. Clements Library, 2013, p.218.
Image Sources
Deborah Larsen

Deborah Larsen

Rochester: A Sketch of One of the Best Towns on the Map, 1907 [public domain]

Deborah Larsen

Rochester Era, December 21, 1900, p.20.

Additional Information