Fort Sam Houston National Cemetery
Introduction
Added to the National Register of Historic Places in 2016, Fort Sam Houston National Cemetery dates back to 1924. Although the army post was established in 1875, the land upon which Fort Sam Houston National Cemetery is located did not become a burial ground until approximately half a century later. The cemetery serves as the final resting places for soldiers stationed at Fort Sam Houston as well as many other veterans who passed long before this cemetery was established. For example, remains from one-time frontier posts in Texas such as Fort Ringgold, Fort Clark, and Fort McIntosh were re-interred in Fort Sam Houston when those facilities closed in 1947.
Images
The flag pavilion and assembly area.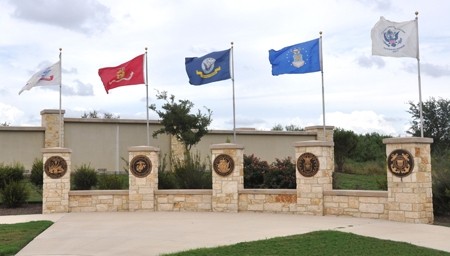 Backstory and Context
Interments of men from the post were made in a portion of the city cemetery until 1867, when the United States acquired the tract by a donation from the city government and designated it San Antonio National Cemetery. Even at that early date, the city completely surrounded the new cemetery and the possibility for expansion was extremely limited. As the years passed, the number of military personnel serving at the post grew, creating an increasing demand for burial facilities.
In 1924, a portion of the military reservation was set aside to be used as a post cemetery. The first interment was made two years later in 1926. On Aug. 6, 1931, the War Department announced the transfer of 60 acres, including the post cemetery, from the military reservation and designated the tract an addition to San Antonio National Cemetery. It retained this status until 1937 when the War Department formally renamed it Fort Sam Houston National Cemetery. 
Sources
"Historical Information." Fort Sam Houston National Cemetery. Accessed March 2, 2014. http://www.cem.va.gov/cems/nchp/ftsamhouston.asp.
Photo: Fort Sam Houston National Cemetery
Additional Information