Hans Heg Statue
Introduction
The Hans Christian Heg statue, unveiled on October 17, 1926, depicts the leader of the 15th Wisconsin Volunteer Infantry, commonly known as the Scandinavian Regiment, during the Civil War. The regiment was made up overwhelmingly of first or second generation immigrants from Norway. In fact, the regiment had so many men named Ole Olson that they had to each be given a number to tell them apart.
Images
Large charcoal portrait of Hans C. Heg, the colonel of the 15th Wisconsin Infantry Regiment during the Civil War and a prominent state politician prior to the war. The portrait shows a bearded Heg in full Union uniform with his right hand behind his back and his left hand in the front of his coat.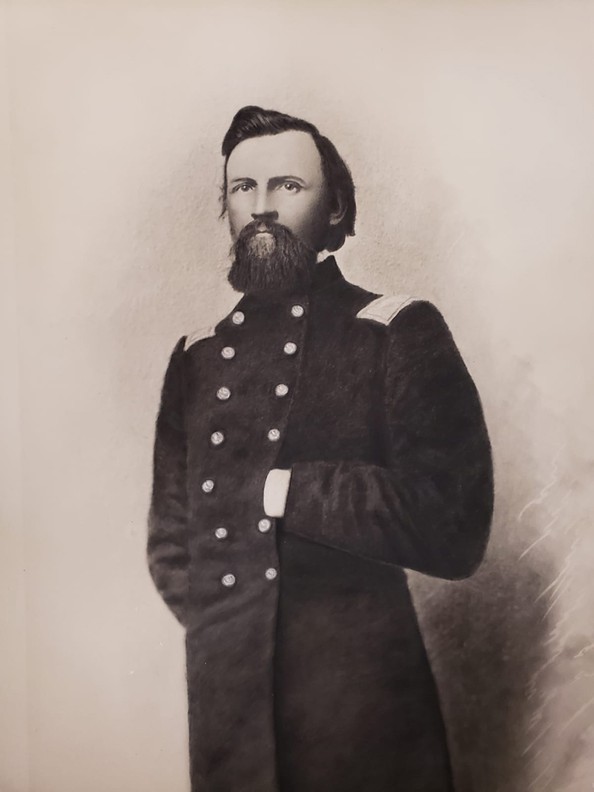 Hand-drawn plans for a commemoration ceremony to be held at the Hans C. Heg statue at the Wisconsin State Capitol, Madison, 1963. The pans include notations for the rotunda, statue, walkway and flower bed, as well as placement for the band, speakers and military servicemembers.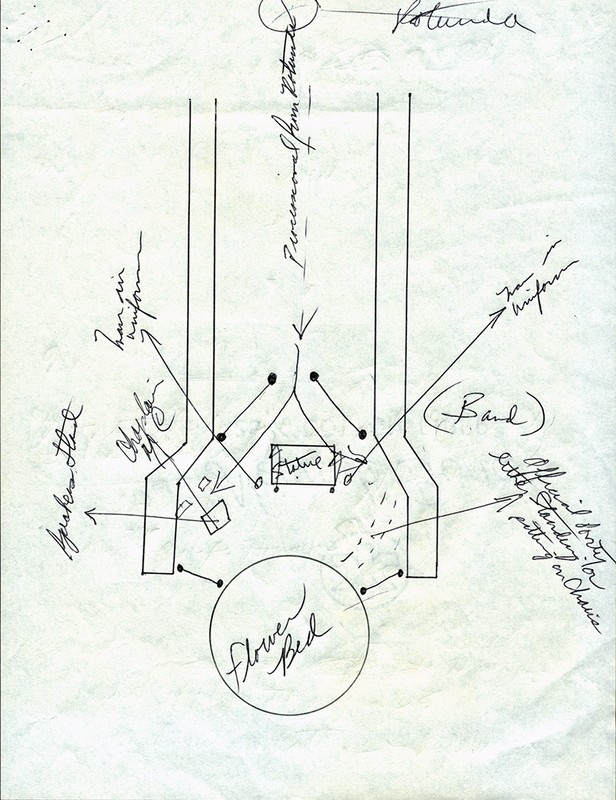 Invitation sent to Major General Ralph Olson, Adjutant General, State of Wisconsin in 1963, for a commemoration held at the statue. The invitation outlines plans for the commemoration and other events held in Heg's honor.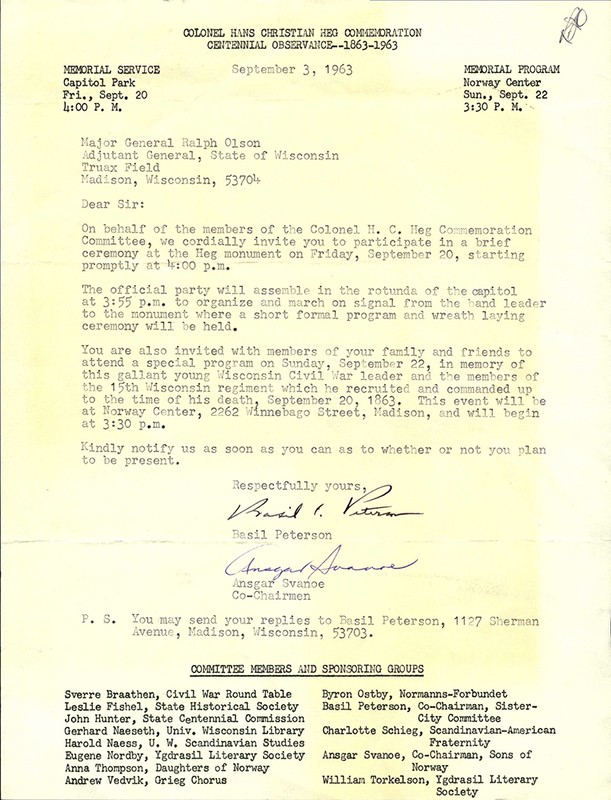 Backstory and Context
Colonel Heg was killed in the 1862 Battle of Chickamuaga in Georgia as he led his troops in the field. The Wisconsin 15th was part of the Union Army of the Cumberland, some 60,000 strong, who served under General William S. Rosecrans. 
Wisconsin gained statehood in 1848 just 12 years before the beginning of the Civil War and was home to a large immigrant population. Two of the largest ethnic groups at that time were people of Norwegian and German descent. These ethnic groups often formed their own regiments. In Wisconsin, the Seventeenth Infantry was known as the "Irish Brigade" and the Ninth Wisconsin Infantry, among several others, was predominantly German.
A fellow Norwegian immigrant to Wisconsin, writer and newspaperman from Eau Claire, Oberst Heg og Hans Gutter (Colonel Heg and His Boys) Waldemar Ager, wrote a book about Heg and the 15th Wisconsin, in order to raise a statue in their honor. The statue was cast by preeminent Norwegian-American sculpture Paul Fjelde. There are two other Heg statues in addition to the one you see in front of the Capitol. Another is located in Haugestad, his birthplace in Norway, and the other is located near his adopted home in Racine County. 
Sources
Blegen, Theodore C. "Colonel Hans Christian Heg." Wisconsin Magazine of History 4, no. 2 (Dec. 1920): 140-165. Accessed May 20, 2020.  
http://content.wisconsinhistory.org/cdm/ref/collection/wmh/id/1973. 
"Chickamauga: Overview." American Battlefield Trust. May 24, 2020. 
https://www.battlefields.org/learn/articles/chickamauga. 
"Ethnic Regiments: A Lot of Ole Olsons." Civil War Gallery, Madison, Wisconsin Veterans Museum. Oct. 28, 2019. 
Fapso, Richard J., Norwegians in Wisconsin, rev. ed. Madison, WI: Wisconsin Historical Society, 2001. 
Heg, Hans C. The Civil War Letters of Colonel Hans Christian Heg, ed. Theodore C. Blegen. Norwegian-American Historical Association: Northfield, MN, 1936. 
https://hdl.handle.net/2027/mdp.39015070234953. 
"Heg Statue unveiling bares American Ideal." Wisconsin State Journal (Madison, WI), Oct. 18, 1926. 
"100 Years with Lincoln in Frogner Park." Nordmanns Forbundeet Norwegians Worldwide. May 26, 2020. 
https://nww.no/lincoln-100-ar-i-frognerparken/. 
Image Sources
Hans Christian Heg, Civil War charcoal portrait of Hans C. Heg, ca. 1861, WVM Mss 1147. Wisconsin Veterans Museum (Madison, Wis).

Wisconsin Department of Military Affairs, Adjutant General, Monuments and memorials file, 1934-1982. WVM Mss 1278. Wisconsin Veterans Museum (Madison, Wis).

Wisconsin Department of Military Affairs, Adjutant General, Monuments and memorials file, 1934-1982. WVM Mss 1278. Wisconsin Veterans Museum (Madison, Wis).

Additional Information