Federal Building
Introduction
Now a library, the former Federal Building in downtown Kalispell is historically significant in the areas of architecture and governance. It was built in 1917 and is an excellent example of Colonial Revival architecture. It serves as a reminder of the important role the federal government played in the city and the region during the first half of the 20th century. For many years it housed the post office and offices of the U.S. Weather Bureau, the U.S. Forest Service, the U.S. Weather Bureau, and the U.S. Land Office. Interesting architectural features include a brick facade, large arched windows, pilasters (decorative elements that resemble columns), and a balustrade (railing) along the roofline. The building was added to the National Register of Historic Places in 1994.
Images
The historic former Federal Building was built in 1917 and now houses a library.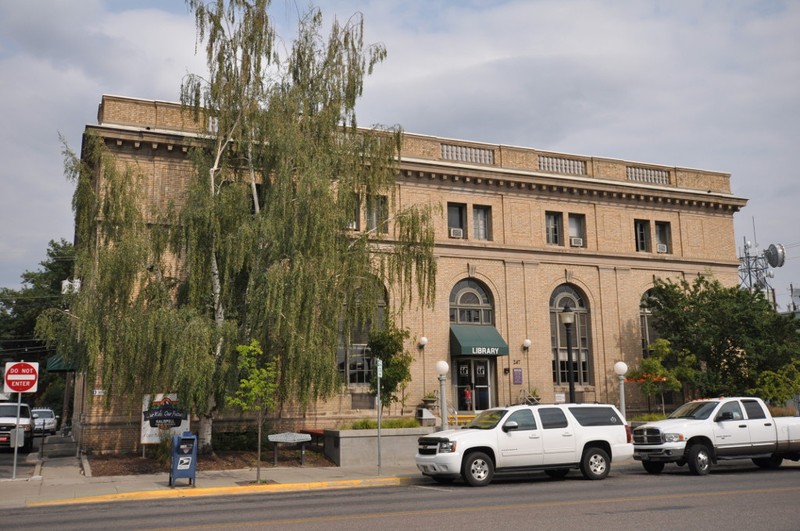 Backstory and Context
By 1903, Kalispell was the only large city in Montana that did not have a federal building. Despite the efforts of two congressmen who, beginning that year, tried to get funds appropriated for one, the process didn't make headway until 1910 when Congress bought the city lots on which the building now stands. However, construction didn't begin until August of 1916. Nevertheless, the new building was an important development for the city as it symbolized the city's growth and importance in the early 20th century
As noted above, the building housed the offices of several government agencies. The post office had already been operating in Kalispell since in 1891 and had been previously housed in four other locations. It was located in the first floor of the new building. The U.S. Weather Bureau was tasked with monitoring the weather and any disturbances heading in from Canada. It operated an observation station on the top of the building. The U.S. Forest Service was in charge of managing the Flathead Valley, which encompasses millions of acres.
Most of the federal offices remained in the building until 1966. That year the school district bought it and used it to house administrative offices. The Flathead County Library was also located here. The library that is now in the building is a non-profit foundation called the ImagineIf Library.
Sources
McKay, Kathy. "Federal Building." National Park Service - National Register of Historic Places Nomination Form. August 24, 1994. https://npgallery.nps.gov/GetAsset/e7aa303e-b897-4015-a213-d37f80be274a.
Image Sources
Wikimedia Commons: https://commons.wikimedia.org/wiki/File:KalispellMT_FormerFederalBuilding.jpg

Additional Information