White Plains Presbyterian Church Cemetery
Introduction
The White Plains Presbyterian Burying Grounds, located at 39 North Broadway, White Plains, has grave stones dating back to 1709. Prominent Westchester families from the later 18th early 19th century are buried in this cemetery. The Presbyterian Church that stands today was built on a portion of the cemetery grounds.
Images
Gravestones at the White Plains Presbyterian Church Cemetery.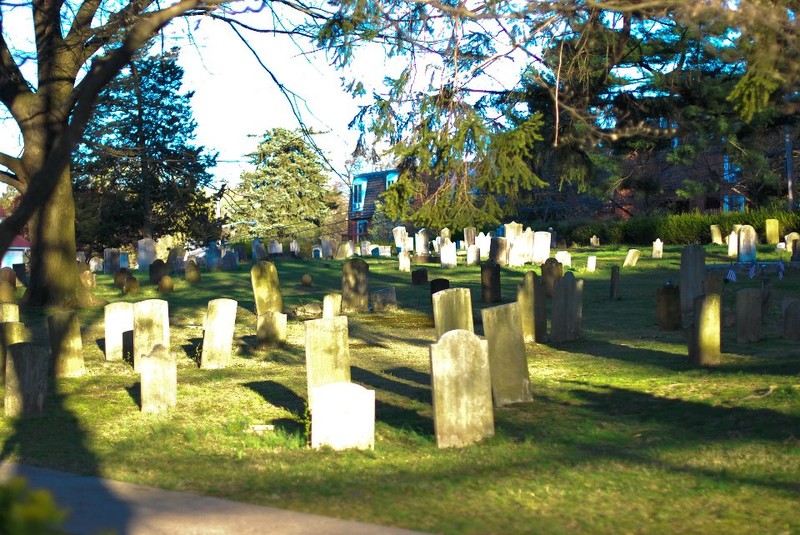 A portion of the White Plains Presbyterian Church Cemetery.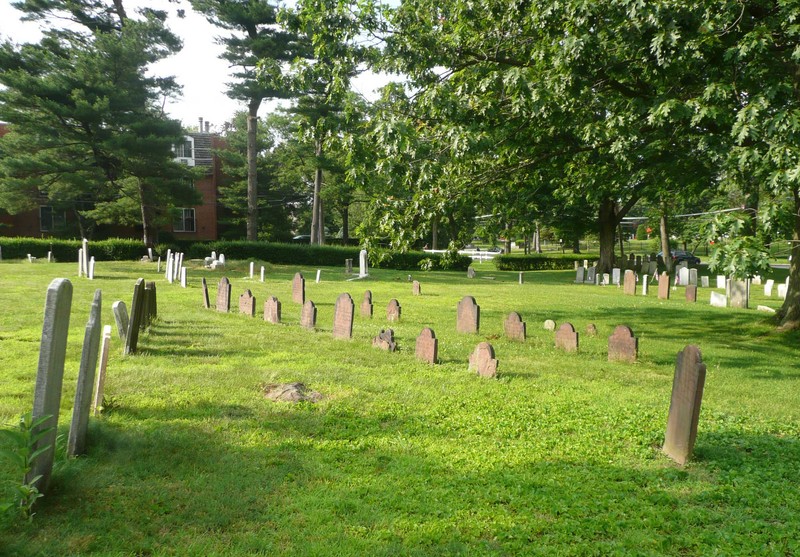 Backstory and Context
The White Plains Presbyterian Church Cemetery, located at 39 North Broadway, White Plains, New York, has gravestones going back to 1709. Several years later on May 24, 1714, Mr. John Frost of Rye gave a huge piece of land to Rev. Christopher Bridges of White Plains. Around 1714 the first congregants first began coming. The church was built in 1824.
The Presbyterian Church Cemetery is well known due to its long history and the notable Westchester residents that are buried here. One example is Jacob and Abigail Purdy. During the time of the Revolutionary War the Purdys lent their home to George Washington to use as a headquarters.
There are 42 local soldiers who served in the Revolutionary War and are buried in the Presbyterian Church Cemetery, including Elijah Miller, who died in August 1776 of wounds received in battle. John and Elijah, two of Elijah's sons who died of disease while in the service in December 1776, are also interred here. Ann Fisher Miller, Elijah's wife, hosted the first Methodist services in the area in 1785 and is buried beside her husband and sons. The family's home in North White Plains, the Elijah Miller House, is now owned and operated as a historic site by Westchester County. The burial ground also serves as the final resting place of one veteran of the War of 1812 and four veterans of the Civil War.
Other well known names include the Reverend John Smith, who served as a minister and a doctor in White Plains. His wife, Mehitabal Hooker, was the great-grand daughter of the Reverend Thomas Hooker, one of the founders of the state of Connecticut.
Sources
The Presbyterian Burying Ground A treasury of White Plains History, White Plains Presbyterian Church. Accessed May 15th 2020. https://www.wppresby.org/history-1.
First Presbyterian Church and Cemetery , Accessed May 15th 2020. https://www.empireexplorer.com/listing/first-presbyterian-church-cemetery/.
Raftery, Patrick. The Cemeteries of Westchester County. Elmsford, N.Y.: Westchester County Historical Society, 2011.
Additional Information