Oberlin College and Conservatory
Introduction
One of the oldest coeducational institutions of higher learning in the world and the oldest coeducational liberal arts institution in the country, Oberlin College was established in 1833 in Oberlin, OH. Founded as the Ohio Collegiate Institute until 1850, the college has a long-standing history of progressivism in education and national causes. It was the first college in the U.S. to develop a policy to admit African American students (1835) and to grant degrees to female students (1837). The Oberlin Conservatory of Music was incorporated to the institution in 1867, and is the oldest continuously operated conservatory in the United States.
Images
Oberlin College, Second Congregational Church, Second Ladies Hall, College Chapel ca. 1855-1883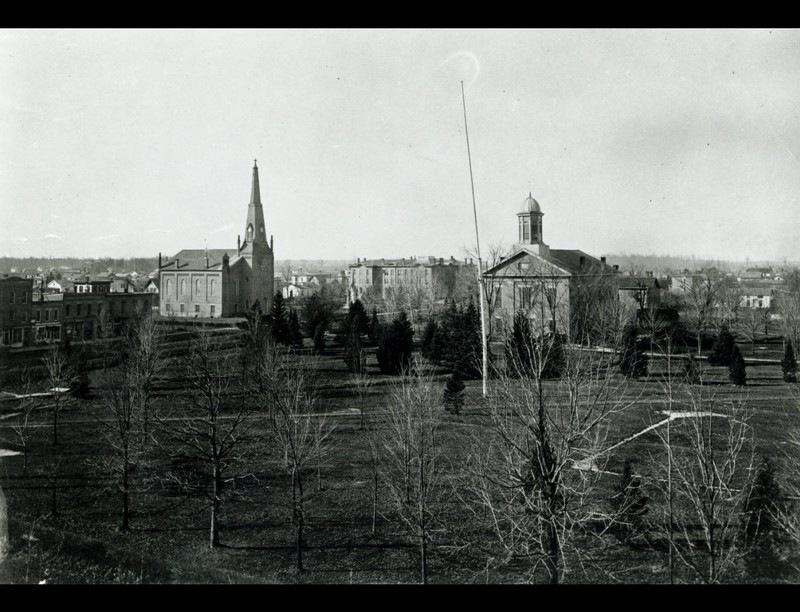 Wood engraving of Oberlin College, 1846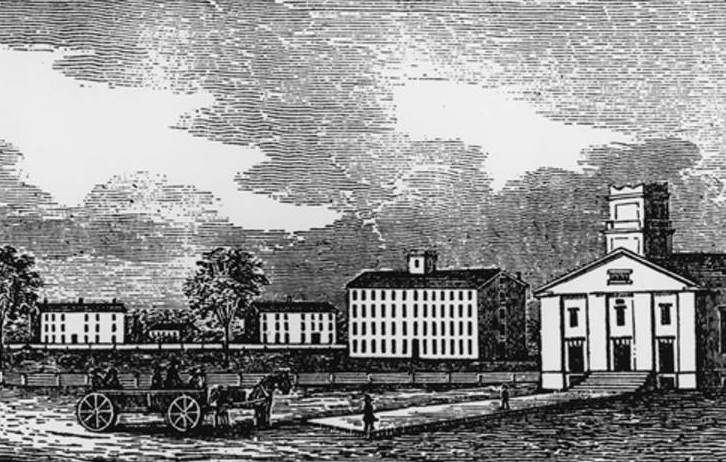 1852 College Seal of Oberlin College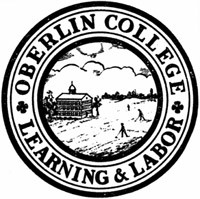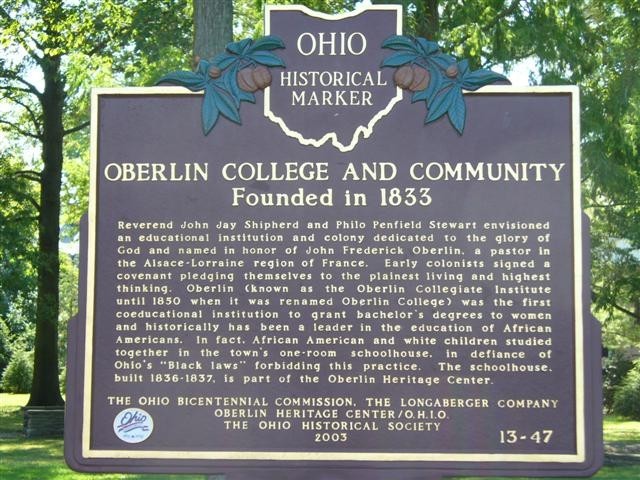 Dedication of Memorial Arch, Tappan Square, 1903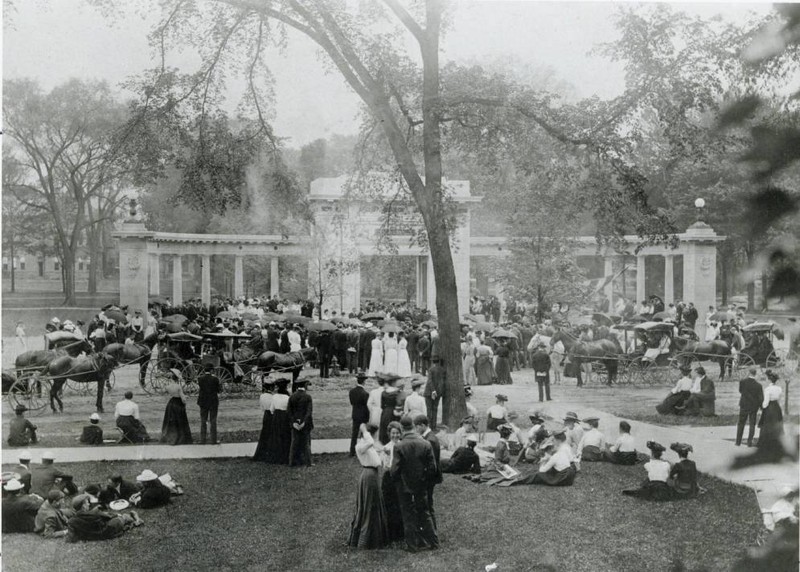 1857 Seniors of the Ladies' Course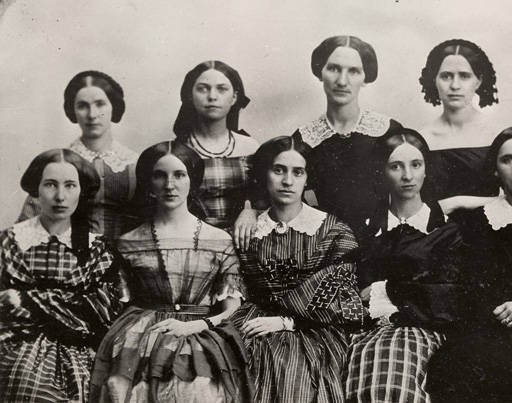 Allen Memorial Art Museum ca. 1917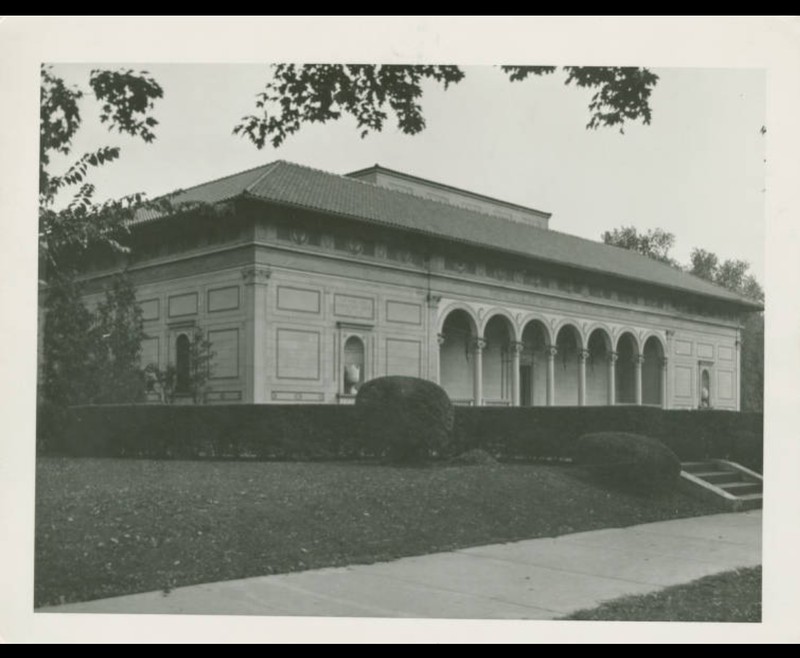 Oberlin College Conservatory of Music, Bibbins Hall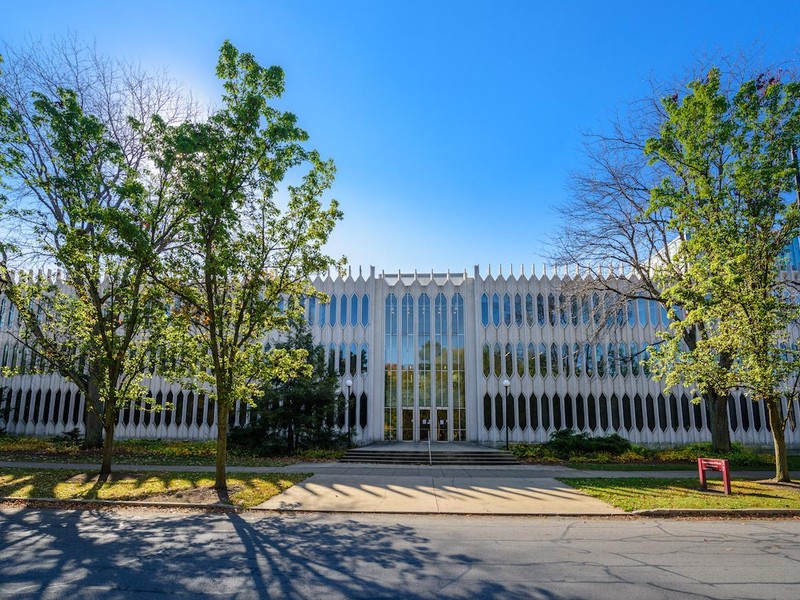 Apollo Theatre undergoing renovations in 2009.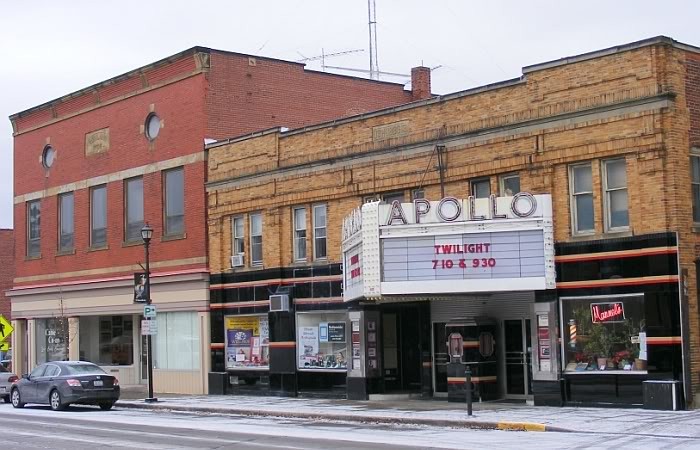 Backstory and Context
Oberlin College founders, Rev. John Jay Shipherd and Philo Penfield Stewart, envisioned a community dedicated to the glory of God, that would augment the American West's lack of Christian principles. They were inspired by Alsatian pastor John Frederick Oberlin, who pioneered schools and educational programs in impoverished communities in France. On 500 acres of donated land, Shipherd and Stewart established the town of Oberlin and the Oberlin Collegiate Institute. Early residents of Oberlin were required to sign the Oberlin Covenant, an encompassing document that dictated how members of the community and college should comport themselves, how they should live and even what they should eat and drink; we will eat only plain and wholesome food, renouncing all bad habits, and especially the smoking, chewing, and snuffing of tobacco, unless it be necessary as a medicine, and deny ourselves all strong and unnecessary drinks, even tea and coffee, as far as practicable, and everything expensive, that is simply calculated to gratify the palate".
In December of 1833, 30 students began unofficial classes at the Institute, which was chartered in February of 1834 .The Institute took on the motto "Learning and Labor," of which it still observes today. Oberlin College was the first college in the U.S. to adopt a policy for admitting African American students (1835) and admit female students as full-time, degree-seeking students (1937). Prior to 1937, the Female Department, or the Ladies' Course, did not offer collegiate-level instruction but instead mirrored female seminaries to the east. In James H. Fairchild's speech "Coeducation of the Sexes," he explained that the Female Department "will furnish instruction in the useful branches taught in the best female seminaries, and its higher classes will be permitted to enjoy the privileges of such professorships in the Teachers', Collegiate, and Theological departments, as shall best suit their sex and prospective employment." In 1837, four women were admitted to the baccalaureate program; Mary Caroline Rudd, Mary Hosford, Elizabeth Prallwith, and Mary Kellogg (Fairchild). Three out of the four graduated in 1841, becoming the first women to receive Bachelor's degrees in the U.S. In 1862, Mary Jane Patterson became the first African American woman to earn a Bachelor's degree.
Social reformer and Abolitionist Asa Mahan served as the first president of the Oberlin Collegiate Institute from 1835-1850. Mahan's progressive views towards social justice and abolitionism greatly influenced the philosophy of the newly-founded college. Oberlin was a crucial stop on the Underground Railroad, a network of routes and safe houses for fugitive slaves seeking freedom in the northern states and Canada. In 1850, the charter was amended so that the name of the institution could be changed to Oberlin College, reflecting the gradual change in curriculum in the years prior. The institution shifted focus from labor and theology-based programs to formal instruction in the classics, sciences, fine arts, and music. Charles G. Finney served as the second president of the college from 1851-1866 as well as the minister of the largest congregation in town, at First Church. James H. Fairchild assumed most administrative duties of the presidency and would later become the third president. Fairchild was a direct influence in the decisions of other college and universities in the United States to become coeducational. The Conservatory of Music became a division of the college in 1867, two years after its establishment as a private institution.
Among the many distinguished graduates of Oberlin College are women's rights activists Lucy Stone, Mary Burnett Talbert, Mary Church Terrell, and Anna Julia Cooper. Stone graduated in 1847, and dedicated herself to contesting gender and racial inequality. While facing opposition for her interest in public speaking while at Oberlin, she advocated for women's right to speak in public, and refused an offer to write the 1847 commencement speech that would be read by a man. In 1850, Stone organized the first national Women's Rights Convention in Worcester, MA, and would later co-found the American Woman Suffrage Association (AWSA). Talbert received her degree from Oberlin in 1886, and went on to become an educator as well as civil and women's rights activist. She was a founding member of the Phyllis Wheatley Club, the first affiliate with the National Association of Colored Women's (NACW) Clubs, as well as the first chapter of the NAACP. Terrell earned a Bachelor's degree in 1884 and her Master's degree in Education in 1888, and was co-founder and first president (1896-1901) of the NACW. She was also one of the founding members of the NAACP (1909) and the National Association of University Women (1910). The Mary Church Terrell library was dedicated on the campus on October 6, 2018 for her national contributions. Cooper earned a Bachelor's degree from Oberlin in 1884 and Master's degree in Mathematics in 1887. She established a long career in education, writing, and public speaking. She published her most influential book, A Voice from the South: By a Black Woman in the South in 1892, comprising of a collection of essays addressing education, segregation, woman's suffrage, and poverty from the lens of an African American woman.
The line between campus and town today is as hard to separate in Oberlin as the early history of both. With museums, libraries, theaters, and more being utilized both by residents of Oberlin and the students who attend the college. College owned and community utilized, The Allen Memorial Art Museum was established shortly after in 1917, containing collections that place it among the top five college art museums in the country. This is also the location of the Katharine Wight Haskell fountain, which honors the 1898 alumna and sibling of Wilbur and Orville Wright. Katharine assisted and represented her brothers, acting as an officer for the Wright Company from 1912-1915. The Apollo Theatre is another such institution, opening in 1913 as a vaudeville theatre, it was an early adopter of new technology and was one of the first to screen "talkies", beginning in 1928. The space changed hands throughout the 20th century, before being bought by the Steel family and underwent significant renovations during the 1950s. The theater remained in the Steel family from 1925-2008 when it was put up for sale. A community and college effort began to save the theatre, and it was purchased by the college in 2009.
Oberlin College was listed to the National Register of Historic Places on October 15, 1966 for its significance as a coeducational institution for higher learning. Tappan Square has prevailed the changes to the campus over the nearly two hundred years, the former site of Tappan Hall and the College Chapel, while most of the structures of the early institution are no longer present. An Ohio Historical Marker was dedicated on the property for the Oberlin College and Community in 2003 for Ohio's bicentennial. Oberlin College currently maintains an enrollment just below 3,000 students, 600 enrolled in the Conservatory of Music. The Conservatory encompasses four contiguous buildings: Bibbins Hall, the Central Unit, Robertson Hall, and the Bertram and Judith Kohl Building.
Sources
Oberlin History, Oberlin College and Conservatory. Accessed May 19 2020. https://www.oberlin.edu/about-oberlin/oberlin-history.
Joint Education of the Sexes, Electronic Oberlin Group. February 11 2009. Accessed May 20 2020. https://www2.oberlin.edu/external/EOG/Default.html
Michals, Debra. Lucy Stone, National Women's History Museum. 2017. Accessed May 20 2020. https://www.womenshistory.org/education-resources/biographies/lucy-stone
Mary Burnett Talbert, National Women's Hall of Fame. 2005. Accessed May 20 2020. https://www.womenofthehall.org/inductee/mary-burnett-talbert/
Michals, Debra. Mary Church Tyrell, National Women's History Museum. 2017. Accessed May 20 2020. https://www.womenshistory.org/education-resources/biographies/mary-church-terrell
Wegner, Ansley. Cooper, Anna Julia, North Carolina Office of Archives and History. 2010. Accessed May 20 2020. https://www.ncpedia.org/biography/cooper-anna-julia-haywood
Guide to the Women's History Sources in the Oberlin College Archives. Oberlin, Ohio: Gertrude F. Jacob Archival Publications Fund, 1990. 119 p. https://www2.oberlin.edu/archive/oresources/GUIDE_TO_THE_WOMENS_HISTORY_SOURCES.pdf
Ohio NHL Oberlin College. Textual Record. From Department of the Interior, National Park Service, National Register of Historic Places and National Historic Landmarks Program Records: Ohio, 1964-2013. Accessed May 20 2020. https://catalog.archives.gov/id/71986515
"Oberlin Should be Proud of Main Library Naming." The Oberlin Review, Oberlin, OH. February 8 2019. https://oberlinreview.org/17766/opinions/oberlin-should-be-proud-of-main-library-naming/
Oberlin Covenant, Accessed September 18th 2020. https://www2.oberlin.edu/external/EOG/Documents/Oberlin_Covenant.html.
Blodgett, Geoffrey.  Oberlin History. Essays and Impressions.. Kent State University Press, 2006.
Image Sources
Oberlin College Archives

Oberlin College Archives

Oberlin College Archives

Remarkable Ohio

Oberlin College Archives

Oberlin College Archives

Ohio History Connection State Archives Series

Oberlin College

https://en.wikipedia.org/wiki/Apollo_Theatre_(Oberlin,_Ohio)#/media/File:Oberlin-Apollo_Theatre_(OHPTC).jpg

Additional Information