Butler Gym and Basement
Introduction
Opened in 1918, the Butler Gym served as the primary basketball court for the St. Bonaventure Bonnies until 1946, when the Bonnies moved to the Olean Armory. This was the home of the Saint Bonaventure's chapter of the Knights of Columbus. They would meet in the basement of the building weekly for two hours going over information for the organization. They would continue to use the location up until they were disbanded in the late 1990s.
Images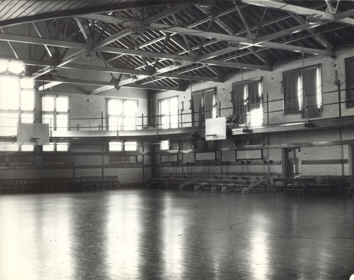 Backstory and Context
Opening in 1918 to fit a demand for a practice and playing facility for the new St. Bonaventure Division 1 Basketball team. With seating for roughly 400-500 spectators, the "Armory" as it was soon called due to the intensive use of the facility by the St. Bonaventure ROTC program, was a relatively large facility for the time and area. As St. Bonaventure became a nationally recognized basketball program, there was a sudden demand for a larger arena, which could house more spectators. It was decided at the end of World War Two, that the nearby Olean Armory, would be the new arena for St. Bonaventure Basketball. However, the Butler Gym continued to host Women's Basketball games until 1973 (which was upgraded from club to Division One in 1971), when they too started playing in the Reilly Center.
Sources
Butler Memorial Gymnasium. (n.d.). Retrieved from http://archives.sbu.edu/studentpages/buildings/Butler Memorial Gymnasium.htm
Image Sources
St. Bonaventure University Archives

Additional Information