Old Marion County Courthouse
Introduction
When the Indiana General Assembly first convened in Indianapolis in 1825 C.E. there existed no capitol building for them to hold governmental functions and legislative meetings in. For a decade lawmakers met in the Marion County Courthouse until the completion of the first statehouse building in Indianapolis in 1835 C.E.
Images
The First Marion County Courthouse (circa 1824 C.E. or 1825 C.E. until replaced in 1876 C.E. by the second courthouse which was demolished in the latter half of the 20th century)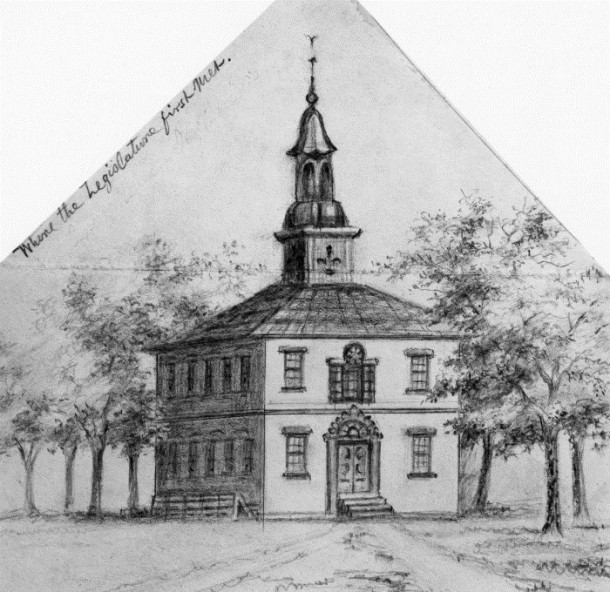 Backstory and Context
When Indianapolis became the state capital in 1821 C.E. there were no active plans for the statehouse building. In 1824 C.E. after a nearly two week journey on foot and with four wagons in tow the various administrative documents and offices of the state government were moved to sites in Indianapolis and when the Indiana General Assembly convened in 1825 C.E. they chose the Marion County Courthouse to host their legislative body.
Plans for a new location of governance within Indianapolis were proposed in 1831 C.E. and by 1835 C.E. the new statehouse was completed and the Indiana General Assembly, and the Governor, moved all primary state functions to the new site. The first Marion County courthouse was replaced by the second Marion County courthouse building in 1876 C.E. which would remain in place for just under a hundred years until it was demolished for the new City-County building built for the new Unigov government which saw the consolidation of most of Marion county into one large annexed city of Indianapolis.
Sources
ISD. The Indiana Statehouse: A Self Guided Tour, Indiana Senate Democrats. Accessed May 4th 2020. https://www.indianasenatedemocrats.org/wp-content/uploads/2018/05/WebPageSelfGuide6-1.pdf.

Marion County, Indiana, Courthouse-- Uncovered Plans, INARCHITECTURE . Accessed May 4th 2020. http://cresourcesinc.blogspot.com/2013/09/throughout-history-of-preservation.html.

Image Sources
Indianapolis Collected: The Day the "Big Bugs" Came to Town, Historic Indianapolis. Accessed May 4th 2020. https://historicindianapolis.com/indianapolis-collected-the-day-the-big-bugs-came-to-town-2/.