Corydon Capitol Building
Introduction
Indiana has had a fascinating political history. From the far left to the far right, Indiana had pretty much seen it all. Indiana had such strong Ku Klux Klan at one point that the Governor was the leader of the group. Early settlers from the south set the stage when they crossed the Ohio River into Indiana in search of land and a better life. Since then, Indiana has become one of the most conservative states in the midwest. So much so that a democratic presidential candidate has only won Indiana twice since Indiana became a unionized state in 1816.
Images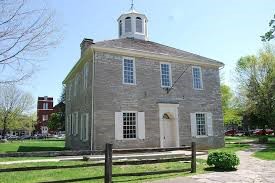 Backstory and Context
Corydon was the first ever capitol of Indiana. It was also the birthplace of the Indiana Constitution of 1816. On June 10th, 1816, 42 delegates from various counties within the state, convened at the Corydon Capitol building to discuss the statehood of Indiana. What followed was the Constitution of Indiana which highlighted a republican form of government consisting of three branches. Today, the constitution is only subordinate to the United States Constitution and federal law. It touched on many similar things that the US Constitution does including freedom of speech and religion. The earliest pioneers of Indiana were farmers. They traveled up from the south and crossed over the Ohio River into what was known at the time as the Indiana Territory. The settlers were democratic by nature. They wanted low taxes and little government intervention.