Glover Gymnasium
Introduction
Glover Gymnasium is the home arena for the Bloomfield High School basketball teams. It was finished in 1986, and has been a staple in the Bloomfield community ever since. Named after Hall-of-Fame coach, Guy Glover, who is a legend to the people of Bloomfield. He helped create what is now a dominating culture of basketball at Bloomfield. A bronze plaque in the entryway shows its respect to the late legend. It has been home to many significant events in the history of Bloomfield.
Images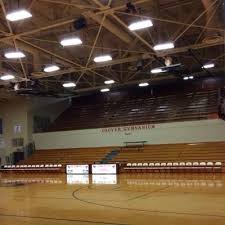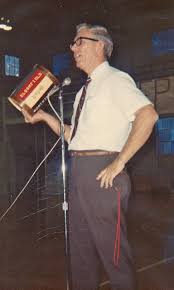 Backstory and Context
Bloomfield Basketball is one of the most discussed subjects in Greene County, Indiana, and will be for the foreseeable future. Basketball, and the success that Bloomfield breeds because of it, gives the people of the town an enormous sense of pride. Many players have gone on to have successful college careers. Many coaches have left Bloomfield and received bigger jobs because of the good work they did there. Guy Glover, the place's namesake, was a coach and teacher at Bloomfield for more than 50 years. He was beloved by all, and touched so many lives. He won numerous awards for his dedication and service to the community, but I think it's best said by his name being on the building!
Sources
Schwinghammer, Terry. "Cardinal Fever Is Spreading Through Bloomfield." Gcdailyworld.com, www.gcdailyworld.com/story/2287267.html.