Damm Theatre
Introduction
Sitting in the middle of Osgood, IN is the historic Damm Theatre. Originally opening in 1914, and relocated once in 1922, in the same location 98 years later. The Damm Theatre has recently undergone FULL RENOVATION: and is open for showings select days of the week.
Images
Damn Theatre Post 09' Renovation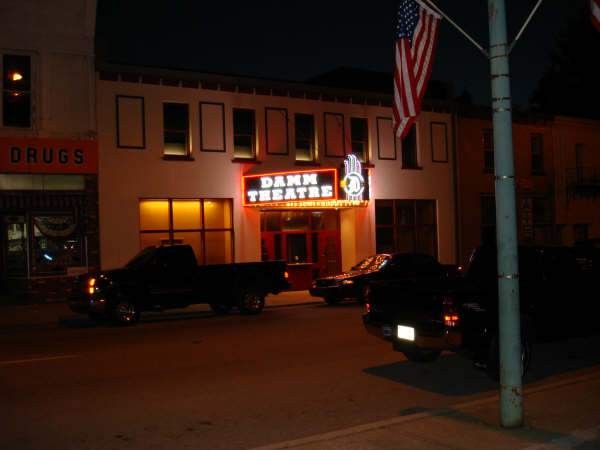 Damn Theatre Building, Circa 1900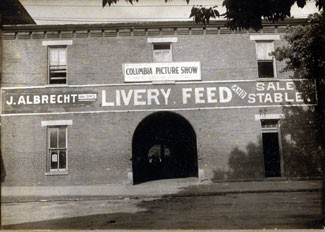 Backstory and Context
The Damm Theatre was started by a Cincinnati Baker named Louis Damm after moving to Batesville with his family from Cincinnati to start a bakery. After opening his bakery, Louis opened the Damm Theatre next-door to his bakery in 1914 , later in 1922 he bought out his competitor across the street and moved the Damm Theatre to its current location (The City of Osgood).
The Damm family; Louis, Kathryn, and their 5 children, ran the theatre for 39 years. Then in 1953, Dan Damm bought controlling interest in the theatre. Dan ran the theatre successfully until his passing when his wife, Viola took over operations and ran the theatre till her passing in 1989. Leading to the closing of the Damm Theatre.
Until renovations started and the Theatre was brought back to life in 2008, with the final step of the lighting of the marquee (Cinema Treasures). Officially reopened and continue to offer 3 showings a week, offering not only a show but a chance to sit and examine a piece of history. Potentially the same theatre as family members past.
Sources
Damm Theatre Osgood Indiana, Damn Theatre, www.dammtheatre.com/.
DeLay, Tom, and Dave Rayner. "Damm Theatre." Cinema Treasures, Cinema Treasures , 2009, cinematreasures.org/theaters/3706.
Rayner, Dave. "The Damm Theatre." Town of Osgood, Indiana - Damm Theatre History., Town of Osgood,
www.osgoodindiana.org/damm/dammhist.html.
Image Sources
The City of Osgood

The City of Osgood, & Bob Damn