Marion Barry Statue
Introduction
Marion Barry was a iconic, rebellious, and loved mayor of Washington DC that helped DC become as strong as it is today. Barry is so loved by the city that they created a statue to honor him. The statue of Marion Barry was designed by artist Steven Weitzman and is bronze that stands 8- foot tall. Marion Barry was considered an Icon and passed on living legend.
Images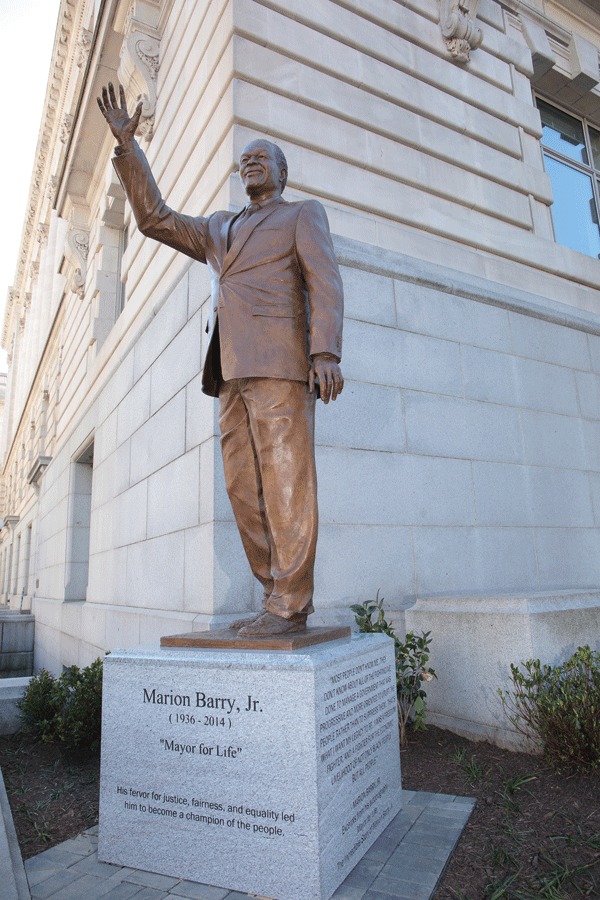 Backstory and Context
Marion Barry was a controversial activist and politician. He was born in Itta Bena, Mississippi on March 6 1936. Barry served as the second and fourth mayor of Washington DC. While in office Barry earned the name of DC's "Mayor for Life." He earned that recognition because he was known for advocating for the poor, the unfortunate, and the minority. Barry created a function middle class for Black people in DC and Maryland, and he created job opportunities for unemployed men. Barry created a summer job tradition for DC's youth to make money and learn job reediness during each summer called the Summer Youth Employment Program (SYEP). Barry died November 23, 2014 at the age of 78 in his hoary hometown, where the community loved him, Washington DC.
Sources
Blake, Andrew. Marion Barry, D.C. 'Mayor for Life,' memorialized with statue, April 3rd 2018. Accessed April 20th 2020. https://www.washingtontimes.com/news/2018/mar/3/marion-barry-dc-mayor-life-memorialized-statue/.
, Fox News. Statue of Marion Barry, controversial former mayor, unveiled in Washington, Fox News. April 4th 2018. Accessed May 1st 2020. https://www.foxnews.com/politics/statue-of-marion-barry-controversial-former-mayor-unveiled-in-washington.
Image Sources
http://www.eastcityart.com/art-news/ten-foot-statue-marion-barry-jr-unveiled-occupies-prominent-place-pennsylvania-avenue-nw/

Additional Information