American National Bank Building
Introduction
The historic American National Bank Building was added to the National Register of Historic Places in 1997 for its architecture and impact on the city's economic development in the 1920s. Constructed in 1921, the building is unique in that it is the only building in the downtown area designed with terra cotta Beaux-Arts and Egyptian Revival style detailing. Notable features include Egyptian Revival columns with leaf and reed capitals, Florida fruit and flower motifs, and decorative panels between the third-story windows. Local architect Henry Stephen Harvey designed it. It was built by group number of businessmen who decided to form a bank to accommodate the growing the financial needs of the growing city. Today, a restaurant occupies the building.
Images
The old American National Bank Building was constructed in 1921.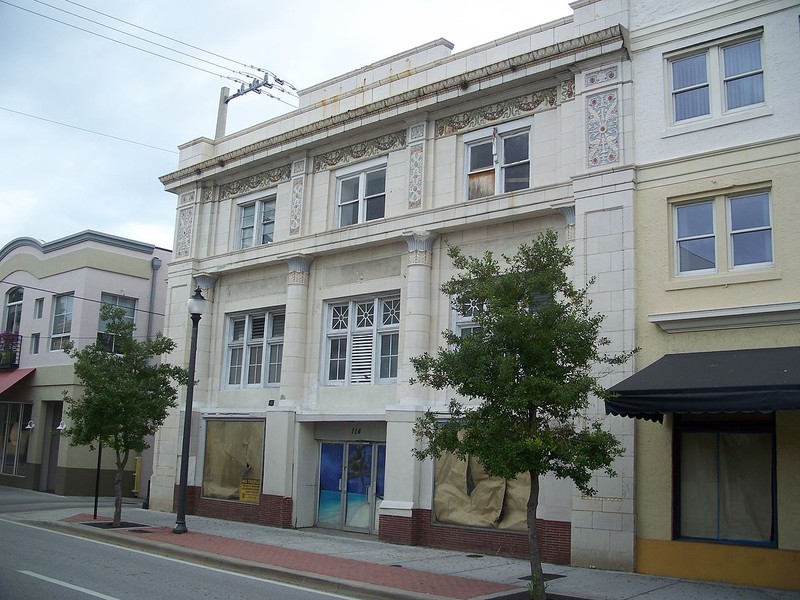 Backstory and Context
West Palm Beach was established in 1894 and grew steadily in the coming years. Beginning in 1920, this growth accelerated as a result of the Florida Land Boom. The population increased (the number of tourists rose as well) and several new buildings were erected in the downtown area including tall commercial buildings and, of course, the American National Bank Building. The factors that spurred the city's growth were the state's warm climate, well-designed transportation infrastructure, a healthy national economy, and the fact that the state legislature did not pass income or inheritance tax bills. There were also many wealthy residents in the area willing to invest in real estate projects.
The bank opened on January 2, 1922. The city welcome it with open arms and it boasted modern equipment such as a burglar and tool-proof vault. By the next year, more than a million dollars were deposited in the bank. In 1925, the bank merged with another bank and moved to a different location. The Commercial and Savings Bank occupied the building next and was also successful, eventually holding a million dollars in deposits. The land boom did not last much longer, however, finally collapsing in 1927 and forcing the bank to close. It reopened for a few years but closed again permanently in 1931. In the coming decades, a number of tenants have occupied the old building including the Chamber of Commerce, federal agencies, an insurance company, and a restaurant chain called Morrison's Cafeteria. Morrison's remained here until the mid-1970s.
Sources
Groover, Amy & Shiver, Carl. "American National Bank Building." National Park Service - National Register of Historic Places Nomination Form. https://npgallery.nps.gov/GetAsset/518c40b6-b887-4795-b9e6-0a1eb626e8a0.
Image Sources
Wikimedia Commons: https://commons.wikimedia.org/wiki/File:West_PB_FL_American_Natl_Bank_Bldg01.jpg

Additional Information