Saint Bartholomew's Church and Community House
Introduction
St. Bartholomew's Parish was founded in 1835 and the current church is its third house of worship. Designed by Bertram Goodhue, the exterior was completed in 1918 while its interior was not completed until 1930 when its iconic dome was also dedicated. Its impressive triple-door portal, which welcomed parishioners at the previous church, was re-used and Goodhue designed the rest of the church around it. Goodhue chose a Byzantine Revival design and decided to use a dome rather than the more common spire at the center of the cruciform church. The parish's five-story Community House was dedicated in 1927 and the two were designated National Historic Landmarks in 2016.
Images
St. Bart's has occupied this corner along Park Avenue since 1918.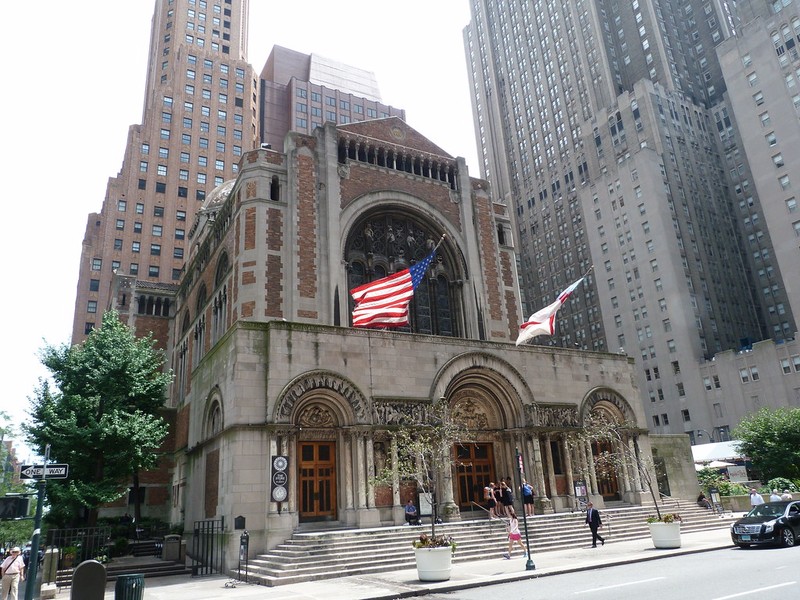 The large nave of St. Bart's with its soaring vaulted ceiling.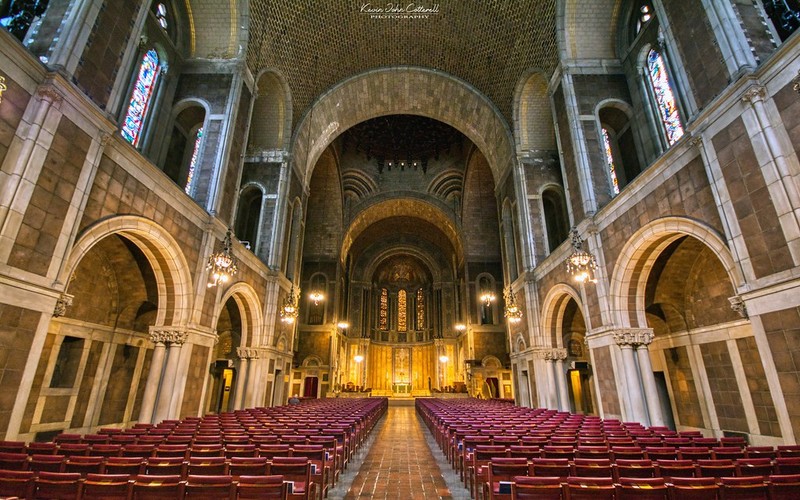 St. Bart's large rose window glows blue.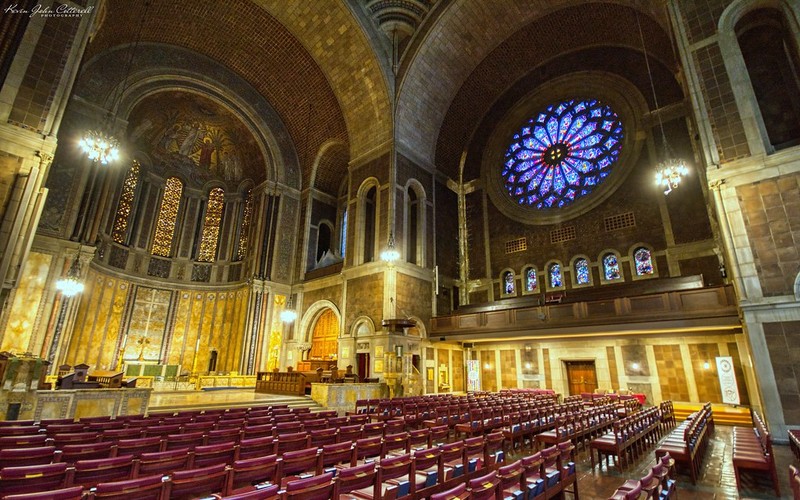 St. Bart's famous mosaic just above its apse.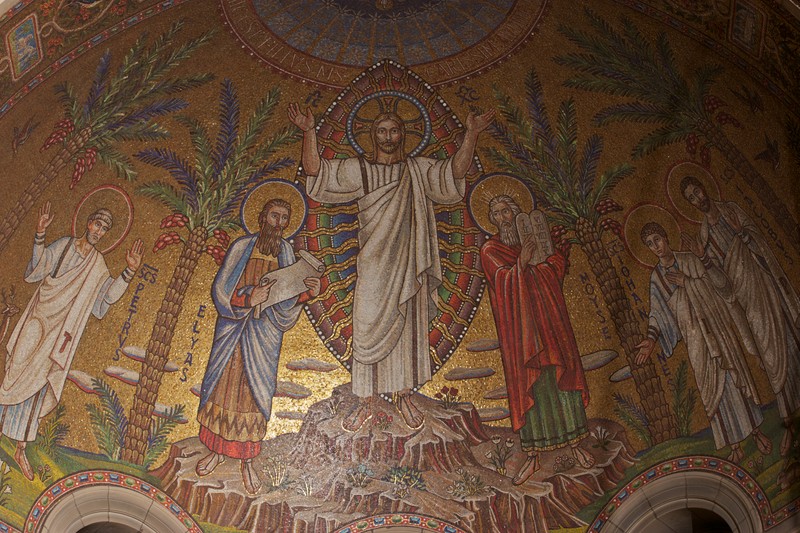 Scaffolding surrounds St. Bart's famous dome during restoration work in 2016.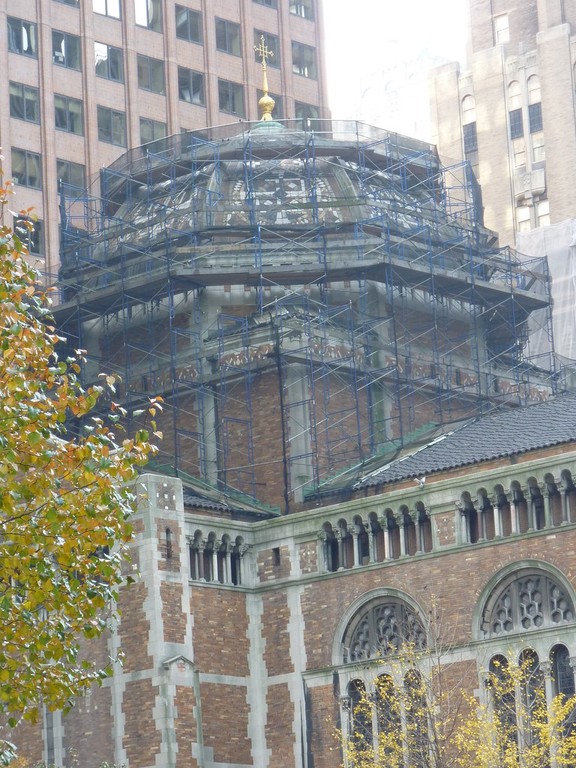 Backstory and Context
St. Bartholomew's Episcopal parish was established in New York City in 1835 and its first house of worship opened at the corner of Great Jones Street and Lafayette Place the same year. The first rector to preach at this church was the Reverend Charles Vernon Kelly who guided the building of the neo-classical church with its Gothic or Regency style spire. As the congregation grew, especially with the influx of European immigrants, the Rev. Dr. Samuel Cooke planned and led the parish's move to its second, larger home at the corner of Madison Avenue and East 44th Street.
The parish's second home, completed in 1876, was designed by the same architect that designed St. Patrick's Cathedral, James Renwick, in the Lombardic style. Renwick replaced the old church's spire with a tall campanile on its front, right-hand corner. Its nave featured two aisles separated by twelve columns, six per side. Above, a triforium arcade transitioned to rib vaulting which supported the church's ceiling which soared fifty feet overhead. However, the most striking aspect of the Madison Avenue church was the Stanford White designed triple French Romanesque Revival portal which was added in 1903. Upon the three large bronze doors were bas relief panels which depicted the lives of the saints, to include Bartholomew, which were created by artists Andrew O'Connor, Herbert Adams and Philip Martiny. O'Connor also designed a pair of twelve-foot long limestone friezes on each side of the center door that depicts scenes from the Old and New Testaments. It was while the congregation occupied this church that Rector David Greer transformed St. Bart's into an institutional parish that provided social services to those in need after becoming Rector in 1888. Greer helped establish a Rescue Mission, Parish House and medical clinic. 
Unfortunately, the Madison Avenue church developed structural issues that made it unsafe. As a result, Rector Leighton Parks convinced his congregation to build yet another church, this time along Park Avenue. The parish purchased the land where the former Shaefer Brewery once stood in 1914 for $1.4 million. Parks then secured the services of renowned architect, Bertram Goodhue. Goodhue was asked to design his Byzantine Revival church around White's triple portal which was moved from Madison Avenue to the Park Avenue location with funding from the Vanderbilt family. Goodhue also used the marble pavers, stained glass, choir stalls, reredos, and chancel rail from the Madison Avenue church.
Behind the triple portal, Goodhue used variegated salmon and cream-colored bricks as well as Indiana limestone for the exterior. Its now famous tile-patterned dome substituted for the planned spire that was never built. Inside, Goodhue designed a unified barrel-vaulted space without side aisles or chapels and with reduced transepts. Mosaics and stained-glass windows were designed by Hildreth Meiere and the baptismal font by Dane Bertel Thorvaldsen. Construction began in 1916 and the first services were held in the incomplete church in 1918. Due to debt fears, construction continued for years and the church was not fully complete until 1930, while the five-story Community House, with auditorium, gym, and pool was dedicated in 1927. 
Even before construction of the Park Avenue church, St. Bart's was known for its music. In 1904, Reverend Parks coerced Leopold Stokowski to leave London to become choirmaster at St. Bart's. The largest pipe organ in New York and one of the ten largest in the world was eventually added to the Park Avenue church and St. Bart's is still known for its choir and chorister program. In 2006 the church's exterior went through an extensive restoration and cleaning and in 2016-17 its massive dome went through a months-long restoration during which 6,400 new terra cotta tiles were added. St. Bart's is open for worship services and other special programs throughout the week. Please visit their website for dates and times. Inside Park, a restaurant specializing in American cuisine, currently occupies its Great Hall and small outdoor courtyard next to the church.    
Sources
Preston, Percy, Carole French, David Lowe, & Constance Evans. Roger Reed, Editor. "National Historic Landmark Nomination Form: St. Bartholomew's Church and Community House." United States Department of the Interior/National Park Service. July 24, 2014. Accessed May 1, 2020. https://www.stbconservancy.org/storage/documents/st_bartholomews_church_nhl_nomination.pdf
"St. Bart's: History." St. Bart's. Accessed May 1, 2020. https://stbarts.org/about-us/history/
Gray, Christopher. "Time and Gravity Take a Toll on St. Bartholomew's Church." New York Times. October 8, 2006. Accessed May 1, 2020. https://www.nytimes.com/2006/10/08/realestate/08scap.html
"St. Bart's History and Historical Timeline." St. Bartholomew's Conservancy. Accessed May 1, 2020. https://www.stbconservancy.org/the-landmark-site/history
Additional Information