Crabtree Aprtments
Introduction
#4 on the Scott City Historic Walking Tour: Built in 1885 as a large rooming house, the Crabtree Apartment Building was one of the first to be constructed in the town and may be the oldest still standing today. A rooming house was an important asset to the fledgling town giving newcomers a place to stay while filing their claims.
Images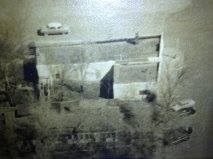 Backstory and Context
The Crabtree Apartments were built either by the Scott City Town Company which consisted of town founder Maria E. DeGeer, William McClain, Charles Swan, and James Sangster or by Johnson Brothers' investments. Both names show on the records in 1885-1886. Mrs. DeGeer has commented in her newspaper, the Western Times, that a rooming house was in dire need during those years to house all those who were streaming into Scott City to settle and prove up their claims. Records state R.H. Crabtree purchased the property in 1901 and it was in the family until 1961 when it was sold to Cyril Ray.
It originally had 16 sleeping rooms and over 2,200 sq.ft. with a full basement. The owner's living quarters were located in the front with 4-5 apartments on the main level. The basement had 4-5 sleeping rooms plus an apartment out back. There was one bathroom on the main level and a separate men's and women's bathroom down which all renters shared.
In 1978, Eugene and Geraldine Ribbing purchased the property. Geraldine managed the property after her husband died until 2007 when she sold to current owner Bernardo Cuevas.
What a great piece of history that many never notice! Wouldn't you love to get a glimpse of all the people who have walked through those doors? There are many pieces of history throughout the building with some original fixtures still visible.