The Company Mill (on Company Mill Trail) Umstead State Park, Reedy Creek Entrance
Introduction
Taking a stroll in the spring weather through Umstead State park from the Reedy Creek entrance in Cary allows you the option of taking 1 of 2 trail heads. The Company Mill trail is a 5.2 mile loop that goes past the historic site of the company mill. There is a cement marker there for the company mill that was located on the land (and that fast moving river) in the 1800s. Due to the New Deal, those families were forced out of what would become William B. Umstead state park. Few know the history of the mill though many enjoy the beauty of the Company Mill trail.
Images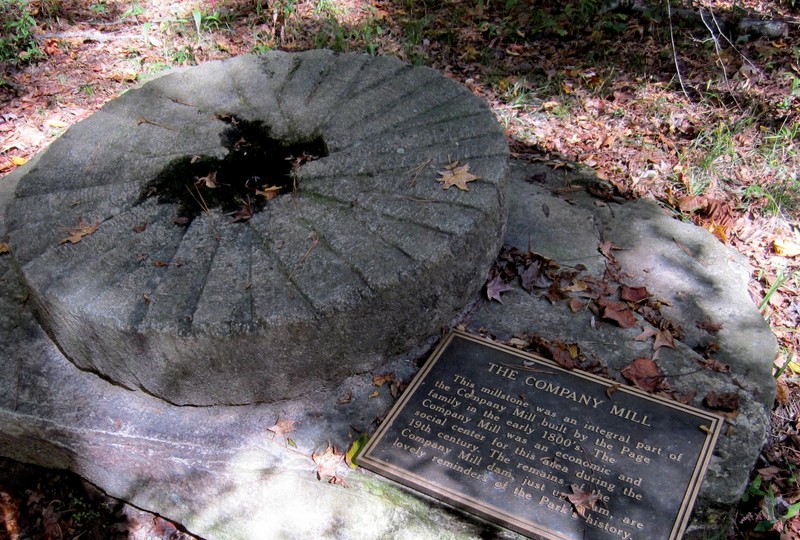 Backstory and Context
The Company Mill, formerly known as Page Mill, was built in 1810. This mill is one of three water powered grist mills located within William B. Umstead Park in Raleigh, NC. Out of these three grist mills, Company Mill is the most well-known and most accessible mill, as trail goers can visit this site when walking along The Company Mill trail. The Company Mill, owned by the Page family, was used as a source of food and income, building a strong community of 40 families that thrived around the mill. In addition to the mill, there are still a number of graveyards in the surrounding area.
The grave of Oscar Page and his wife can be found nearby. The Page family left the area about 1900 but their legacy can be seen throughout the park. After the Page family left, the New Deal Era forced farmers to sale this land to federal government to construct the state park.The millstone can be seen while hiking The Company Mill Trail in Umstead State Park. This is an easily accessible location for those who live locally to visit a piece of 1800s North Carolina history. It is one of the few relics located on The Umstead State Park's property that sheds light on the industry that sustained the 40 some families that lived around The Company Mill and thrived on the grains that the mill produced.
After the New Deal was put into place the Mill changed names and research shows the direct impact that the New Deal had on the local economy of North Carolina. Then it was a drastic change that negatively impacted families forcing them out of the now, and today the preservation of the park land brings visitors and sustains wildlife and is a draw for local businesses such as The Umstead Hotel and Spa near the Cary entrance and The Angus Barn near the highway 70 entrance in Raleigh
Sources
http://www.newsobserver.com/news/local/community/cary-news/cn-opinion/article34895817.html
Image Sources
Jeannette Tyree personal photo

Additional Information