LeGrand Lockwood's Bedroom
Introduction
LeGrand Lockwood's suite occupies the southeast corner of the Mansion, above the Drawing room. This bedroom suite was later used by Charles D. Mathews and then his son, Charles T. Mathews. Designed by the Herter Brothers, the suite consists of a dressing room, bedroom, oratory, and master bath, capturing the latest technological advances of the Gilded Age. The Mansion was built between 1864-1868 and featured central heating, hot and cold running water including flushing toilets, and a battery-powered alarm system. Throughout the second floor, one can see the wires of the original burglar alarm, which Lockwood could control from a panel located outside his dressing room. A second alarm panel can be found in the Servants' Quarters. The room also features three original call levers in addition to the upgraded electric buzzer system, installed by the Mathews family. Early forms of electricity can still be found on the bedroom's east wall.
Images
LeGrand Lockwood's Bedroom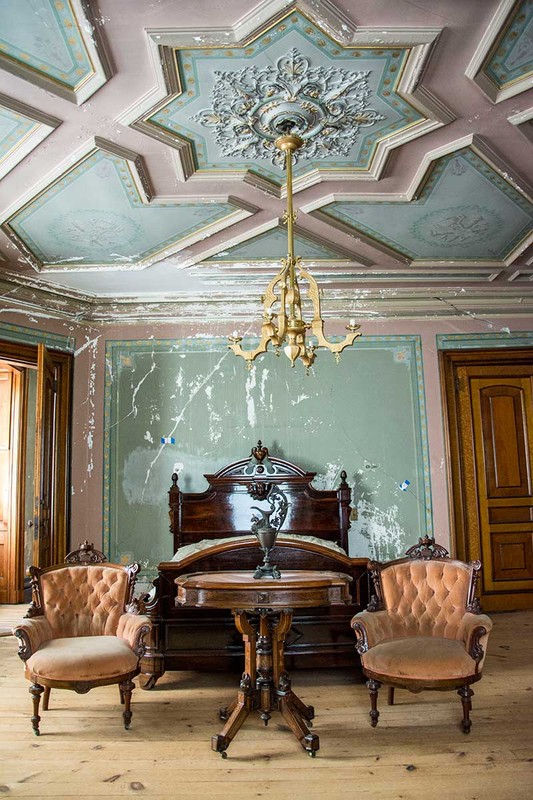 A tour of Mr. Lockwood's Bedroom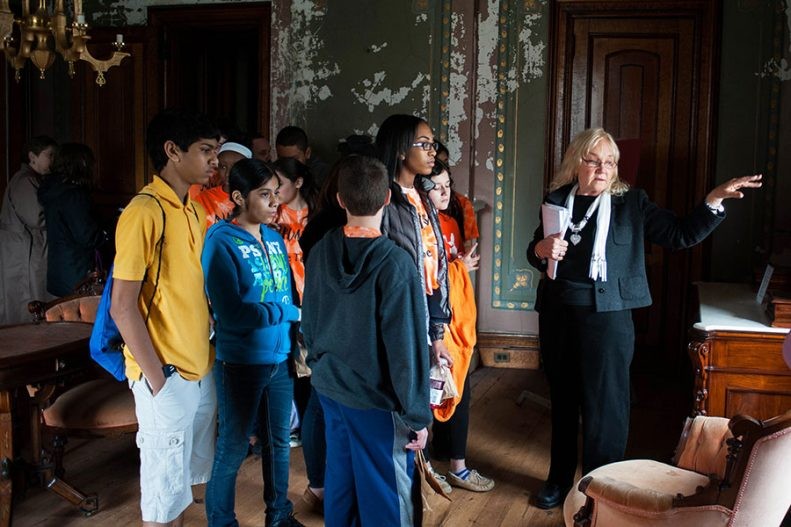 Oratory Ceiling, in Mr. Lockwood's Suite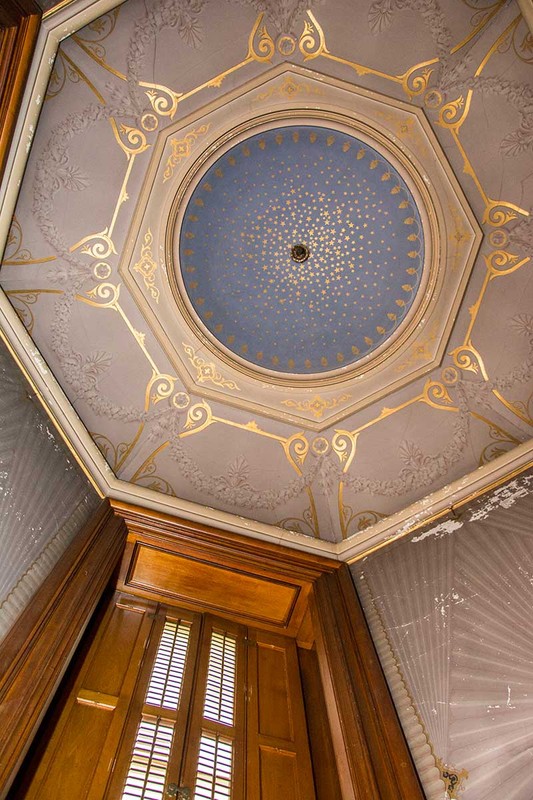 Sink in Mr. Lockwood's Bathroom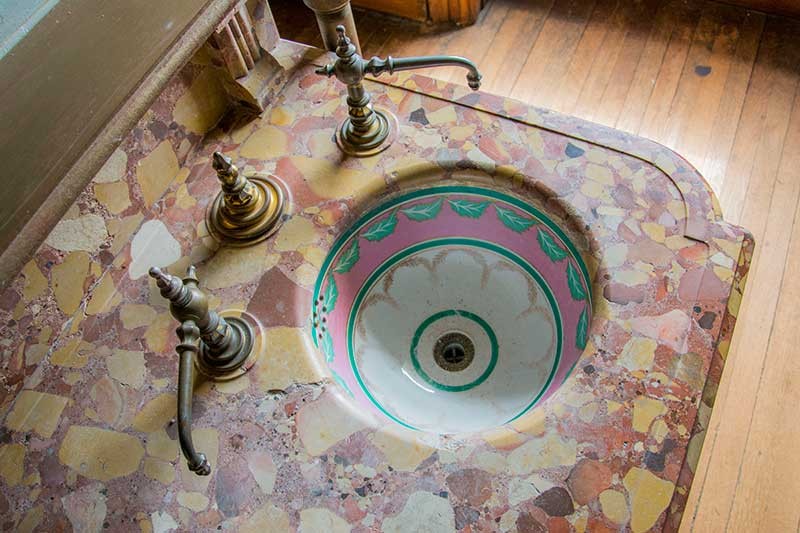 Backstory and Context
LeGrand Lockwood's bedroom walls are frescoed in colors of rose and green. The eight-pointed star motif appears again, most noticeably painted above his bed. The fireplace mantle is carved from Italian marble and inlaid with semi-precious stones. The turret opens just off the bedroom and contains a small Oratory, also designed by the Herter Brothers. The painted room features a blue domed ceiling decorated with gold stars and walls made to look like gathered silk. Lockwood originally furnished the room with a cross and a prie-dieu, a small ornamental wooden desk intended for private devotional use.
Adjoining the bedroom is a full bathroom, designed by the Herter Brothers, with two sinks, water closet, and tub. The English ceramic sink basins are decorated in the same colors as the bedroom, thereby continuing the scheme from one room into the next. The double sinks are inset in Italian Brescia marble, the warm red tones of the marble complimenting the room's colors.
Sources
LeGrand Lockwood's Bedroom, The Lockwood-Mathews Mansion Museum. Accessed April 23rd 2020. https://www.lockwoodmathewsmansion.com/mr-lockwoods-bedroom/.
Image Sources
Sarah Grote Photography, 2016

Trisha Keeler, 2014

Sarah Grote Photography, 2016

Sarah Grote Photography, 2016

Additional Information