House of Seven Gables
Introduction
The House of Seven Gables, built in 1907, moved to Heritage Village in 1977. David N. Starr, of Rockford, Illinois, originally built the home as a retirement home for his family. Over the course of its life, this house served a variety of purposes from a second home to a boarding house, and now a historic home that aides in interpreting Pinellas County history. This Queen Anne style home includes thirteen rooms all clad in heart of pine. The interior reflect the height of modern, Edwardian tastes, and the seven gables of the roof lend the home its name.
Images
House of Seven Gables at Heritage Village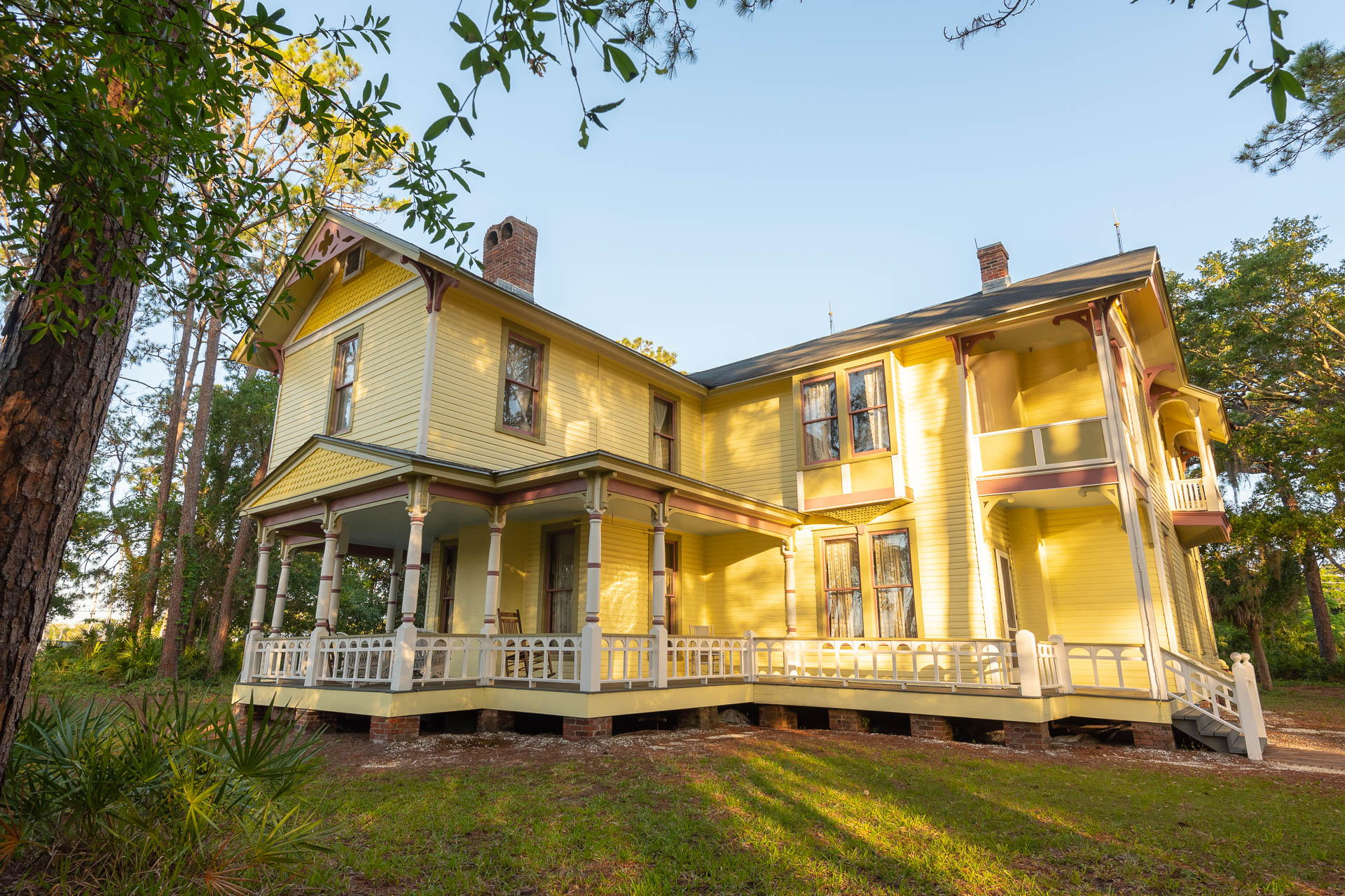 Rocking Chairs on the Front Porch of Seven Gables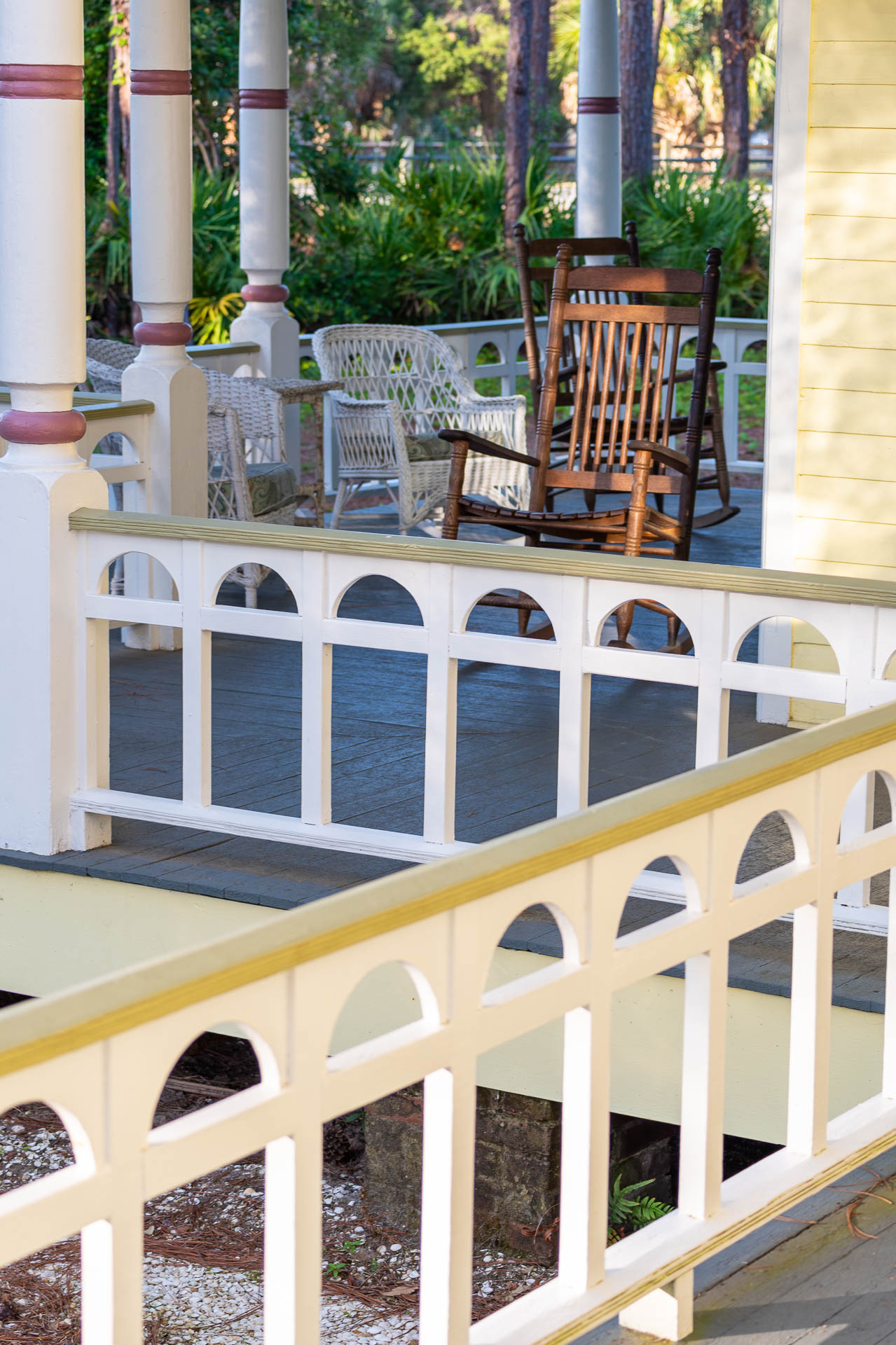 Seven Gables Home on original site on Clearwater Bay, c. 1946.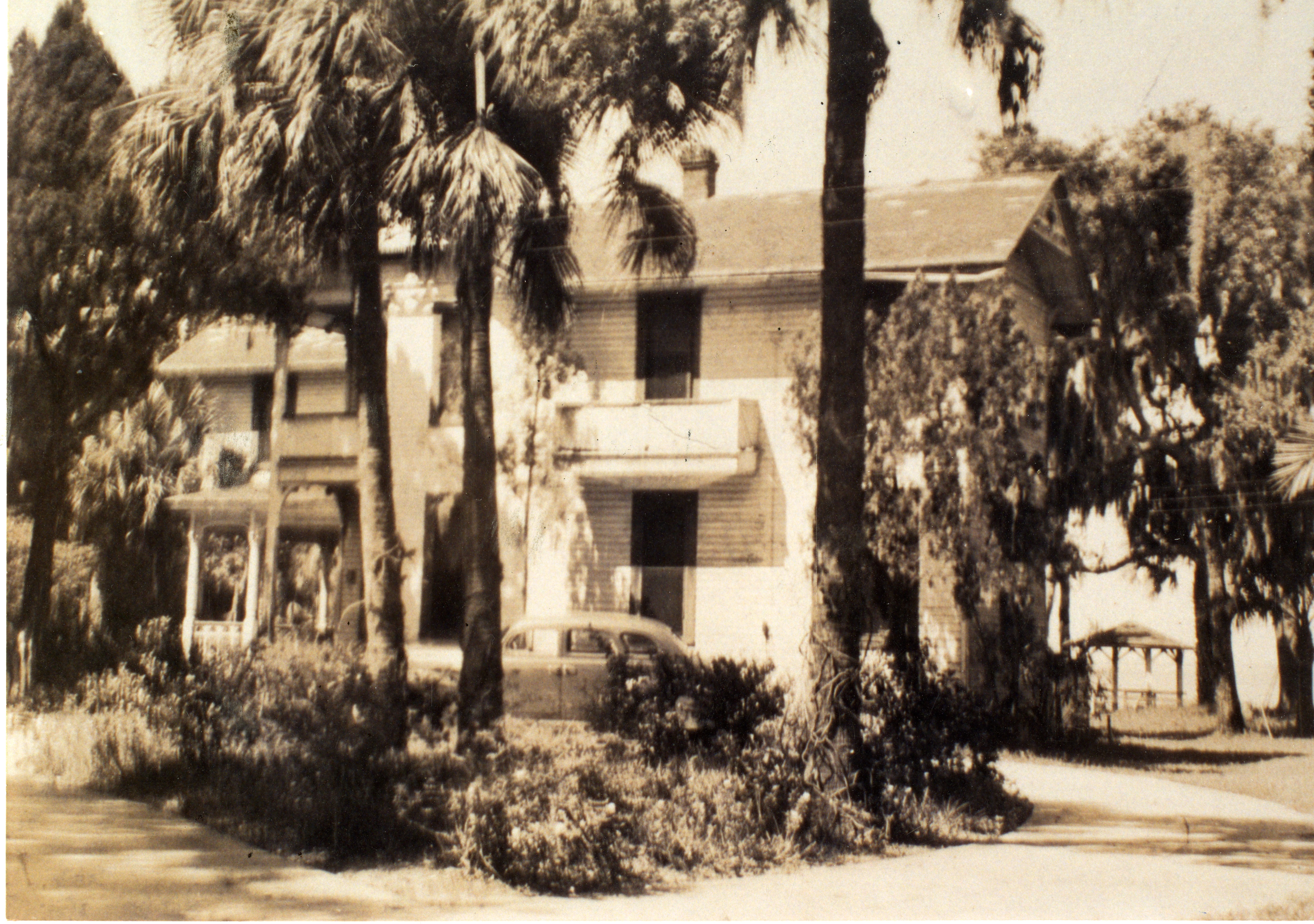 House of Seven Gables at its original location located on Clearwater Bluffs, c. 1960.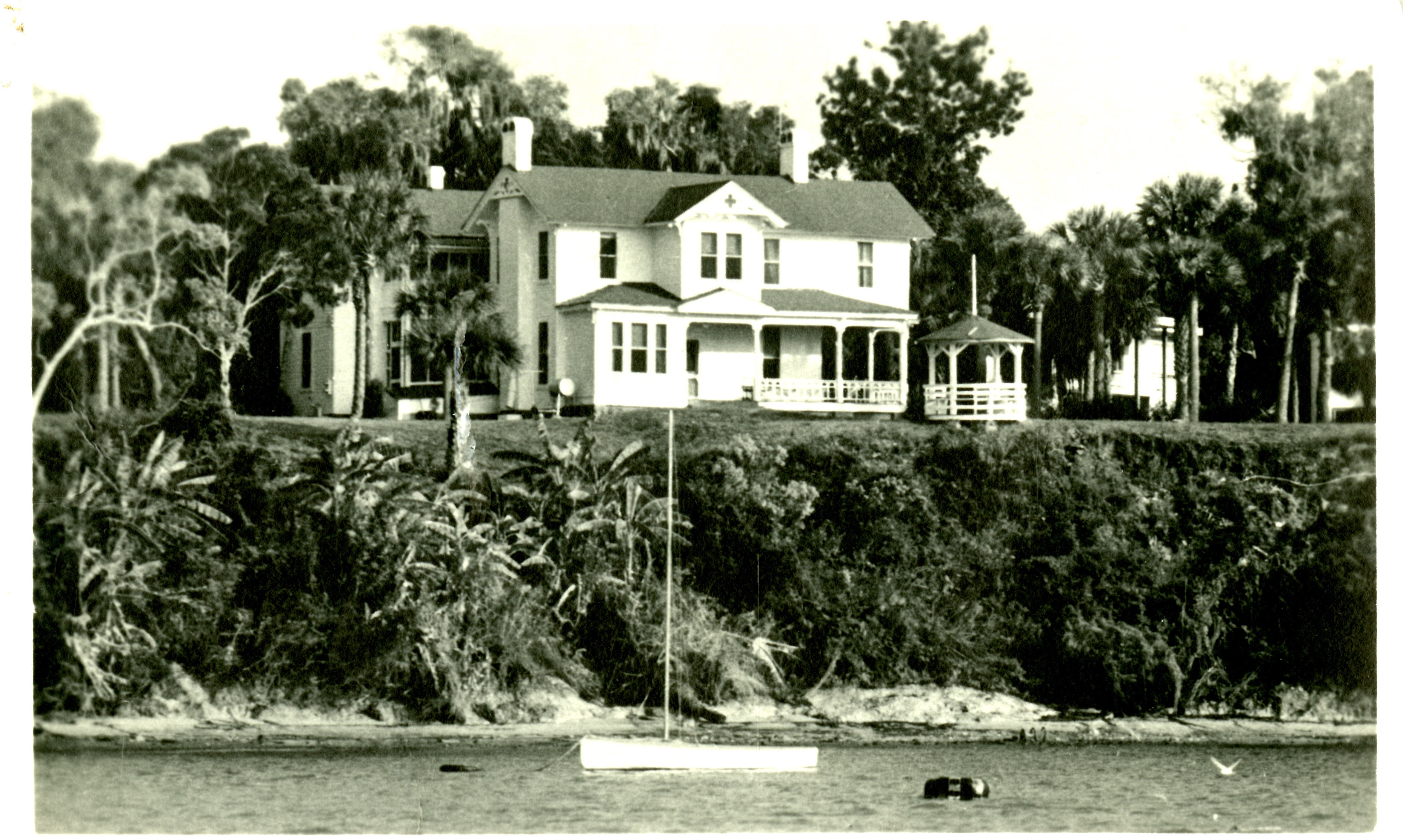 The House of Seven Gables after moving and undergoing restoration at Heritage Village.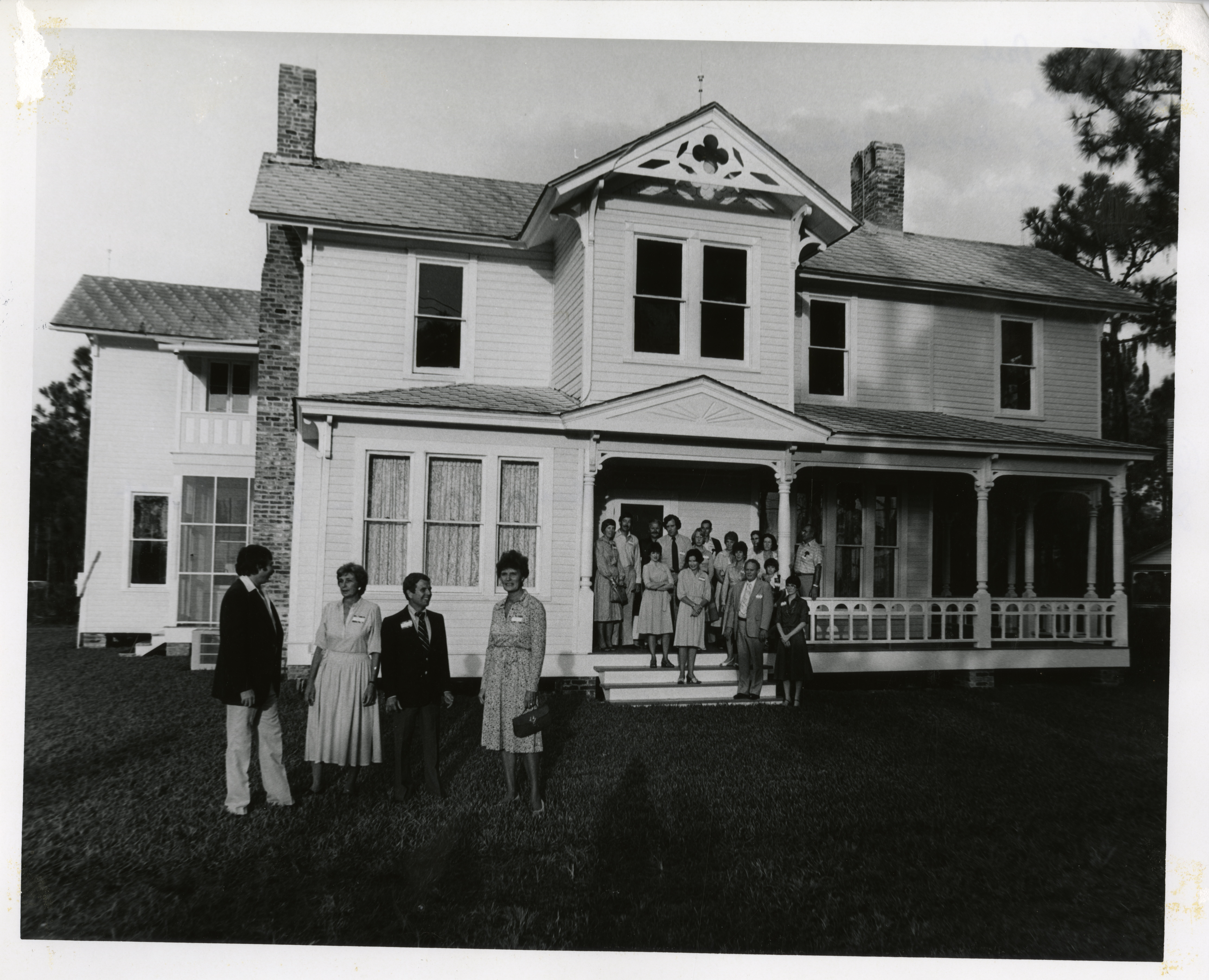 House of Seven Gables in transit to Heritage Village, 1976.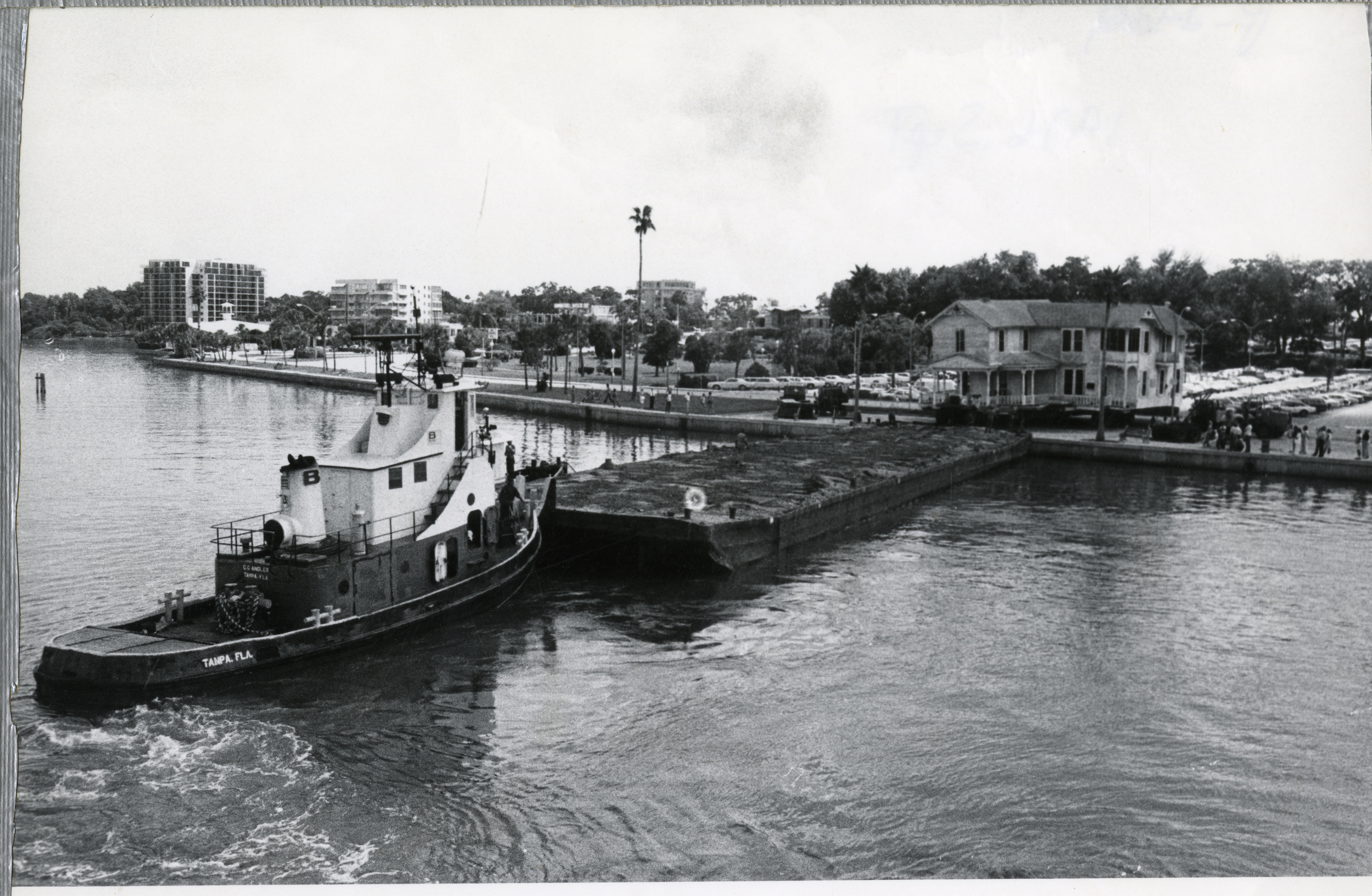 Moving the House of Seven Gables to Heritage Village underneath the Belleair Bridge, 1976.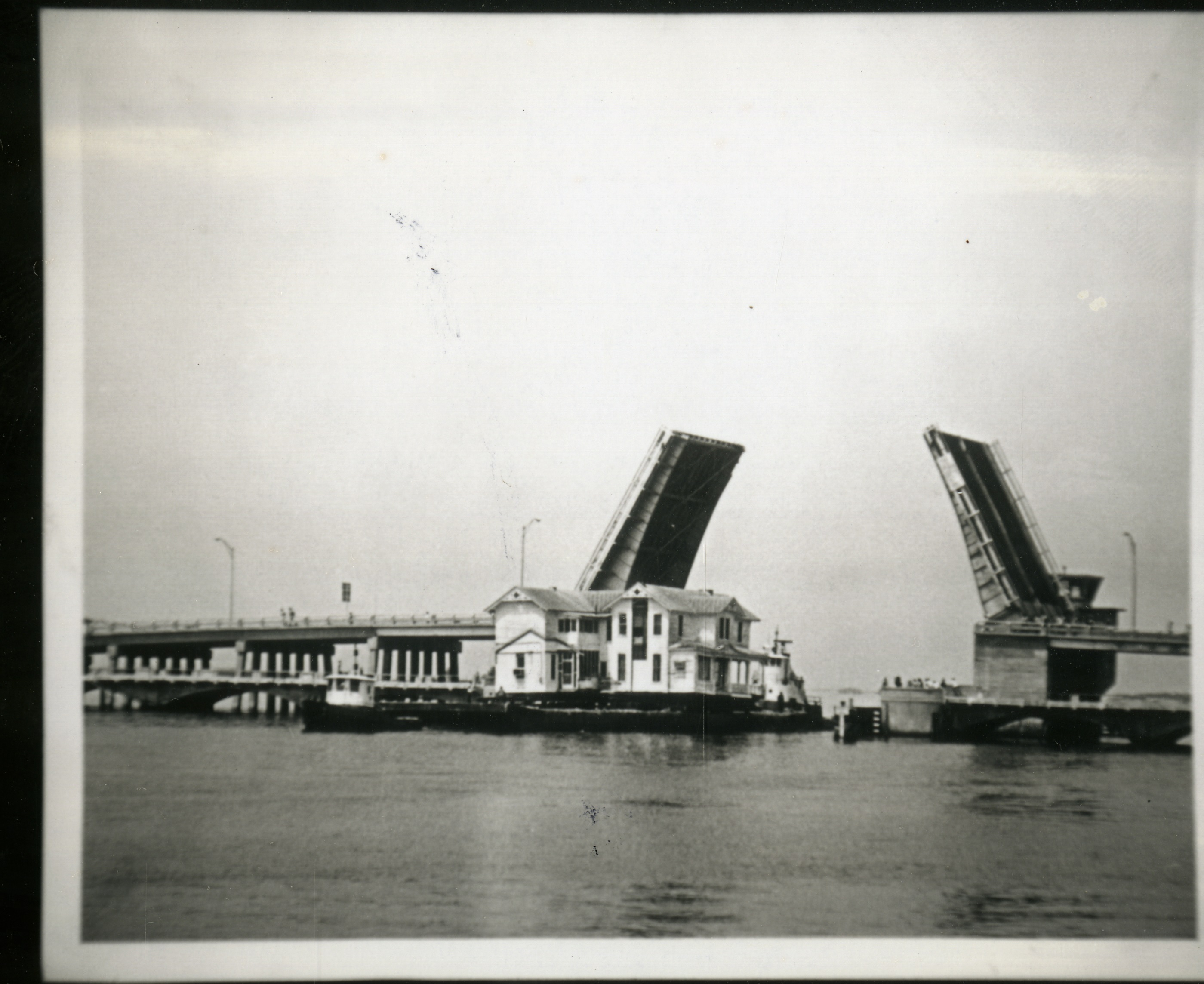 Seven Gables at Indian Springs Marina, 1976.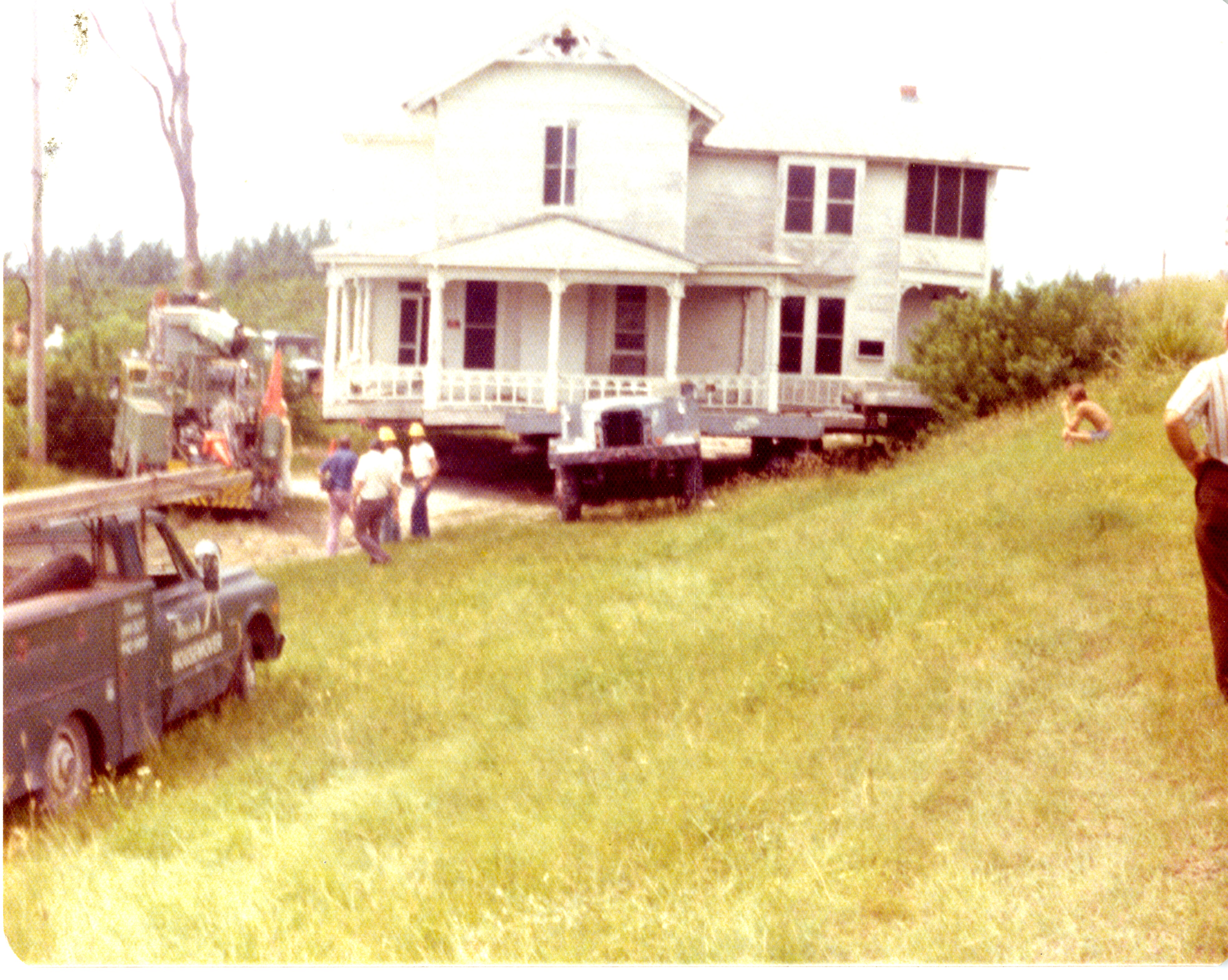 View from Gazebo of Seven Gables House on Clearwater Bay, c. 1946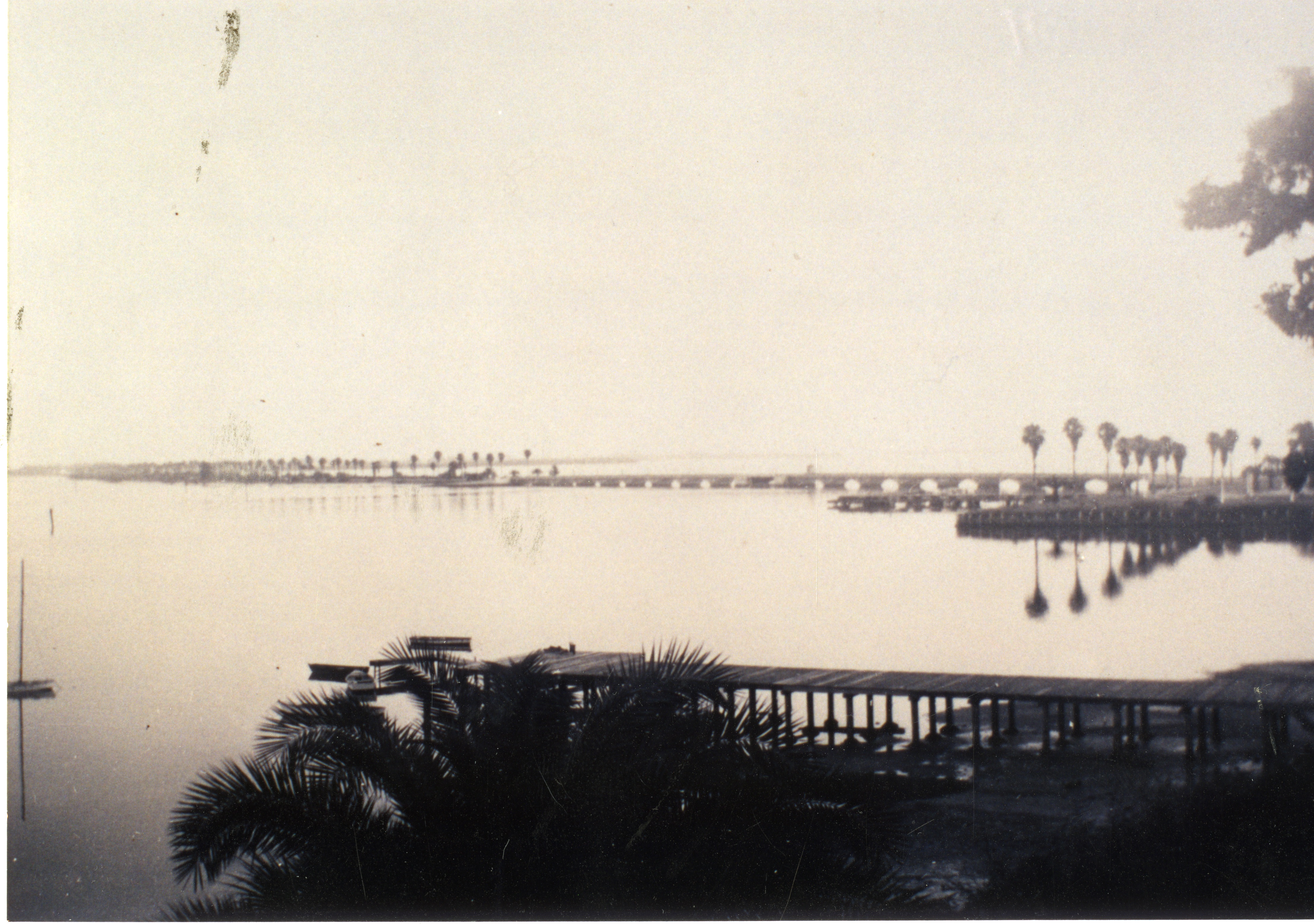 Fred & Virginia Hemmerick-former Seven Gables occupants, c. 1961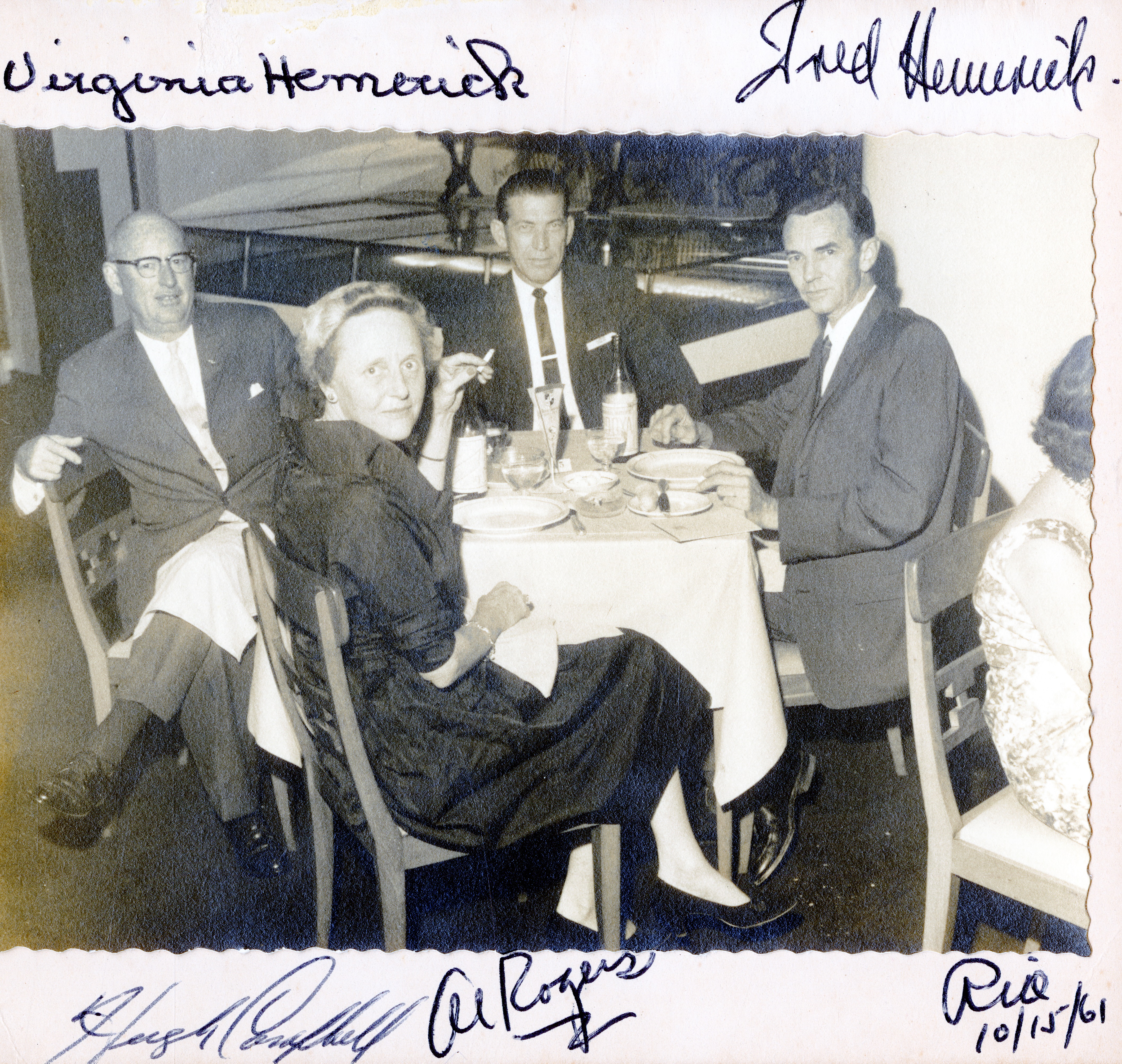 Backstory and Context
The House of Seven Gables was built in 1907 on the bluff near the present day Pinellas County Courthouse as a retirement home for David N.Starr. James Stevens originally obtained the land around present-day downtown Clearwater through the Armed Occupation Act. This law passed by Congress in 1842 brought settlers to peninsular Florida. The act allowed provided land to settlers, who in exchange for land would  live on their land, cultivate at least five acres, build a dwelling, and bear arms in event of another Seminole war. After the property exchanged hands three times, David N. Starr—a retiree from Rockford, Illinois—purchased the parcel in 1896. 
Eleven years later, the Staff family began to spend their winters at Seven Gables. Originally perched on a bluff overlooking Clearwater Bay west, this impressive house offered a magnificent view and occupied a prominent location in the growing city. The elegant residence contains thirteen rooms and seven gables, allowing for a spacious living area that suited Victorian tastes. The interior paneling is made of heart of pine and beaded tongue and groove that provided durability. Excellent materials and sound construction have allowed the house to survive the October 1921 hurricane, as well as other storms.
The Starr family sold the home in 1917. Two years later, Annie Kelley, a compassionate woman, acquired the house. By the early 1920s, she allowed an Episcopal minister to occupy the house with his family until the architects could complete a new rectory at Clearwater's Episcopal Church of the Ascension. Chester and Lucy Masslich purchased the home in 1925 for speculative purposes and rental income. Over the next two decades, a variety of proprietors operated an inn or rooming house at Seven Gables. During the mid-1920s, a group of realtors utilized the house as a social club for dinners, informal meetings, and card games attended by "binder boys," young real estate operatives who placed a small down payment, or binder, on real estate during the Florida land boom with a promise to acquire the balance within a short period of time. As the land boom came to an end, numerous residents rented the upstairs furnished rooms between the late 1920s and the early 1940s. For example, the Guzman family managed the property in 1931 and turned Seven Gables into a tearoom and rooming house with service that included "dinner on the veranda."  
Charles and Clara Dietrich fell in love with Seven Gables in 1944 and planned to retire there. They moved from Orlando to Clearwater and made some improvements to the structure. However, after seven years in the home, the house and stairs become too much for the elderly couple. They returned to Orlando after selling the house to John V. Neill in 1951. Two years later, Neill decided to sell to a young dentist named Frederick Hemerick. Members of that family kept the house until April 1975, when they accepted a purchase offer from Don Williams and Dixie Walker of the Williams and Walker architectural firm in Clearwater. Williams, a member of the Pinellas County Historical Commission and early developer of site plans for Heritage Village, donated Seven Gables and a portion of the costs associated with its move to Heritage Village in 1976. The enormous size of the house and its location in downtown Clearwater required movers to transport it by barge along the intracoastal waterway, an event that attracted a great deal of media attention. Since arriving at Heritage Village, many individuals and organizations have contributed to the restoration of this grand and elegant house to its original Victorian appearance.
Sources
William L. Straub, History of Pinellas County, Florida: Narrative and Biographical (St. Augustine: The Record Company, 1929), 91-92; "Seven Gables Actual Ownership Information from Records of Pinellas County Courthouse," compiled on 22 August 1977 by William R. and Elizabeth H. Heath, located in Heritage Village Library and Archives, Largo.
Image Sources
Staff collected photograph, copyright Heritage Village.

Staff collected photograph, copyright Heritage Village.

P-4704, Image Courtesy of Heritage Village Archives and Library

P-2705, Courtesy of Heritage Village Library and Archives.

P-767, Courtesy of the Heritage Village Archives and Library.

P-2430, Image Courtesy of Heritage Village Archives and Library.

P-6335, Image Courtesy of Heritage Village Archives and Library.

P-3177, Image Courtesy of Heritage Village Archives and Library

P-4707, Image Courtesy of Heritage Village Archives and Library

P-8357, Image Courtesy of Heritage Village Archives and Library

Additional Information