Mary Ann Shadd Cary House
Introduction
Mary Ann Shadd Cary lived in this brick home from 1881 to 1885 while she attended Howard University, an all-Black college in Washington D.C. She was a writer, educator, lawyer, abolitionist, and also the first Black woman to write for a newspaper in North America. She promoted equality for all people and she expressed her feelings in newspaper articles that circulated around Canada and the United States. Her house was designated a National Historic Landmark due to its association with Cary, who left a significant impression on American history as an outspoken advocate for justice, equality, and education.
Images
The landmarker for the home of Mary Ann Shadd Cary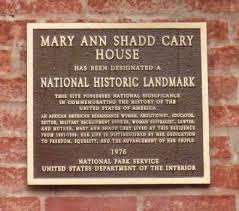 Backstory and Context
Mary Ann Shadd was born in October 1823 in Wilmington, Delaware. She was the oldest of her 12 siblings. Mary's family was known to be very dedicated to the abolition movement of slavery. Her childhood home was often used as a shelter for runaway slaves. The Shadds had to move to Pennsylvania in 1833 in order for Mary to attend school at a Quaker Boarding School. The education of Blacks were forbidden in Delaware at this time. After she completed he schooling in 1839, she taught Black children in Delaware, New York and Pennsylvania.
When the Fugitive Slave Law passed in 1850, Mary Shadd and her brother, Isaac went to Canada to with the support of other African Americans who thought that Canada offered greater opportunities. Mary published a pamphlet known as "Notes on Canada West." It travelled fast throughout the United States. In it, she explained the values, benefits and opportunities that are available to Blacks in that region in Canada. She founded the first anti-slavery newspaper in Canada, Provincial Freeman. It was a weekly publication that encouraged the Blacks in the U.S. to move to Canada. A very dangerous move, Cary lectured in Canada and the U.S. to increase the count of people that were willing to help runaway slaves. She was known to her famly and friends as the "The Rebel." While in Canada, Mary met Thomas F. Cary. They were married in 1856 and had two children but Thomas died only a few years later and Mary returned to the U.S.
During the Civil War, Cary worked as a recruiting officer for the Union Army in Indiana. There, she encouraged African Americans to rally up against the Confederacy and slavery in 1863. After the war, Cary and her daughter, Elizabeth, moved to Washington, D.C., where Cary would stay for around fifteen years. While in D.C., Cary worked in local schools and at Howard University and remained active in the women's rights and suffrage movements. Between 1881 and 1885, she lived at 1421 W Street, Northwest. Cary's passion for justice led her to pursue legal studies at Howard University. In 1883, Cary became the second African American woman in the U.S. to earn a law degree. While little is known of her law practice, Cary remained a publicly active figure, writing and publishing articles until her death in 1893.
Mary Ann Shadd Cary left an outstanding legacy of vocal activism for freedom, equality, and education. Her home was declared a National Historic Landmark, recognizing her exceptional contribution to American history. She was also deemed a Person of National Historic Significance in Canada.
Sources
National Park Service. "Mary Ann Shadd Cary House." National Park Service. Accessed December 2017. http://www.nps.gov/nr/travel/underground/dc2.htm
National Park Service. "Mary Ann Shadd Cary House." National Register of Historic Places Inventory-Nomination Form. Washington, D.C.: National Park Service, Department of the Interior, 1976.
https://npgallery.nps.gov/GetAsset?assetID=d40c021e-91e4-4387-9603-ec7c329d8189
Additional Information