Wilson College
Introduction
Wilson College historical marker was dedicated on October 10, 1952. It is located at Edgar Ave. near Ramsey Ave., off U.S. route 11. Wilson College was founded by two pastors, Tryon Edwards and James Wightman. They later named it Wilson College after Sarah Wilson gifted $20,000 to the college. It was one of the country's first secondary education schools to only accept women. The mission of Wilson College is empowering students through an engaged, collaborative, liberal arts education that emphasizes the skills of work and life to be successful in the community.
Images
Wilson College Historical Marker (Coordinates: 39° 56.995′ N, 77° 38.908′ W)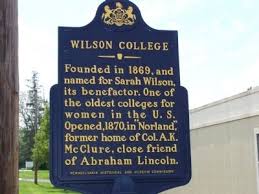 Edgar Hall 1923, served as the Main building for the college campus in 1923.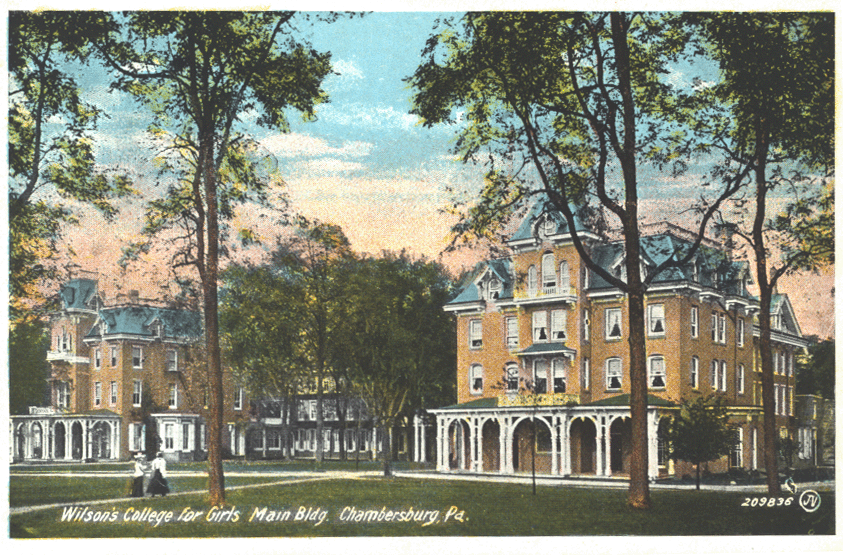 Edgar Hall 2003, serves as the Office of the Vice President for Academic Affairs, Registrar, Business Office, Human Resources, Financial Aid and the President's Office.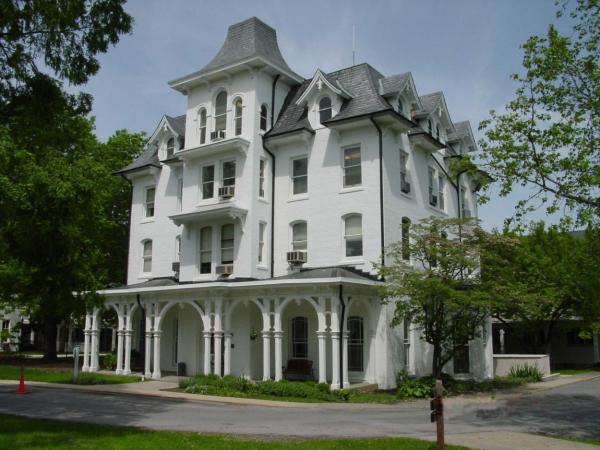 Backstory and Context
Wilson College was founded in 1869 by two pastors, Tryon Edwards and James Wightman. Wilson College is in Chambersburg, Pennsylvania. In the summer of 1867, Dr. Tryon Edwards visited Rev. James W. Wightman with the idea of organizing a female seminary school. Rev. Wightman refused and said that the seminary was supposed to only teach women manners and reinforce domesticity. Rather than a seminary school, Rev. Wightman suggested that they create a first-class college for women, one that can compete with colleges for young men. Rev. Wightman and Dr. Edwards searched for a donor and found a young lady named Sarah Wilson. She inherited $20,000 from the deaths of her father and brothers. She donated the $20,000 to the start up of the college on one condition, the College be named as a memorial to her family and herself. Sarah Wilson was the first major donor for Wilson College. It was the first women's college in the United States. The school operated with eight clergymen, who received donations. With the donated money, the clergymen purchased Col. Alexander McClure's home and his surrounding land to establish the grounds of Wilson College. Col. McClure's home is Norland Hall.
The overall mission of Wilson College puts an emphasis on literature, science, and art for women. Wilson's relative isolation reinforced the sense of a distinctive culture on campus. The college was one of three women's colleges to offer a four-year degrees. This mission has been carried out throughout the years of the college's history. More recently in 1996, it was one of the first to offer on-campus, residential education for single mothers. It has been recognized for its work with single mothers and has become the National Center for Single Mothers in Higher Education. This gives women the opportunity to build off the blessing of having a child and providing them with a safe option to continue their education while caring for and being involved in the lives of their children. Although it nearly closed its doors in 1979, a lawsuit organized by students, faculty, parents and alumni association succeeded in allowing the college to remain open making it one of the few colleges to remain open during a 'scheduled closing.' Wilson remained opened as solely a women's college until 2013, despite numerous people trying to change them to a coeducational school. In the fall of 2014, Wilson College saw the first male residential students move onto campus ending the 144 years of being an all-women's college. 
Present day, Wilson College sits on 300 acres in Chambersburg, PA. It enrolls roughly 1,100 students each year. Wilson College is a private, liberal arts college with 35 major programs and 45 minor programs. It is accredited through the Middle States Commission on Higher Education.
Sources
Wilson College History. Accessed April 20th 2020. https://www.wilson.edu/history-and-traditions
History, Wilson College. Accessed April 15th 2020. https://www.wilson.edu/history-1.
Sack, Saul. Wilson College Historical Marker , ExplorePAhistory. Accessed February 15th 2020. https://explorepahistory.com/hmarker.php?markerId=1-A-385.
Image Sources
Pfingsten, Beverley. "Wilson College Historical Marker." 18 May 2008. https://www.hmdb.org/m.asp?m=8104

Wikipedia. "Wilson's College for Girls Main Bldg. Chambersburg, Pa." Accessed March 26, 2020. https://en.wikipedia.org/wiki/Wilson_College_(Pennsylvania)#/media/File:Diamondviewfolder8.gif

"Council of Independent Colleges Historic Campus Architecture Project." 2003. Accessed March 26, 2020. http://explorepahistory.com/displayimage.php?imgId=1-2-1866

Additional Information