St. Katharine Drexel Historical Marker
Introduction
The Katharine Drexel Historical Marker stands today in Bensalem, Pennsylvania, by the Saint Katharine Drexel Mission Center and Shrine. Katharine Drexel was a philanthropist, educator, and religious sister who was born on November 26th, 1858, and passed away on March 3rd, 1955. She is known for founding a religious order, building schools for the socially downtrodden, and being canonized as a Catholic saint. Drexel's life work included providing education for minorities, carrying out religious missions to Native American and African American Communities, and building schools. Drexel's life is important for her contributions to social equality and helping others overcome poverty through education.
Images
Katharine Drexel Historical Marker, By William Fischer, Jr., January 29, 2010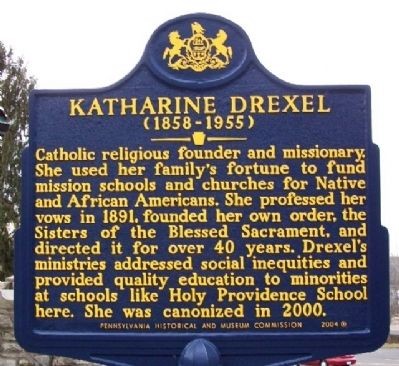 Katharine Drexel Before Entering Convent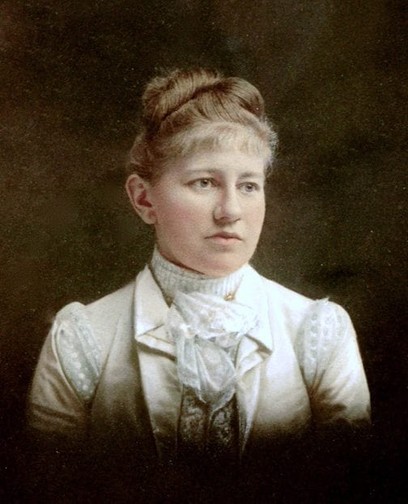 Katharine Drexel Working at Her Desk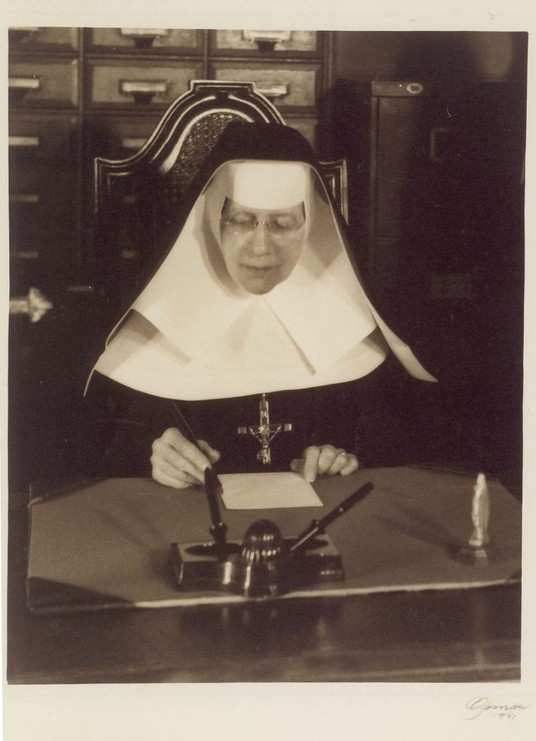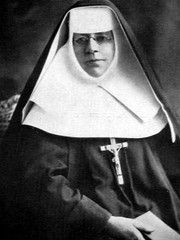 Backstory and Context
Katharine Drexel was a woman who was born into a wealthy family in Philadelphia, Pennsylvania. Katharine's mother, Hannah Langstroth, passed away not long after she was born, leading to her father to remarry. Her parents were Francis Anthony Drexel and Emma M. Bouvier Drexel. Her father worked as a banker, which led to the family living a very affluent life. She had two sisters, Elizabeth and Louise. Katharine and her sisters were educated by private tutors. Katharine's family were faithful Catholics, and early on in life Drexel was no stranger to charity, as her family would often donate food to the needy and help others with financial burdens. Katharine's family befriended the pastor Fr. James O'Connor who was the pastor of the Church of St. Dominic. After O'Connor was ordained as a bishop, he was sent to Nebraska to provide assistance and spiritual conversion to Native Americans. Drexel's family provided a lot of financial assistance with his work, which helped influence Drexel's later devotion to charity.
Throughout her youth she traveled the United States with her family, and it was during these travels she was struck by the poor living conditions of African Americans and Native Americans. She was also struck by the injustices these groups faced, such as the Native Americans being forced onto reservations. Because of these experiences, at a young age, Katharine wanted to enter the religious life but her parents and her spiritual advisor, James O'Connor, both discouraged her. This was in part due to her upbringing being very pampered, and she was not expected to be able to transition into a more ascetic lifestyle. Later, Katharine would have more freedom in her life with the passing of her mother first, followed by her father which left her and her sisters with a vast inheritance. Katharine herself received around fifteen million dollars in inheritance. Because of this, she was expected to remain in a life of wealth and marry some wealthy man.
After the death of their parents, the sisters would still continue to travel together and visited many holy sites in Europe. They also made good use of their inheritance through charitable works, and Katharine and her sister, Elizabeth, founded St. Francis Industrial School in Eddington PA. During one of her last trips to abroad, Katharine had a private meeting with Pope Leo XIII where she initially requested missionaries to be sent to the United States to assist and convert Native Americans and African Americans. Instead of this, the Pope encouraged Katharine to pick up a holy life and become a missionary, specifically one that serves Native Americans and African Americans. She agreed with this proposal and gave up a fortune of seven million dollars to devote her life to charitable work. She began her life of religious devotion by joining to Novitiate of the Sisters of Mercy in Pittsburgh, PA.
Two years after entering religious life, Drexel and fifteen other sisters founded the Sisters of the Blessed Sacrament Convent. Before sending sisters out West to carry out missions, Drexel began work by founding a home for orphaned or abandoned African American children. Working at this home would help prepare the sisters for travelling out West. Katharine also arranged for classes to be held for the sisters at Drexel University, which had been founded by her uncle.
Education was a major issue Drexel was concerned about, so much of the work that her convent took part in was founding schools. She helped found various African American and Native American schools throughout the United States in places like Virginia all the way to New Mexico. An example of these schools her convent founded was Xavier University in 1915 in New Orleans. Drexel was also involved in public affairs, and was a large supporter of programs and laws that would assist poor Native Americans and African Americans. During her lifetime she faced fierce opposition from segregationists but continued her work despite this. This opposition included bomb threats directed towards the convent's mother house, and a school founded by the convent being burnt down.
Katharine Drexel would continue her religious life of charity, educating, and spreading her faith until 1938 when a stroke left her almost entirely immobile. Because of this she had to give up leadership of her convent and stop carrying out works personally. She spent the rest of her life in prayer and contemplation until her passing in 1955. She was later canonized as a saint of the Catholic Church in 2000. Drexel's legacy is important because despite the legal and social barriers of the time she went out of her way to promote social justice by educating and assisting poor Native American and African American people. Katharine is a symbol of charity as seen through her works, promotion of social justice, and abandoning her wealthy lifestyle.
Sources
Smith, Helen Grace. "Sketch of the Life of Mother Katharine Drexel." Records of the American Catholic Historical Society of Philadelphia 67, no. 1 (1956): 51-60. Accessed April 21, 2020. www.jstor.org/stable/44210508.
"St. Katharine Drexel" Sisters of the Blessed Sacrament, https://www.katharinedrexel.org/katharine-drexel/about-st-katharine-drexel/
"Saint Katharine Drexel" Franciscan Media, https://www.franciscanmedia.org/saint-katharine-drexel/
Torres, Justin, "St. Katharine Drexel" Philanthropy Roundtable https://www.philanthropyroundtable.org/almanac/people/hall-of-fame/detail/st.-katharine-drexel
McCann, Eleanor, "Biography of Saint Katharine Drexel", Saint Katharine Drexel Shrine https://www.saintkatharinedrexelshrine.com/biography/
"Katharine Drexel (1858-1955)" Vatican, http://www.vatican.va/news_services/liturgy/saints/ns_lit_doc_20001001_katharine-drexel_en.html
Image Sources
"Katharine Drexel" The Historical Marker Database https://www.hmdb.org/m.asp?m=28388

"St. Katharine Drexel" Sisters of the Blessed Sacrament, https://www.katharinedrexel.org/katharine-drexel/about-st-katharine-drexel/

"St. Katharine Drexel" Sisters of the Blessed Sacrament, https://www.katharinedrexel.org/katharine-drexel/about-st-katharine-drexel/

"St. Katharine Drexel", Catholic Online, https://www.catholic.org/saints/saint.php?saint_id=193